Six teams for the Championship, to participate with a total of 12 PRIMA World Trucks at Buddh International Circuit, Greater Noida on March 15, 2014
Unveils new aerodynamic truck design and enhanced performance parameters
Announces new Indian driver selection and training program for Season 3
Mumbai, January 20, 2015 – Tata Motors today announced, season two of the T1 PRIMA TRUCK RACING CHAMPIONSHIP. Inscribed on the calendars of FIA (Federation Internationale de l'Automobile) and FMSCI (the Federation of Motor Sports Clubs of India) the championship will be hosted at India's globally renowned F1 race track, the Buddh International Circuit (BIC) in Greater Noida on March 15, 2015, giving Indian audiences a grand spectacle of Tata PRIMA trucks competing against each other.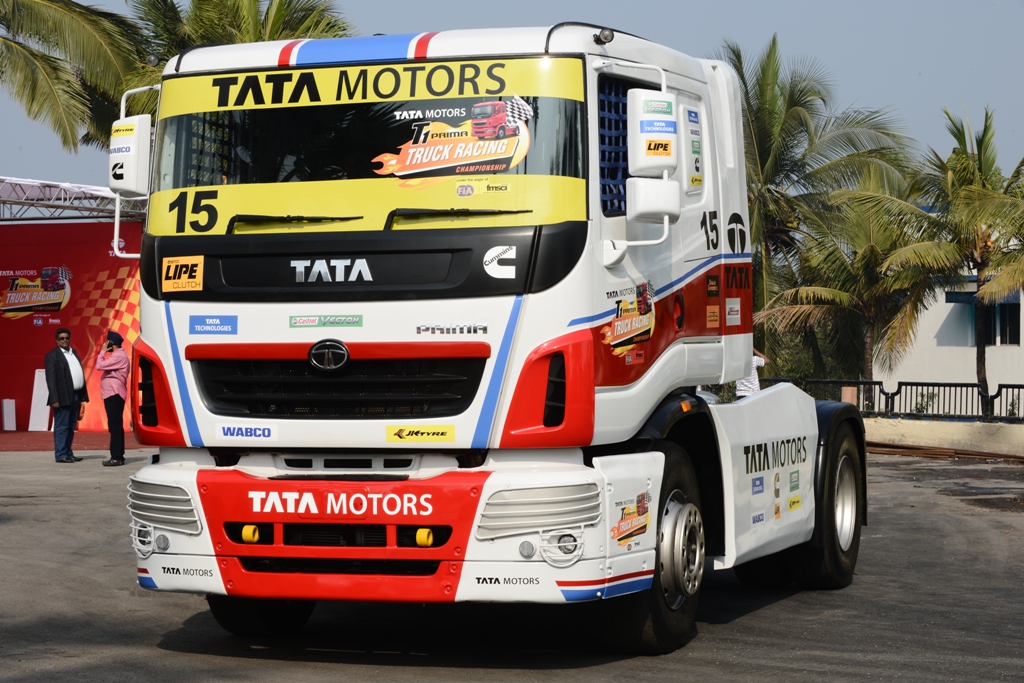 The T1 PRIMA TRUCK RACING CHAMPIONSHIP 2015 will feature 12 Tata PRIMA trucks built for the purpose and will be driven by experienced international drivers representing six teams –
Team Castrol Vecton
Team Cummins
Team Tata Technologies Motorsports
Team Dealer Warriors
Team Dealers Daredevils
Team Allied Partners
India's first truck racing championship – T1 Prima Truck Racing Championship, concluded in a grand style with an action-packed 45 minute final race with Stuart Oliver winning the debut championship. The massive and powerful Tata Prima trucks proved to be a treat for motorsports fanatics in an intense race that witnessed a lot of edge-of-the-seat overtaking and high speed corner action. The debut season of the Championship at the BIC, witnessed an audience of over 20000 screaming enthusiasts who cheered the speeding Prima trucks. The winning Team Castrol Vecton was followed by Team Cummins and Team Tata Technologies Motor Sports in the final Team points' standings.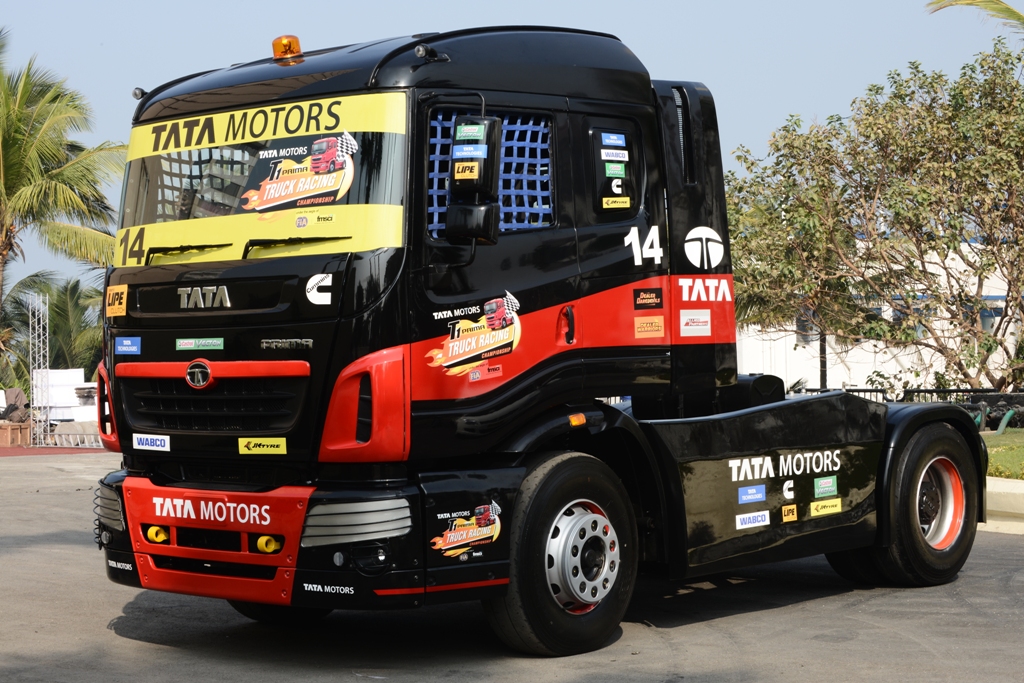 Entering Season 2 of the T1 PRIMA TRUCK RACING CHAMPIONSHIP, the Tata PRIMA race truck boasts 10% increased speed (upto 130 km/hr), 10% increased acceleration and 10% weight reduction, along with a new aerodynamic design.
Tata Motors has also conceptualised and introduced a new strategic driver selection and training program to induct and mould Indian truck drivers for T1's FUTURE. The T1 Driver Program is designed to provide an opportunity for potential drivers to make it into truck racing. This program not only enhances competition on driving skills, but has an ultimate goal of creating a well-­‐rounded truck racing driver.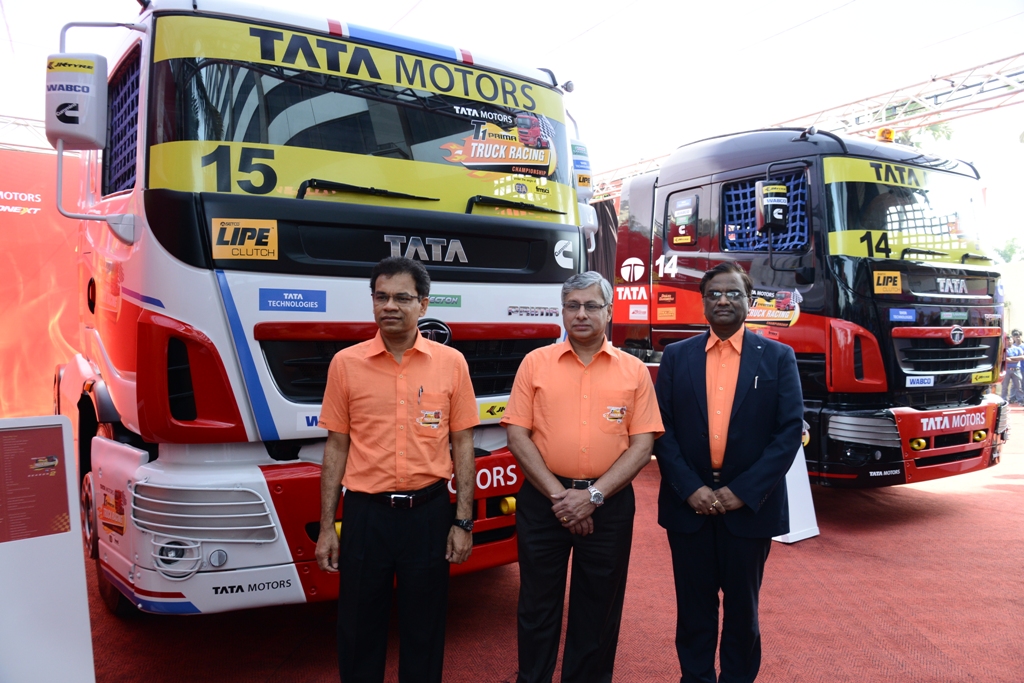 Cummins, WABCO, JK Tyres, Castrol and Tata Technologies are the main sponsors. Setco Automotive is one of the sponsors for Team Allied Partners.
Mr. Ravi Pisharody,Mr. Ravi Pisharody, Executive Director, Commercial Vehicle Business Unit, Tata Motors, said, "With the first edition of the T1 PRIMA TRUCK RACING CHAMPIONSHIP having produced some very exciting races, we are pleased to announce the next season in 2015. When we announced the initative last year, as the country's largest commercial vehicle manufacturer, we embarked on a new journey of HORIZONEXT, adding an exciting new dimension of truck racing to one of the largest trucking markets in the world, leading the transformation in the Indian commercial vehicle space, setting new benchmarks in terms of product engineering, world-class quality manufacturing and marketing. As we enter season two, it is in our continuous endeavour to remain the most preferred trucking brand and I wish to thank our sponsors, team of engineers, consultants, organisers, volunteers and, certainly, spectators for creating a big sporting holiday with an unforgettable atmosphere."
Mr. R. Ramakrishnan. Senior Vice President (Commercial), Commercial Vehicle Business Unit, Tata Motors, said, "Off the back of a great 2014 campaign, Tata Motors is determined to continue this positive momentum into the new season. Showcasing our commitment to the sport, we have introduced a slew of new initiatives in the 2015 race truck, along with our new Indian driver selection and training program for 2016. As we ready ourselves for season two of the T1 PRIMA TRUCK RACING CHAMPIONSHIP, we hope to strengthen our on-track record, as we continue to lead in a rapidly changing Indian market place, with new-generation trucking technologies and solutions. The event will definitely be one of the highlights of the year."                                                                                                                                    
Mr Farhan Vohra, FIA Steward of Clerk of the Course, T1 "It's just so incredible – I would really recommend anybody to go out there and watch 12 big truck compete against each other, a truly fantastic experience. The circuit, the city, the atmosphere… everything! It's amazing to think of all the work that must go into making it happen. It's a must-see spectacle, and one that shows just what this sport can achieve with an open-minded approach to creating something new, unusual and innovative. I would like to congratulate Tata Motors for putting this all together and can't wait for the 2015 season to begin."
The Tata Prima 4038.S will compete in the T1 PRIMA TRUCK RACING CHAMPIONSHIP 2015, with massive power of 370 BHP @ 2100 RPM and an increased top speed of 130 Km/h over last years' 110 Km/h. To make these PRIMA trucks fit for racing, key modifications were made to meet a mix of safety and performance as per the British Truck Racing Association guidelines. These included significant changes in fuel tank, brake cooling system, propeller shaft guards, racing seats and safety belts, exhaust, steering wheel among others. The trucks have gone through multiple quality checks, with major testing being undertaken at the BIC and Tata Motors Jamshedpur's world-class testing facility, for high speed run and control.
The T1 PRIMA TRUCK RACING CHAMPIONSHIP is organized by MMSC (Madras Motor Sports Club) and is being conducted under the aegis of FIA & FMSCI. The FIA is the governing body for world motor sport and the federation of the world's leading motoring organizations. One of the core responsibilities of the FIA is the development of motor sport worldwide. Through its national member clubs the FIA is involved in every level of motor sport and its remit extends to the millions of amateurs and professionals who enjoy motor sport in all of its variety. The FMSCI is a long-standing member of the FIA and is the only national motor sport federation recognized by the Government of India, for the promotion and control of motor sport in India, and is affiliated to the prestigious Indian Olympic Association.
Buddh International F1 Circuit, acclaimed to be the best race circuit in India, will host T1 PRIMA TRUCK RACING CHAMPIONSHIP 2015. On the Race day, there will be two races – the first one a qualifier race, followed by the main race. A pool of internationally acclaimed drivers, with proven expertise in the field of Truck Racing like the British Truck Racing championship and the European Truck Racing championship, has been chosen for this mega event.