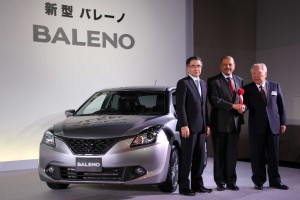 Hamamatsu/New Delhi, March 9, 2016:After the overwhelming success of Baleno in India, Suzuki Motor Corporation, parent company of Maruti Suzuki India Limitedlaunched 'Made in India' Baleno in Japan today.
Baleno,first exhibited at the Frankfurt Motor Show in Sept 2015, was launched in India on 26th October 2016. Baleno is manufactured only in India at Maruti Suzuki's Manesar facility in Haryana. Since its launch, Maruti Suzuki has sold over 38,000 units of Baleno cars in domestic market.Balenowill be exported more than 100 countries.
On the occasion of launch ceremony held in Tokyo today, H.E.Mr. Sujan R. Chinoy, Ambassador of India to Japan said, "Maruti Suzuki exports to over 125 countries including those in Europe, which is proof of their quality. The model being launched today, the Baleno is a state-of-the-art car developed and manufactured in India through Suzuki's excellence. It will be exported to 100 global markets including Japan. I am confident that the Baleno will prove to be a huge success in Japan. I wish the launch complete success."
Mr. Kenichi Ayukawa, MD & CEO, said, "A landmark moment like this is a true testimony to the success of Indian Government's "Make in India"campaign. Launch of 'Made in India' Baleno in Japan is a proud moment for all of us. This reaffirmsMaruti Suzuki's manufacturing potential and growing importance of Maruti Suzuki India Limited in Suzuki Motor Corporation's global business strategies.Iam confident our Baleno would be well accepted by Japanese customers as well."
Baleno is a harmonious combination of styling that flows, superb performance achieved through ground-breaking technologies, and smart packaging. Baleno's stylish design, spacious interiors, features and Suzuki's latest technologiesmake it the ideal compact hatchback. With its "Liquid Flow" design theme, compact body, and spacious interior and efficient powertrains all on a new-generation platform- the Baleno offers style, utility, manoeuvrability, driving performance and fuel efficiency. It also offers comfort, especially on long-distance journeys, with plenty of space for adults in both the front and rear, as well as generous luggage space.
Fine-tuned over repeated test runs, Baleno offers a driving experience achieved by pursuit of the best balance between nimble performance and refined riding comfort.