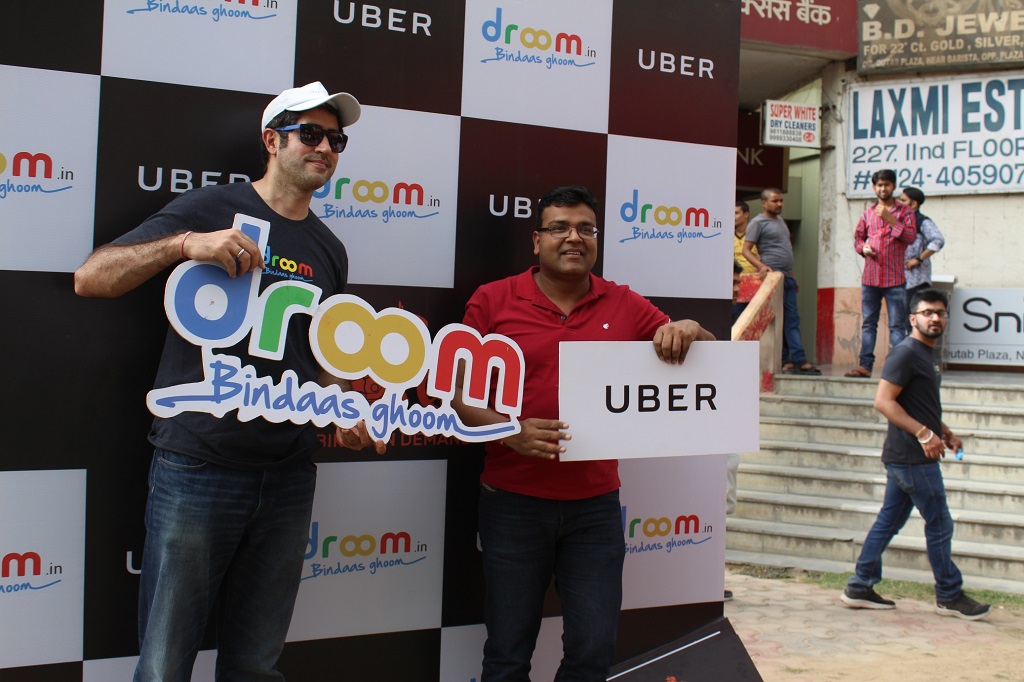 Gurgaon 'vroom'ed in style as Droom and Uber joined hands for the #LoveSuperbikes campaign; helped realize the superbiking dreams of many
Users just sent a request for superbikes on the Uber app and took a 15-min trip on a Harley Davidson for free
New Delhi, April 07, 2017:-On 7th April, between 11.30 am and 3.30 pm, a few chosen ones were the  reason for heads turning and eyes filling up with admiration as they buzzed past the crowd near Golf Course Road in Gurgaon. How? Droom, India's pioneering online automobile transactional marketplace, along with Uber, world's largest ridesharing app, launched a joint campaign called #LoveSuperbikes, which brought the thrill of speed to the users of the Uber app for a 15-minute experience of a lifetime!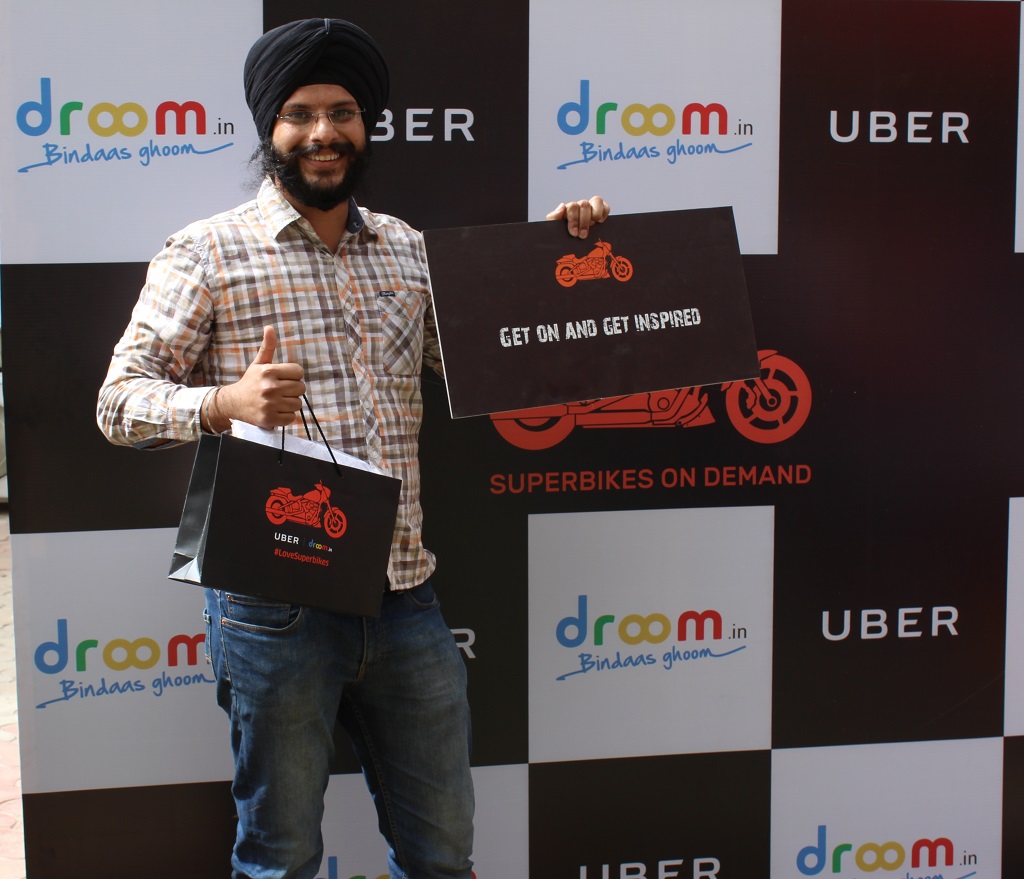 Here's how it worked
Users fired up the Uber app during the campaign period and sent a request for 'Superbikes.'
If the request got accepted, an Uber MOTO arrived at their doorstep and took them to the superbike station at Qutub Plaza.
There, glorious and legendary superbikes awaited them, along with a rider, to take them on a 3km, 15 minute rip-roaring ride!
Post the ride, the Uber MOTO dropped the lucky ones back to the drop location of their choice. All this for an exuberant price of Rs 0!
Commenting on the campaign, Rishab Malik, Co-Founder and VP – Business Development, Droom, said, "At Droom, our goal is singular: to offer customers the ride of their dreams in as convenient a manner as possible. We wished to popularize the concept of superbiking with the #LoveSuperbikes campaign and who better to partner with than Uber. Previously, Droom and Uber have brought supercars and choppers on demand and we were absolutely certain that this campaign would also be an overwhelming success. The faces of the lucky users and superbike lovers flushed with a robust adrenaline rush and an ear-to-ear grin after completing the ride, was a treat to watch."
Uber spokesperson Prabhjeet Singh, General Manager, North India, UBER said, "This campaign was initiated to enhance the spotlight on Uber MOTO fleet of two-wheelers for travel, which is a blessing specifically for people who frequently experience the monstrous traffic jams in Gurgaon and other areas in Delhi-NCR. With a MOTO, you can zip through the busy streets of Gurgaon or the narrow lanes of Old Delhi and reach your destination in no time. We were extremely excited to collaborate with Droom on this campaign and bring to our riders world class superbikes in pristine condition that promised an experience that's hard to match. We are certain that while experiencing the thrill of super bikes, our riders were able to find more reasons to use MOTO and see the benefits of bikesharing for the city."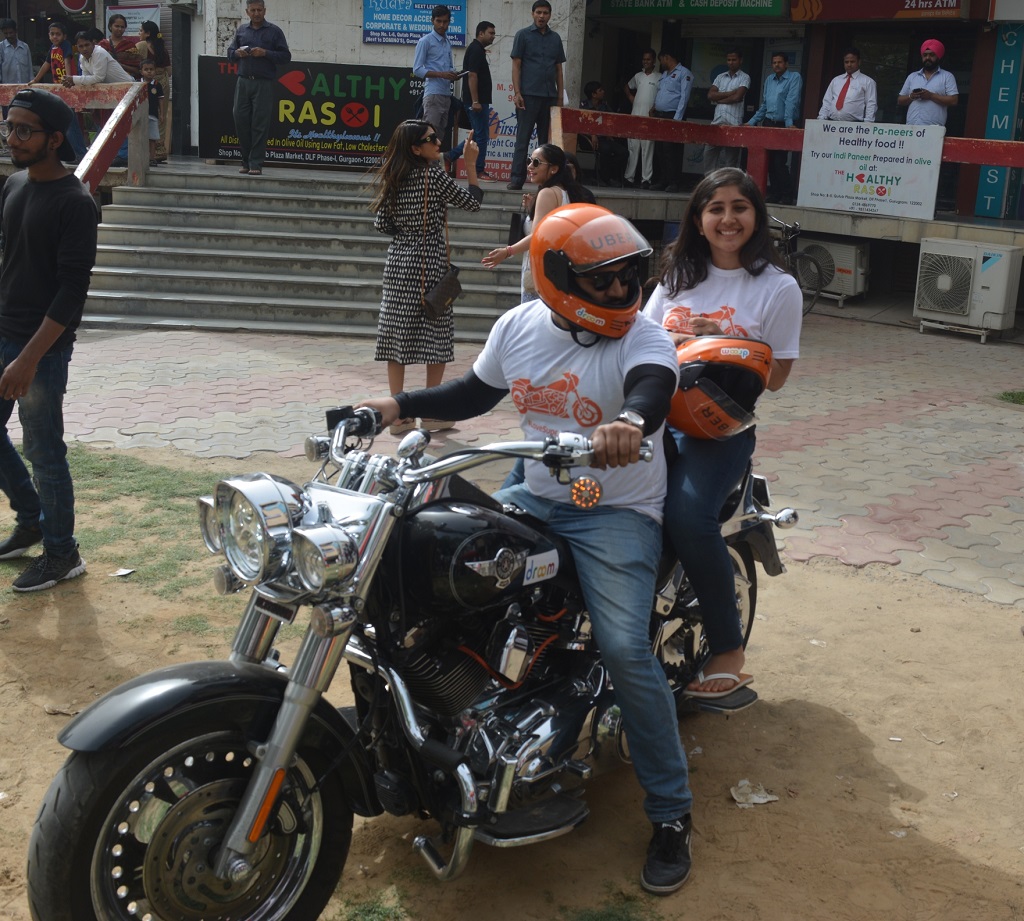 There were certain guidelines, however that users were expected to follow during the campaign. There was only 1 ride per request with a specific duration of 15 minutes. The superbikes were not, at any stage, given to the users to drive. Only 1 rider could ride pillion and it was compulsory to wear laced shoes and not sandals, floaters or chappals. All users going to ride had to sign on a waiver form before taking the ride. Lastly, although it was not compulsory, full length denim jeans and a jacket was recommended for users.
The offer was limited and open only to the residents of Gurgaon. The Superbikes were only a part of the promotional event and not a part of the regular MOTO fleet. The event was an extravaganza and the lucky users would remember 7th of April, 2017 as the day when they went full throttle!
About Droom:
Droom is India's first and only marketplace for buying and selling new and used automobiles. The platform has four marketplace formats i.e. B2C, C2C, C2B and B2B, and three pricing formats – Fixed Price, Best Offer and Auction. The platform offers wide range of categories from bicycle to plane and all automobile services such as warranty, RSA, insurance and auto loan. Droom uses data science to build trust at scale with a US Patent technology called Full Circle Trust Score. Droom has built also the de-facto pricing standard for used vehicles in India – OBV, which has a US patent.  Droom has built the entire ecosystem for India so that the transaction for used automobiles can take place with least degree of information asymmetry and morale hazard.
Droom is not only the largest online automobile platform in India but also the 5th largest E-commerce company in India in terms of GMV. The automobile platform is category, seller, price, condition, and geography agnostic. It has built tech and data science heavy tools to create the entire ecosystem around used automobiles, including OBV (pricing engine), Eco (121 points vehicle inspection), History (200 mil vehicle history), Discovery (dozens of pre-buying tools) and Credit (India's first and only loan marketplace for used vehicles).
Droom is currently doing $408 mil in annualized GMV growing at the rate of 350% Y/Y, 109k auto dealers (largest auto dealers platform in India), presence in 500 cities across India (largest hyper local marketplace), 14.5 mil+ monthly visitors, nearly 5 mil app downloads and 4.2mil Facebook community.
Droom has the best unit economics as compared to any other E-commerce platform in India. The company spends less than 5% of GMV to run marketing and the entire cost of the company is less than 4% of GMV in terms of the net burn.  Droom is the only E-commerce platform which has successfully built the cost advantage and sophistication of the tech platforms with the strong data science layer, nobody else has been able to do it in India.
Droom is founded by Sandeep Aggarwal, who previously founded ShopClues at his house in California in Oct 2010, which became 5th Unicorn in India by January 2016.  Droom is a Singapore Holding Company with its subsidiary in India and United States. Droom has so far raised close to $45 million dollars in four rounds of funding.  Droom is head quartered in Gurgaon, India with a team size of 200+.
About Uber
Uber is evolving the way the world moves. By seamlessly connecting riders to drivers-partners through our app, we make cities more accessible, opening up more possibilities for riders and more business for driver-partners. From our founding in 2009 to our launches in hundreds of cities today, Uber's rapidly expanding global presence continues to bring people and their cities closer. Today Uber is available in 500+ cities across 73 countries. The service is available in 29 Indian cities — more than any other country outside the United States and China.