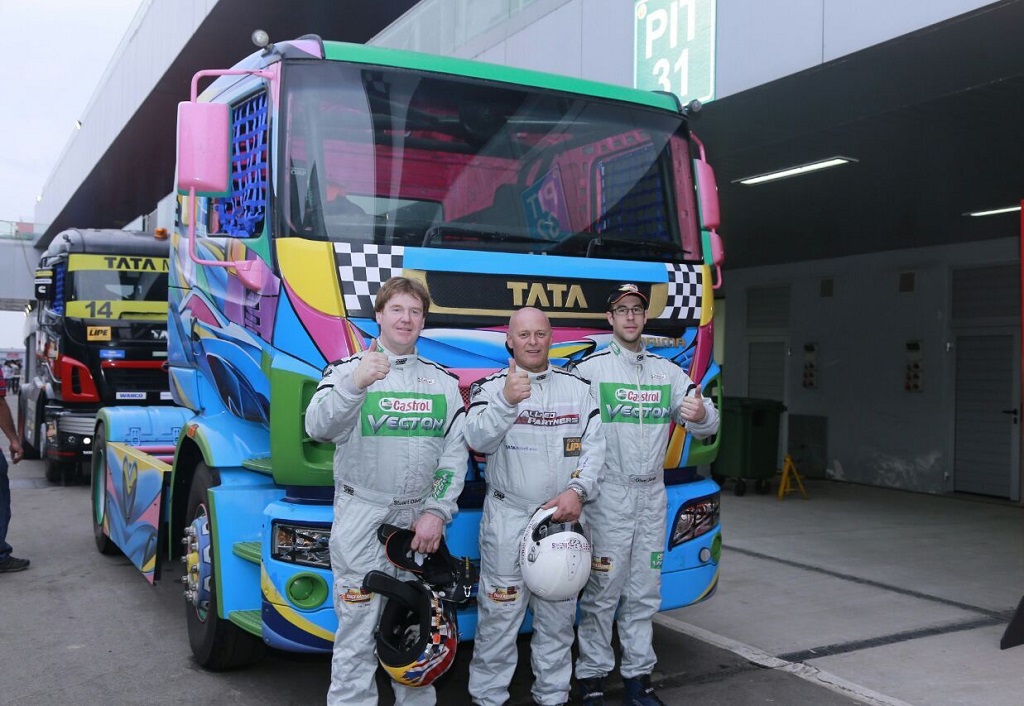 SEASON II – T1 Prima Truck Racing Championship 2015
Stuart Oliver was second fastest for Team Castrol Vecton, while Oly Janes finished third fastest also with Team Castrol Vecton, in Saturday's 20 Minutes QUALIFYING
8 LAP SUPER QUALIFIER and 16 LAP FINAL RACE tomorrow on Sunday, March 15.
Greater Noida, March 14, 2015: Steve Thomas of Team Allied Partners signed into SEASON II of the T1 Prima Truck Racing Championship 2015 in style, finishing fastest in the 20 minute QUALIFYING SESSION today, at the Buddh International Circuit (BIC), while Stuart Oliver of Team Castrol Vecton, last years' T1 PRIMA Truck Racing Champion, was second fastest, with Oly Janes finishing third fastest also of Team Castrol Vecton.
Steve Thomas said "It was a really good day to have finished first in QUALIFYING today. My second time racing here in India at the BIC. One of the main things we've learnt is that the T1 Prima Race truck is very reliable. All the race trucks competing today were evenly matched, making for a very competitive final race. I am delighted to be here and hope to finish on the podium in tomorrow's main race"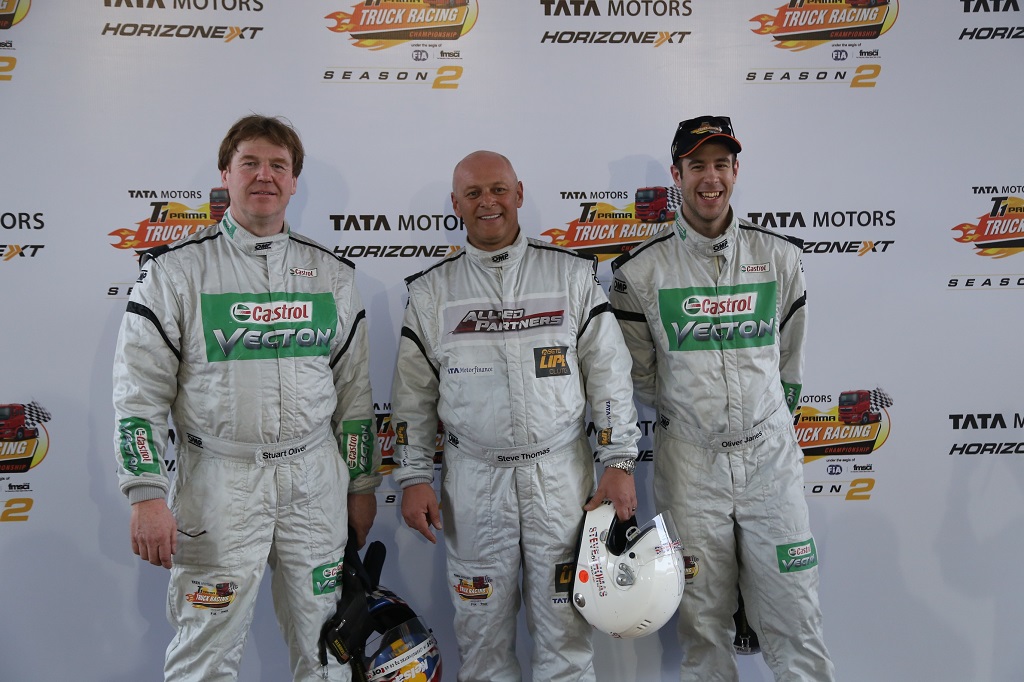 After a spectacular action-packed Truck Racing event last year, Tata Motors today kicked-off Season II of the T1 PRIMA TRUCK RACING CHAMPIONSHIP 2015, at the Buddh International Circuit, Greater Noida, with TWO FREE PRACTICE SESSIONS and a 20 minutes QUALIFYING session today. This will be followed by an 8 lap SUPER QUALIFIER and a 16 lap FINAL RACE tomorrow on Sunday, March 15.
Featuring 12 Tata PRIMA race trucks built for the purpose, driven by experienced international truck racing drivers from the acclaimed British & European Truck Racing championships, the Tata PRIMA race trucks for Season II boast 20% more speed (upto 135 km/hr), a new aerodynamic design, with 10% increased acceleration and 10% weight reduction, over Season I of the T1 PRIMA TRUCK RACING CHAMPIONSHIP.
The six teams for the T1 PRIMA TRUCK RACING CHAMPIONSHIP SEASON II are –
Team Castrol Vecton
Team Cummins
Team Tata Technologies Motorsports
Team Allied Partners
Team Dealer Warriors
Team Dealer Daredevils
For Season II WABCO, JK Tyres, Cummins, Castrol and Tata Technologies are the main sponsors, Setco Automotive and Tata Motors Finance, are sponsors of Team Allied Partners.
Having recently announced the T1 PRIMA TRUCK RACING CHAMPIONSHIP as an annual event, Tata Motors has also conceptualised and introduced a NEW INDIAN DRIVER SELECTION AND TRAINING PROGRAM for 2016, to induct and mould potential Indian truck drivers into T1's FUTURE. This program not only enhances a potentials driving skills, but has an ultimate goal of creating a well-­‐rounded truck racing drivers.
The T1 PRIMA TRUCK RACING CHAMPIONSHIP is organized by MMSC (Madras Motor Sports Club) and is being
conducted under the aegis of FIA & FMSCI. The FIA is the governing body for world motor sport and the federation of the world's leading motoring organizations. One of the core responsibilities of the FIA is the development of motor sport worldwide. Through its national member clubs the FIA is involved in every level of motor sport and its remit extends to the millions of amateurs and professionals who enjoy motor sport in all of its variety. The FMSCI is a long-standing member of the FIA and is the only national motor sport federation recognized by the Government of India, for the promotion and control of motor sport in India, and is affiliated to the prestigious Indian Olympic Association.
About the Tata PRIMA
Being developed with Tata Motors subsidiary – Tata Daewoo Commercial Vehicles (TDCV), Tata Motors conceived the award winning Tata PRIMA range, setting new benchmarks in the performance and design of a next-generation commercial vehicle, based on superior technology, optimum power, fuel efficiency and safety. Built with technical inputs from across the world, the Tata PRIMA is based on an Italian cab design, engine technology from the US and Europe, gearbox expertise from Germany, chassis frame know-how from Mexico, sheet metal dies from Japan and Korea, combining Swedish precision on a robotic weld line, hence is also referred to as the 'World truck' by Tata Motors. Boasting outstanding material and build quality, comfort, driving dynamics and economy, at the same time offering customers with of lowest cost of ownership. Equipped with strong aggregates and a robust chassis frame and suspension, the Tata PRIMA range meets the highest operating standards under extreme conditions.
A multiple award-winning range of trucks from Tata Motors, the Tata PRIMA is today available in different trims, including multi-axle trucks, tractor-trailers and tippers, apt for several applications, thus meeting varied end-user requirements, with its power, sustainable speed, safety and reliability, best-in-class, aggregates, cabin features and comfort, was uncompromisingly designed for long-distance/ hours of transportation.
With the range extending upto 49 tonnes and engine options upto 560 hp, the Tata Prima is an ideal work horse for movement of goods and material across distances and terrains, at the same time delivering efficiencies to a trucking business.
Besides focusing on the mechanics of the vehicle, the uniqueness of the Tata PRIMA is that its cab which focuses on driver comfort. The cockpit of the Tata PRIMA is both functional and visually ergonomic with a separation in terms of the working and living area. The cabin is air-conditioned, with roomie occupants' space, includes reclining seats, armrests, an adjustable steering system, a music system and Global Positioning System (GPS) as a standard feature.