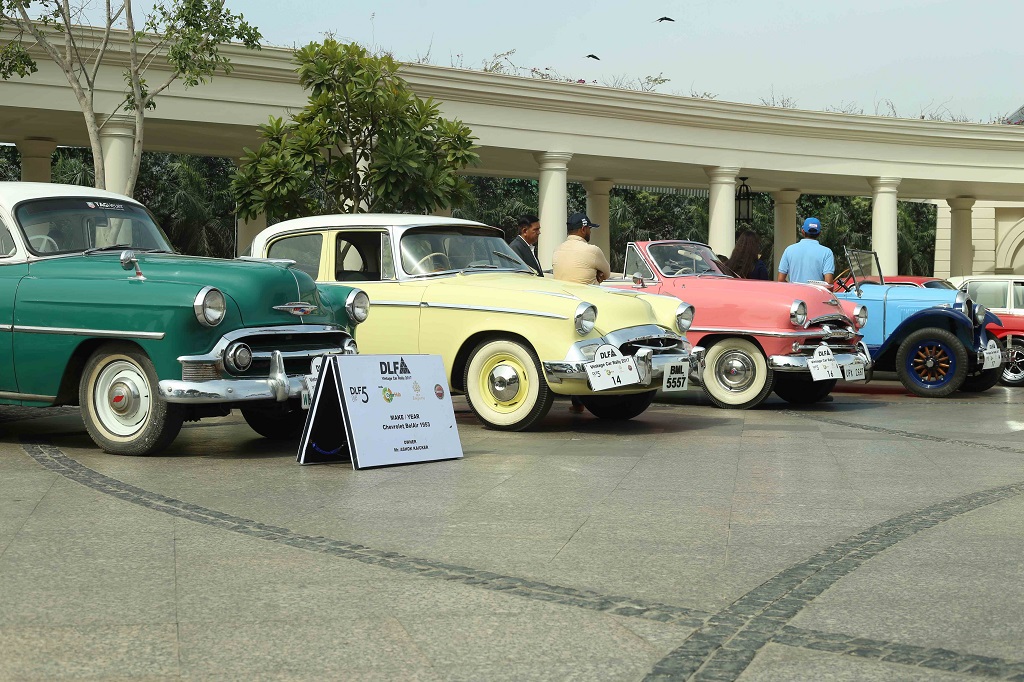 Curated by DLF properties in association with The Heritage Motoring Club of India
March 19th 2017: New Delhi: It was an enthralling experience created by DLF Golf & Country Club, DLF CyberHub & DLF Emporio, in association with the Heritage Motoring Club of India (HMCI) when a convoy of 28 Vintage cars was seen cruising from Gurgaon to Delhi with one of the finest displays of automotive wonders across these three destinations. The rally was flagged off by the Senior Executive Director, Business Development at DLF Home Developers Ltd. – Mr. Aakash Ohri at the DLF Golf and Country Club, Gurgaon.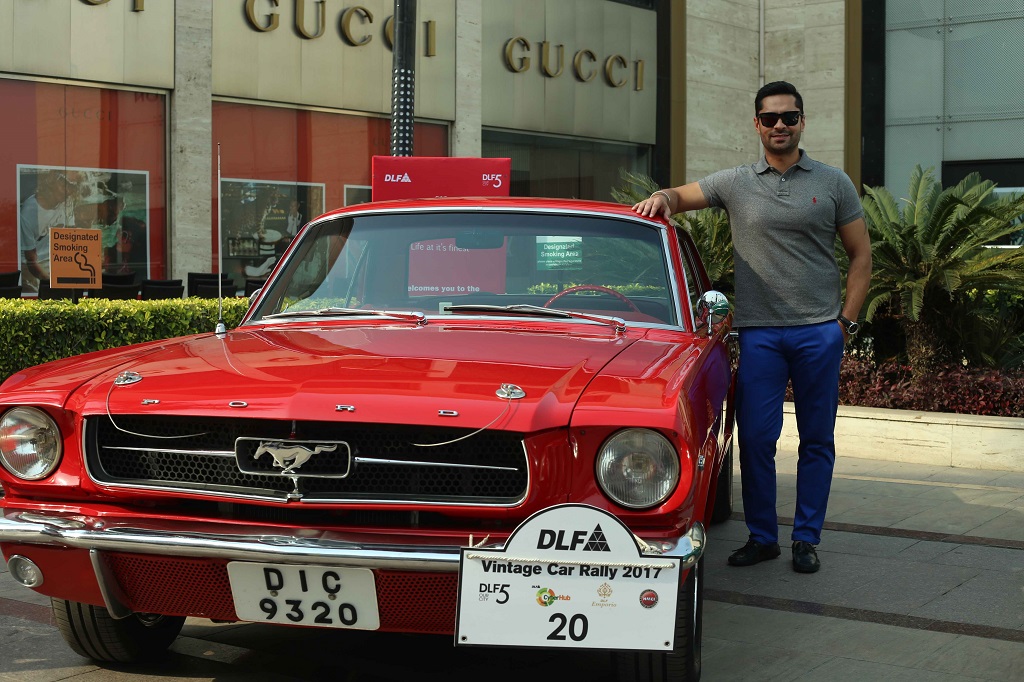 Speaking on the occasion, Managing Director, DLF Rental Business, Mr. Sriram Khattar said, 'It's an honor to host this Vintage afternoon with the members of HMCI today. We thank each member for their participation and are happy with the opportunity to showcase our world class luxury and lifestyle destination."
Mr. Aakash Ohri, Senior Executive Director, Business Development at DLF Home Developers Ltd. added, "I am delighted to be present here amongst some of the leading industrialists and sharing their passion and love for the Vintage class. These exquisite machines are actually timeless and leave you in complete awe."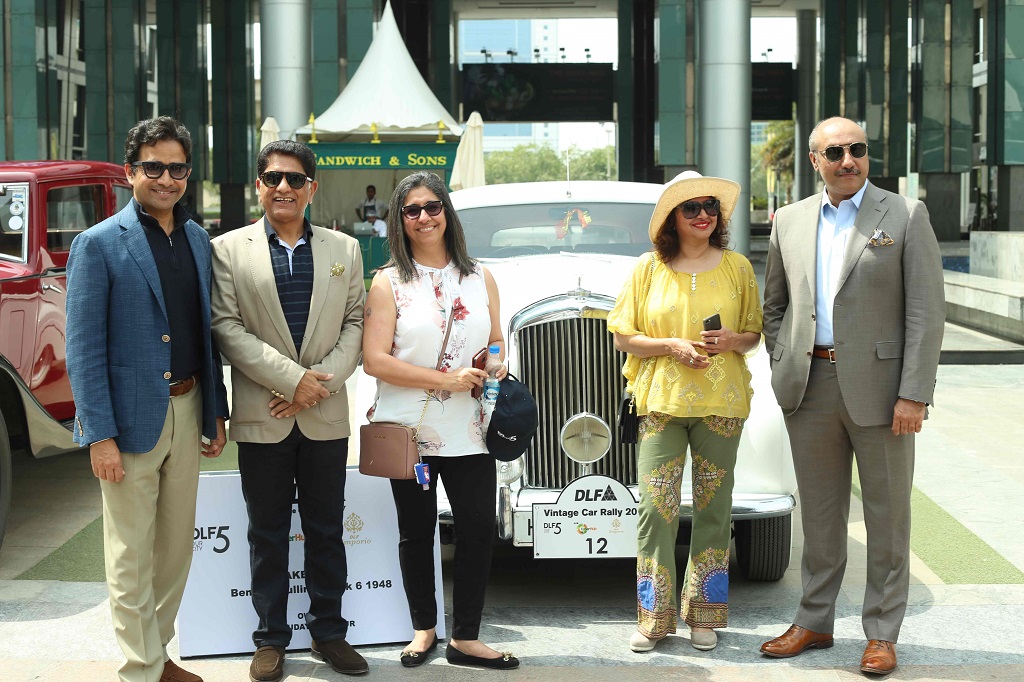 The Golf course visit was made engaging and interactive by conducting a golf clinic by Karan Bindra (Director, DLF Golf Academy), 'A' level professional, and Himmat Rai (Professional Golfer and Asian Tour player, and brand ambassador of DLF Golf & Country Club), at the prestigious DLF Golf academy, post a power packed breakfast in the lawns.'
The early morning start justified itself with a sight to remember – 28 Classic Vintage cars parked in the lush Green course, travelling with ample style after the flag off to the next pit stop.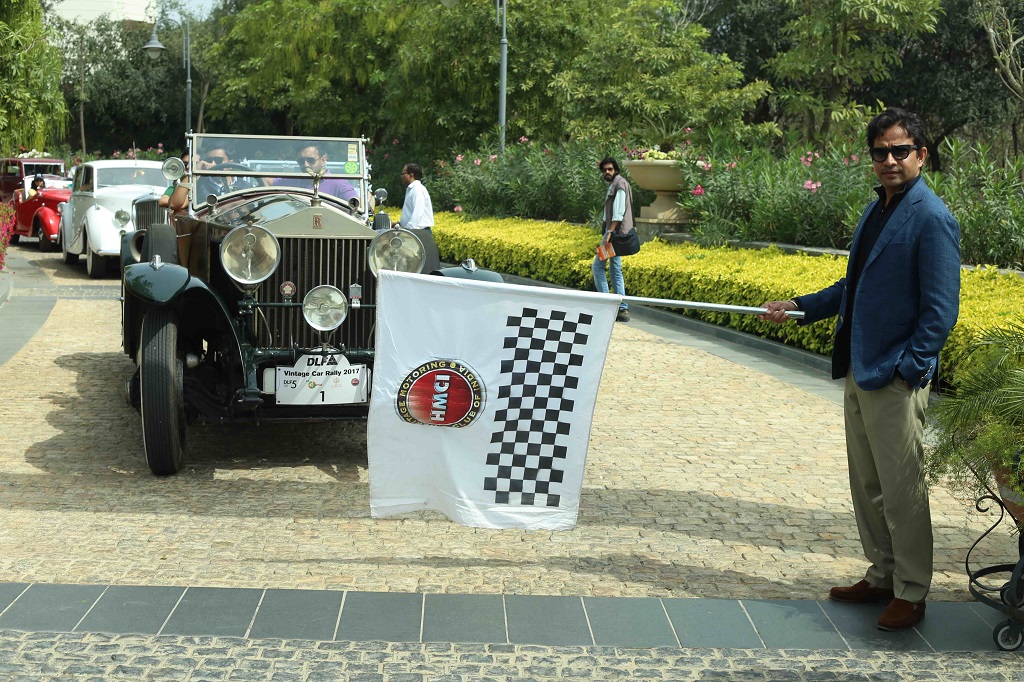 The rally moved on to DLF CyberHub where the car owners and other guests were joined by the Asia Pacific Rally Champion and FMSCI Motor Sports person of the year – Gaurav Gill who is one of the finest professional rallyists of our time. This made for an interesting & contrasting conversation between the members of the club and Gaurav on advanced driving and rallying skills.
Some of the notable Vintage cars as part of the convoy were the 1925 Rolls Royce Phantom 1, A 1930 Stutz Series M, 4 Passenger Speedster, Dual Cowl, Le Baron, a 1933 Rolls Royce amongst others which made for a visual treat for participants and spectators alike.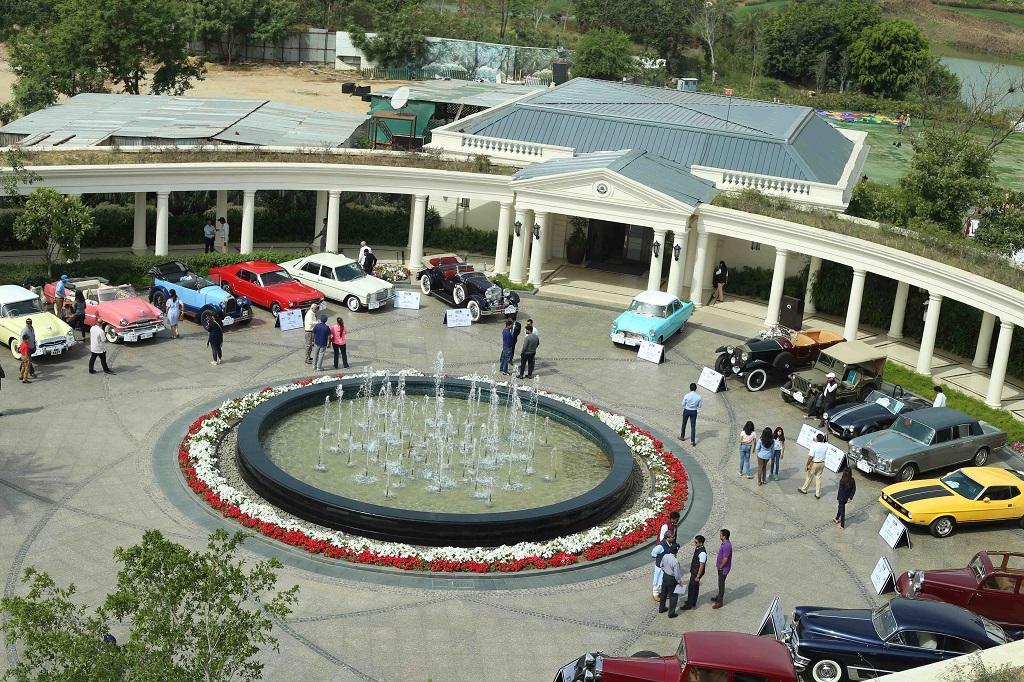 Present here was Ms. Pushpa Bector, Executive Vice President and Head – DLF Premium Malls. She said, "This is for the first time that a host of DLF Properties have come together to collaborate and create an unforgettable collective experience. I am glad that we, as a group have been able to execute this initiative alongside immense cooperation and participation from the members of HMCI club and hope members and spectators had an unforgettable vintage afternoon with us. DLF CyberHub, being the only concept for a food esplanade, made for a perfect Sunday afternoon rally pit stop. Visitors made the most of the day as the cars were parked in open and the owners were available for an interaction.'
From CyberHub, the rally was further flagged off by Managing Director, DLF Rental Business, Mr. Sriram Khattar alongwith Chairman IBM India, Mr. Karan Bajwa.
The rally culminated at DLF Emporio where all the cars were parked gracefully and displayed at The Pavilion. This moment to be clicked was followed by a lavish victory lunch spread out at Set'z and was also attended by some known names from the Fashion industry.
Ms. Dinaz Madhukar further added, "Where do we see a convoy of 28 such charming Vintage cars cruising through the town! It was a picturesque moment for everyone to be around the showcase and through the rally. It was a pleasure to conclude this exhibit at DLF Emporio and showcase these luxe wheels, synonymous to our standing of India's finest luxury destination. We aim to bring forth more such events and engagement platforms in the interest of all our stakeholders."  
Some key attendees also accompanied as co passengers with the participants through the rally including Suneet Varma, Leena Singh, Meera & Muzaffar Ali among others.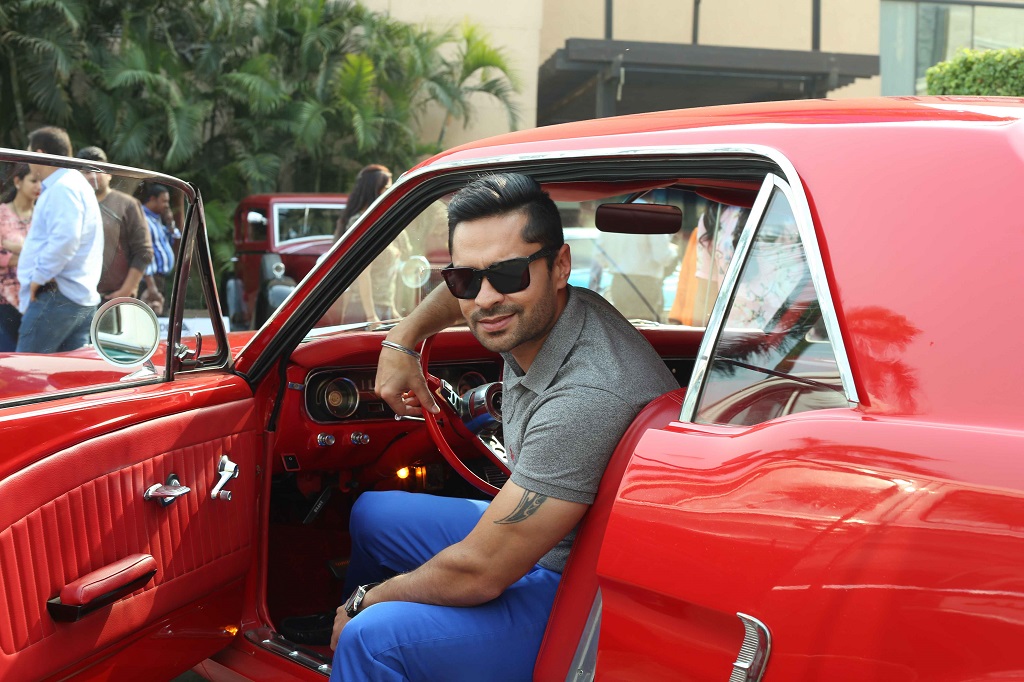 The event culminated with a prize distribution.
The Awards and the Awardees were –
Most Elegant Car- The Plymouth Belvedere Convertible 1952 owned by Mr Darshan Singh
Best Vintage Car (Upto 1942) –Rolls Royce 1933 owned by Mr. Ashish Jain
Best Classic Car (from 1944 to 1970)- Cadillac Sedan 1949 owned by H.W. Bhatnagar
Best of the Show- Stutz Series M, Dual Cowl, Le Baron 1930 owned by Mr. Diljeet Titus
The DLF Choice Award- Rolly Royce Phantom 1 1925 owned by Mr. Ranjit Malik
Designers Choice Award- Armstrong Sideley 1938 owned by Mr. Madan Mohan
Kotwara Award for best Restoration Skills- Ford Mustang 1964 owned by Mr. S.B. Jatti
The judges for the event were Mr. Farhan Kidwai- Car collector and Enthusiast, Mr. Sriram Khattar- Managing Director, DLF Rental Business, Mr, Karan Bajwa- Chairman IBM India and Mr. Muzzafar Ali- Fashion Designer, Filmaker.
Mr. Diljeet Titus, General Secretary of the HMCI concluded, "Collecting and maintaining Vintage cars may be an expensive hobby but it is one of the best hobbies one can have. And when it comes to showcasing these timeless beauties, HMCI members are extremely proud and elated to have been a part of this beautiful experience of driving through some of DLF's finest properties. I am glad that we could come together with DLF for this lovely vintage afternoon."
This was a one of its kind initiative where eminent DLF properties came together to curate such a high quality experiential event for the first time and showcase their collective strength in entertainment and hospitality.
LIST OF THE PARTICIPATING VINTAGE CARS
| | | | |
| --- | --- | --- | --- |
| S. No. | Name of Participant | Year | Make |
| 1.        | Mr. Ranjit Malik | 1925 | Rolls Royce Phantom I |
| 2.        | Mr. Diljeet Titus | 1930 | Stutz Series M, 4 Passenger Speedster, Dual Cowl, Le Baron |
| 3.        | Mr. Kamal Shahani | 1932 | Ford B |
| 4.        | Mr. Ashish Jain | 1933 | Rolls Royce |
| 5.        | Mr. Shivraj Anand | 1934 | Ford Model B |
| 6.        | Mr. Gurpreet Singh | 1936 | Packard 120 |
| 7.        | Mr. Shamsher Shahani | 1936 | Plymouth |
| 8.        | Mr. Madan Mohan | 1938 | Armstrong Sideley |
| 9.        | Mr. H. W. Bhatnagar | 1939 | Mercedes Benz 170 |
| 10.    | Mr. Navinder Singh | 1947 | Buick Super Eight |
| 11.    | Mr. Atul P. Anand | 1947 | MG YT |
| 12.    | Mr. Uday Bahadur | 1948 | Bentley Mulliner Mark 6 |
| 13.    | Mr. H. W. Bhatnagar | 1949 | Cadillac Sedan |
| 14.    | Mr. Darshan Singh | 1952 | Plymouth Belvedere Convertible |
| 15.    | Mr. Ashok Kaicker | 1953 | Chevrolet BelAir |
| 16.    | Mrs. Gunmala Singh | 1953 | Studebaker Champion |
| 17.    | Mr. Avinash Grewal | 1955 | Chevrolet BelAir |
| 18.    | Mr. Chetan Vohra | 1959 | Ford Consul |
| 19.    | Mr. Manujendra Shah | 1962 | Triumph Convertible |
| 20. | Mr. S. B. Jatti | 1964 | Ford Mustang |
| 21.    | Mr. Uday Bahadur | 1967 | Mercedes Benz 220 |
| 22.    | Mr. Vikram Malik | 1967 | Cobra |
| 23.    | Mr. Rajendra Kashyap | 1968 | Mercedes 220B |
| 24.    | Mr. Sarat C. Jain | 1969 | Karman Ghia |
| 25.    | Mr. Gyan Sharma | 1970 | Triumph Spitfire |
| 26.    | Mr. Zubin Songadwala | 1971 | Ford Mustang, Mach 1 |
| 27.    | Mr. Ashok Gupta | 1972 | Rolls Royce Silver Shadow |
| 28.    | Capt. Amar Vir Saran | 1986 | Ford Mustang Convertible |
About DLF Golf and Country Club
DLF5 is a state-of-the-art, integrated development offering high-end residential, commercial, retail and community facilities. More than just bricks and mortar, DLF5 aims to provide a world-class lifestyle in Gurgaon, building a new Indian utopia with an unmatched living experience of global standards for their residents. The DLF5 community features numerous choices to live, work and play luxuriously. Residential lifestyle reaches new heights with renowned luxury apartment communities such as The Aralias, The Magnolias, The Belaire and DLF Park Place, amongst others. These homes are occupied by high profile, culturally diverse and discerning residents who have chosen DLF5 as their home and workplace. The DLF Golf and Country Club is located in DLF5 in Gurgaon and is home to the first Arnold Palmer Signature course in the country and the new Gary Player Signature course. The club has a state-of-the-art golf training facility at par with the best in the world.
About DLF CyberHub
CyberHub is a unique, one-of-its-kind concept in India – A premium socializing zone that has food & entertainment at its core. However, it is the ambience that makes CyberHub an unparalleled experience and an ideal destination for art and cultural shows, media launches, displays, lifestyle shoots, TV programmes. CyberHub makes it possible in complete style.
CyberHub is strategically located on the main artery that connects Gurgaon to Delhi, the National Highway 8. It is surrounded by areas teeming with the young and the affluent, searching for new experiences. Be it the DLF Cybercity. Or, the densely populated Udyog Vihar.
About DLF Emporio
DLF Emporio is truly the finest luxury destination in India and a trendsetter of its kind. DLF Emporio houses forty-seven International labels and forty-eight Indian designers.  From jewellery and watches, the largest collection of International menswear, designer women's wear, bags and accessories to home and lifestyle products, DLF Emporio is truly a shopper's paradise- Where India's finest mingle with the world's finest. DLF Emporio has been conceptualized and designed with the sole purpose of simply offering sheer luxury shopping experience for its esteemed customers. DLF Emporio follows an ultra-chic design concept with a décor in shades of gold and copper that lends it a grand look.
About HMCI
The Heritage Motoring Club of India's mission is to protect, preserve and develop the rich heritage of vintage and classic automobiles and to encourage sharing of goodwill and fellowship derived from owning or being interested in preserving the heritage of vintage and classic automobiles.
We make the experience of owning an automobile more enjoyable and provide outstanding programs and events focused on the use and enjoyment of our automobiles. Over the past 15 years almost all members and their guests have attended close to 127 events featuring a variety of activities including long distance drives, local drives and shows, technical sessions, social events, member dinners and the only autojumble of spares, literature and services to satisfy the most discriminating enthusiast. Locations are selected based on historical interest and availability of pleasant surroundings and family interest.
Long distance drives are organized to enhance driving experience and enjoyment of our automobiles as well as to feature well planned travel routes, natural beauty, scenic sites, special destinations and dining pleasures.
Several events have been organized in association with State governments and its departments, NGOs, corporates and persons of eminence.