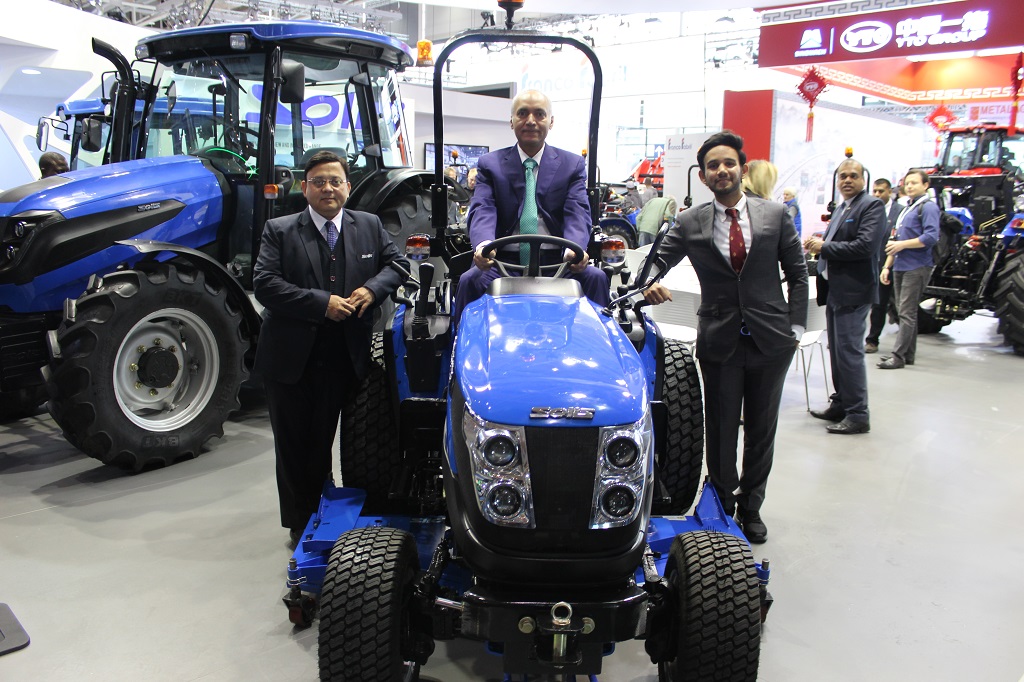 Increasing its global footprint in over 90 countries
New Delhi, December 4, 2017: Sonalika ITL, India's second largest tractor brand exporter, has recorded a 17 % growth in international market in November 2017. The company exported 1215 units of tractors, compared to 1042 units last year in the same month. The company is expecting 15 to 20 percent annual growth next year as well.
Sonalika, the youngest tractor brand with a strong belief in Make in India has built World's largest integrated tractor manufacturing unit offering customized tractors to suit diverse farming needs. The company has a tie-up with Yanmar and has expanded its footprint to another 10 new countries in the year 2017. With this, Sonalika has expanded to 90 countries across the Globe.  By 2018, the company plans to enter 5 new markets. The export range will be equipped with engines complying with future emission standards.
Commenting on the growth, Mr. Raman Mittal, Executive Director Sonalika ITL stated: "Our strategy has been to focus across HP segments and our tractors have become the preferred choice of progressive farmers not just in India but globally. To further strengthen our presence in Europe & US market, we have recently unveiled Solis 30 HST (Hydrostatic Transmission) in Agritechnica – Hanover Germany in Nov'17. Solis a well-recognized brand from ITL in Europe was very much appreciated in the exhibition for Solis 30 HST along with Solis22, Solis 28 & other tractors with next generation tractor platform. Through our tie-up with Yanmar, we are targeting five more markets in 2018. "
The incremental volumes, are underpinned by encouraging response from Europe and Asia. Sonalika's export demand has also received a boost from markets in Africa, where the governments are encouraging agriculture mechanisation. Sonalika International currently has assembly plants in Brazil, Algeria, Iran and Cameroon, and exports semi-knocked-down, completely-knocked-down and fully-built tractors to approximately to 90 countries.
About Sonalika International Tractors Ltd.
Sonalika International Tractors Ltd. Manufacturer of heavy duty tractor range, which produces technologically superior tractors in a range from 20HP to 120HP. Today, Sonalika ITL stands as 3rd largest tractor maker in India and is recognized in both domestic as well as international market as a formidable player. The company has earned the trust of over 8 lakhs customers in more than 90 countries in just 2 decades, which is a remarkable growth.
With the increasing demands of tractors globally and to fulfill this demand, Sonalika has established World's No.1 integrated tractor manufacturing facility, strategically located in Hoshiarpur, Punjab. This plant has a capacity to manufacture approximately 3 lakh tractors annually, with one plant manufacturing 2 lakh tractor with 2 minutes roll out time for each tractor and other plant which manufacture 1 lakh tractor annually. The company has strategic business partnership with Yanmar, Japan.