Promoting Girls Football in India 
Sonalika-Sudeva-UN Girls Football Trophy
Powered by Angelique Foundation
To Promote Peace and Development through Sports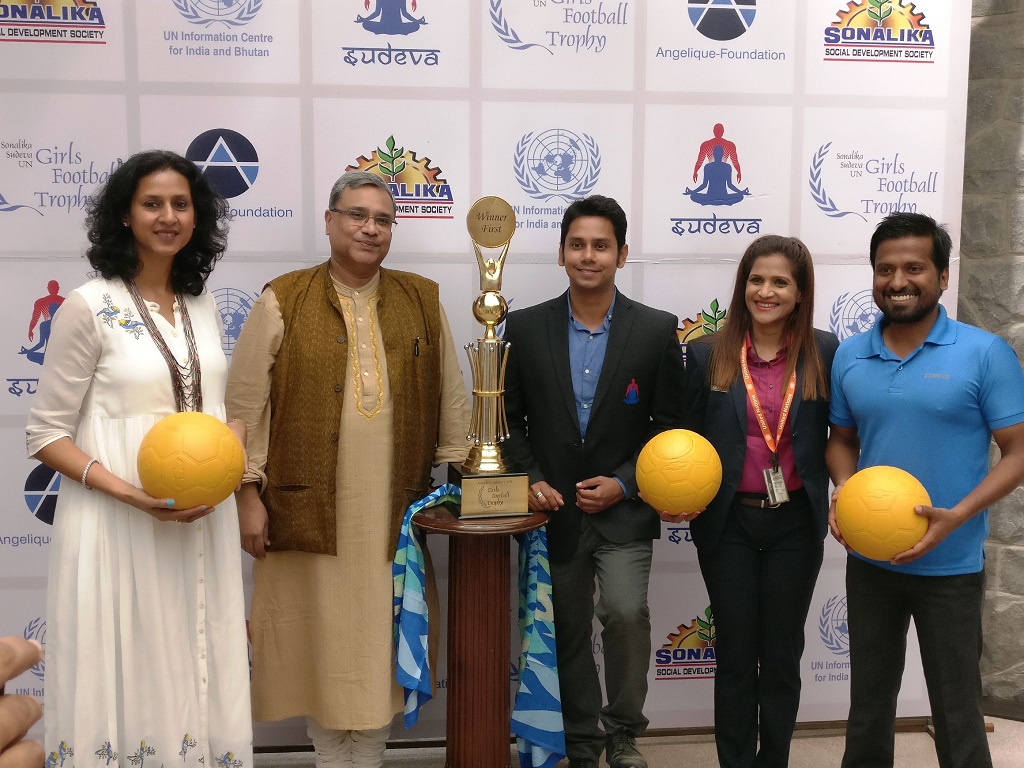 In its endeavor to empower women and to promote football at the grassroot level, UN Information Centre for India and Bhutan (UNIC), in collaboration with Sudeva, is organising India's first-ever Inter-School Girls Football League, the Sonalika-Sudeva-UN Girls Football Trophy powered by Angelique Foundation.
The opening season of the League will be played over three months (October-December 2016). Around 20 school teams will be participating in a league format followed by the semi-finals and finals. All the matches will be played over the weekends at 19, Raj Niwas, Civil Lines Ground. The League is expected to have over 300 plus players participating, and is a novel initiative taken up by Sudeva and the UN Information Centre.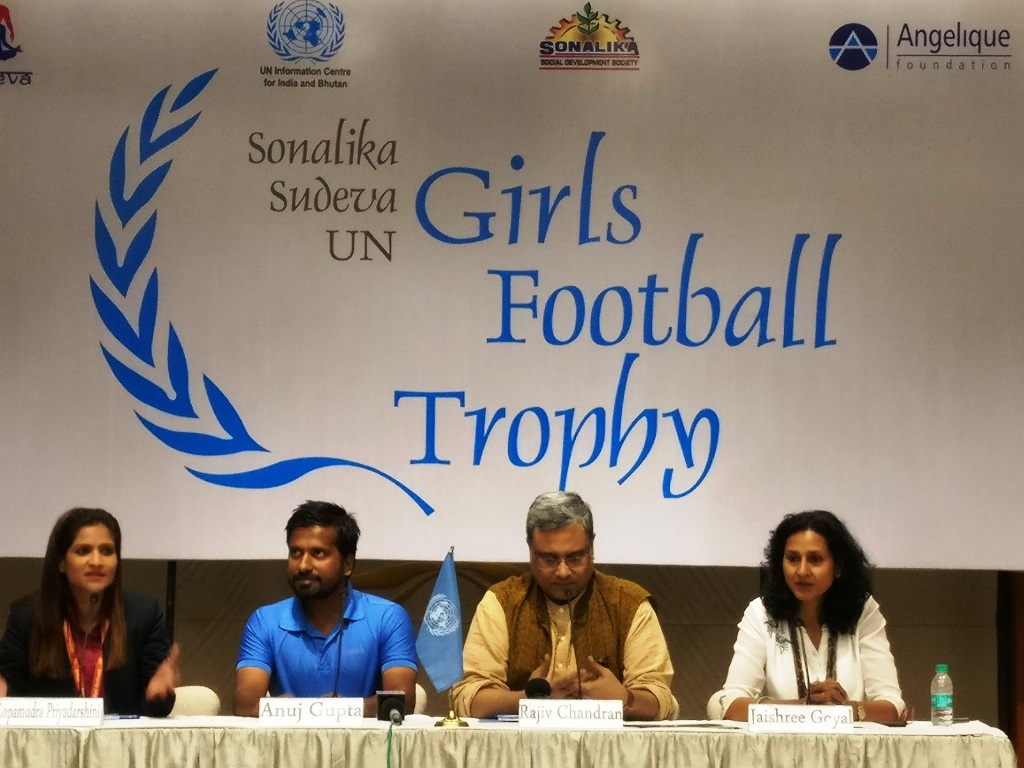 With the rapidly growing popularity of football in India and its women's national team being ranked 57 in the world, such a league will be instrumental in promoting girls talent in football right from the elementary school level.
In the very first season of this Trophy, schools from diverse backgrounds- government schools, NGO-run schools, as well as private schools, will be competing for the UN Trophy. Such an unprecedented blend of social backgrounds is an effort to promote complete inclusion and will be an important step towards reducing social disparities.
The UN believes that sport often provides safe environments at the grassroots and community levels, at which participants are brought together in the pursuit of common goals and interests; learn values of respect, tolerance and fair play; and develop social competencies. As a common denominator and shared passion, sport can build bridges between communities regardless of their cultural differences or political divisions. In times of conflict or instability, sporting activities can provide participants with a sense of normalcy.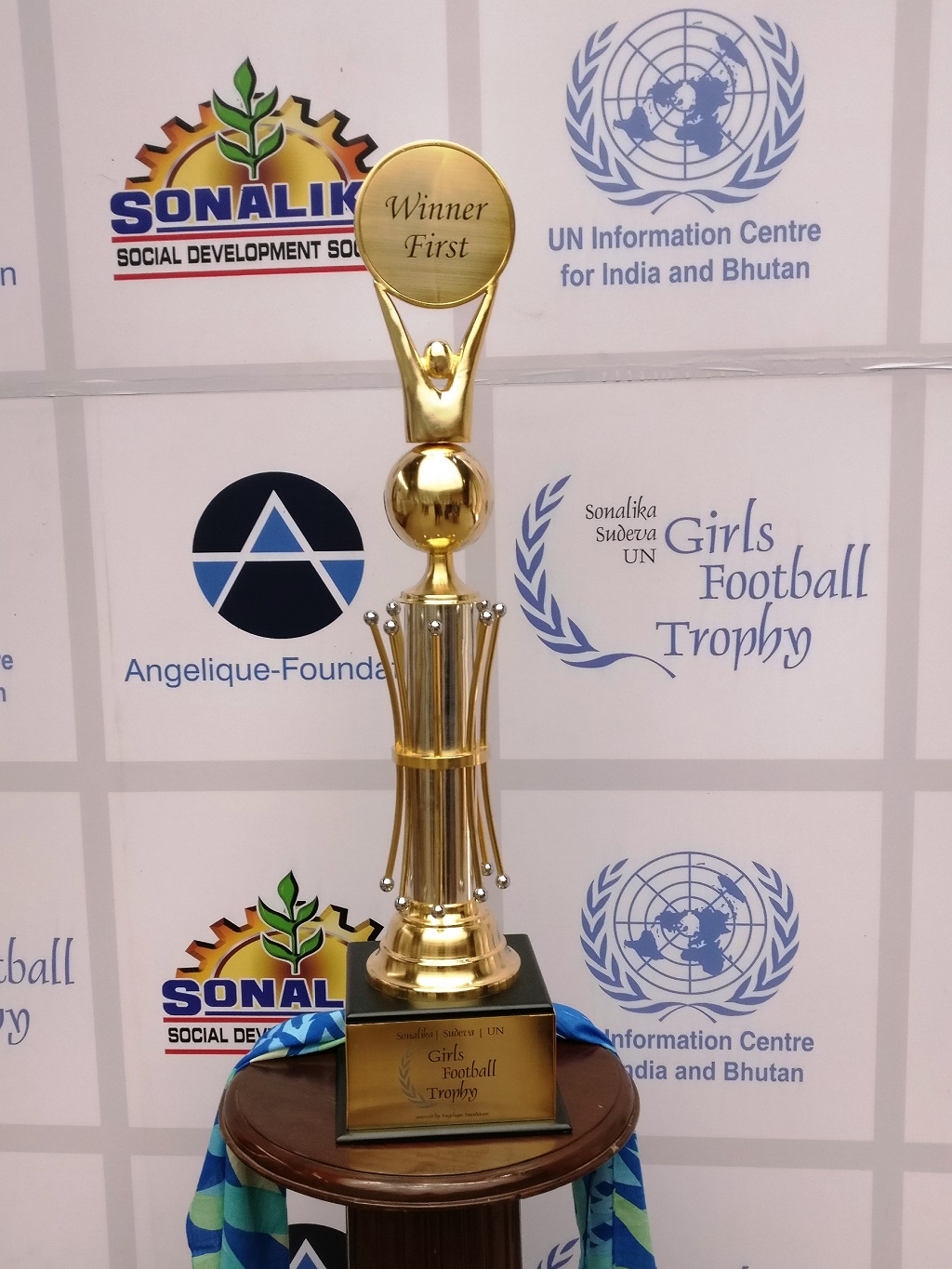 Apart from being the first of its kind League, the event will also promote the Sustainable Development Goals Agenda promoted by the UN. SDG 5 specifically encourages gender equality and empowerment of women and girls.
About the Partners in this project:
Representing the UN Secretariat, the UN Information Centre for India and Bhutan promotes themes and issues that are catalyzed worldwide by both the UN and the Secretary-General. (www.unic.org.in)
Sudeva NGO: Sudeva is an organization which was started in 2014 by two young entrepreneurs sharing a common passion for raising the standards of football training in the country. The organization runs grass root programs for potential talent, starting from the age of 9 years, right up to the senior level. It also owns a 2nd Division I-League Club along with 2star accreditation received by All India Football Federation. Currently, Sudeva is running two residential academies, one in Civil Lines and the other on Sohna Road headed by UEFA A-License coaches. Sudeva initiative is also mentored by Mr Kailash Satyarthi, the Nobel Peace Prize Winner 2014.
Sonalika Social Development Society: A company can be sustainable if there is a balance between Corporate Economic Responsibility (CER) and Corporate Social Responsibility (CSR). With this belief, Sonalika Group has pledged to empower the society so they can strengthen the future and create value to the society. They attempt to ensure that the communities involved in their CSR activity can be assured a better future through constant assessment and evaluation under their various CSR initiatives. They are an esteemed member of the UNGC and their CSR work is in-line with the 17 SDGs of the United Nations, to empower the society under these SDGs
Angelique Foundation: Angelique CSR policy recognizes that, "businesses cannot be successful when the society around them fails".  Angelique International Limited has been undertaking the social/ charitable activities since its inception in various forms mainly aimed at promoting education for a better society. The CSR vision of Angelique International Limited is two pronged; firstly, empowerment of Generation Next through education & vocational training. Secondly, empowering the women through self-employment and promoting both national and rural sports.
Quotes from the organizing partners:
UN Information Centre: "Sport is also an important enabler of sustainable development. We recognize the growing contribution of sport to the realization of development and peace in its promotion of tolerance and respect and  the contributions it makes to the empowerment of women and of young people, individuals and communities as well as to health, education and social inclusion objectives".
Sonalika Social Development Society: "We have always believed in growing together with the society. It is not just a duty, but a privilege to serve the society because the community has given us, an unwavering support from past 2 decades. With this thought, today we are privileged to partner with an initiative (UN Girls Football Trophy) which has a lot of scope in coming time. Under our 'Kilkari' vertical, we work for youth and child development and so herein, we are encouraging young girls to take up a profession, which serves both the purpose of goal recreation and goal setting for them at the same time." -Deepak Mittal, Managing Director, Sonalika Group.
Sudeva NGO: "With the rapidly growing popularity of football in India and its women's national team being ranked 57 in the world, such a league will be instrumental in promoting girls talent in football right from the elementary school level." -Anuj Gupta, Co-Founder, Sudeva NGO
"With gender equality and empowerment of women, as one of the most important goals of Sudeva, we believe that such an initiative would definitely lead to more girls showcasing their talent in a more planned way" – Vijay Hakari, Co-Founder, Sudeva NGO
Angelique Foundation: "Sports not only brings fitness and happiness in a child's life, in the future it can become a career path too. I'm a trustee of Angelique Foundation, and we greatly support girls and women in many areas, sports being one of them." – Jaishree Goyal, Head CSR, Angelique International Limited.