SIAM-SAFE along with Indian Automobile Manufacturers and their 6000 automobile dealers jointly commemorated World Environment Day to encourage environment awareness among society
~ SIAM aims to reach out to over 1 million consumers through this initiative
~ Free day-long PUC (pollution under control) check-ups organised for over 1 lakh vehicle owners
~ Free PUC certificates issued to 1 lakh commuters at various dealers across India
New Delhi, 5th June 2017: Society for Automotive Fitness & Environment (SAFE), an initiative by the Society of Indian Automobile Manufacturers (SIAM) celebrated the World Environment Day on the 5th June 2017 across 6,000 automobile dealers throughout the nation. SAFE organised various activities related to environment safety and conservation along with a pledge to spread awareness around sustainable environment protection, and unceasing eco-conscious growth. The nationwide initiative is also being continued today and will be extended for a week in select dealerships for better reach and service.
Periodic environmental crises such as flash floods, drought, erratic weather patterns, forest fires, deforestation, etc can be resisted only with the support of individuals, corporate and societal entities as well as communities at large for the common cause of environment protection. Therefore, on the occasion of World Environment Day, SAFE is organising several mass awareness campaigns with special focus on Safety, Environment and Technology to promote environment safety and protection.
Some specific activities undertaken included free day-long PUC (pollution under control) check-ups and the issuing of free PUC certificates at various dealers across India. Over 1 lakh vehicles were provided free PUCs and 1 lakh vehicle owners were given free PUC certificates. Several unique initiatives – such as a environment related awareness competition for kids, environment conservation tips for customers, sapling distribution, tree plantation, green processions, awareness rallies, etc., – were conducted at dealership outlets. This activity is part of several initiatives undertaken by the body to combat various challenges faced by the sector. School children were given traffic rules training and safety measures by Delhi Police and Traffic Parks.
Speaking on the eve of the launch, Mr Vishnu Mathur, Director General – SIAM, said "World Environment Day is a way for SIAM to celebrate and encourage community awareness of the key issues that plague our environment, and a consciousness of the measures that can be undertaken to promote eco-friendly growth. Air pollution, in particular, is a major cause for concern today, so it is imperative to garner the support of the entire community to tackle the same with active, diligent efforts. With this campaign, SIAM aims to educate vehicle owners and society in a way that makes them active agents in the building of a cleaner, greener, and safer environment. The participation of the community in this initiative is pivotal, and with their support, we are sure to realise our goal."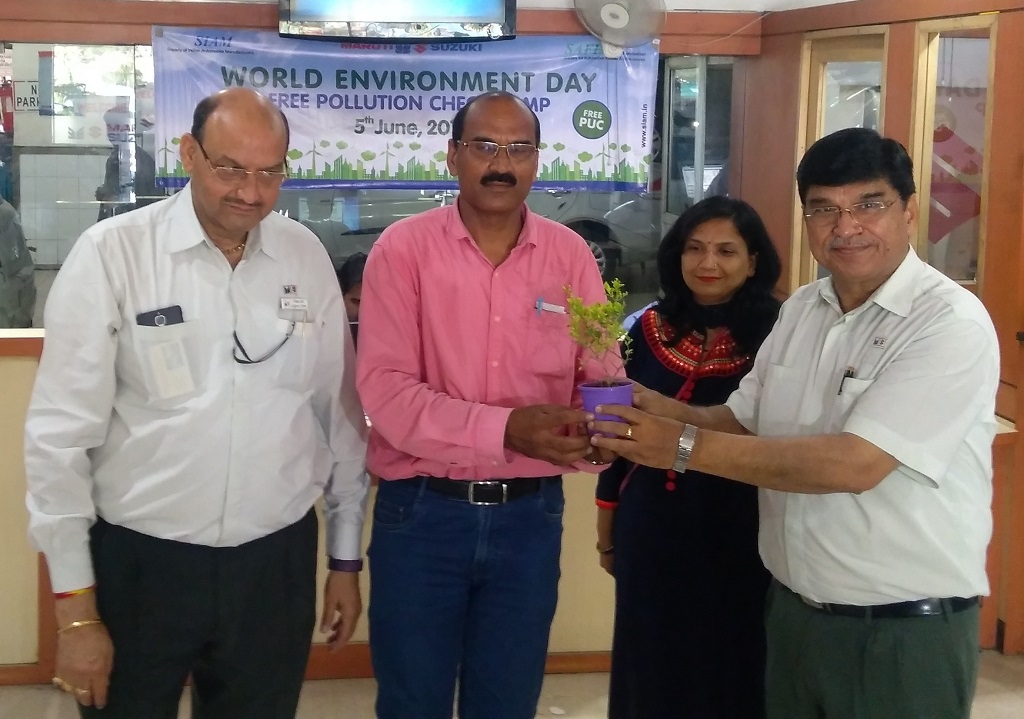 Several manufacturers such as Ashok Leyland Ltd, Bajaj Auto Ltd, Ford India Pvt Ltd, General Motors India Pvt Ltd, Hero MotoCorp Ltd, Honda Motorcycle and Scooter India Pvt Ltd, Hyundai Motor India Ltd, India Yamaha Motor Pvt Ltd, Mahindra and Mahindra Ltd, Maruti Suzuki India Ltd, Nissan Motor India Pvt Ltd, Renault India Pvt Ltd, Skoda Auto India Pvt Ltd, SML ISUZU Ltd, Tata Motors Ltd, Toyota Kirloskar Motor Pvt Ltd, TVS Motor Company Ltd will participate for the common cause through their dealerships.