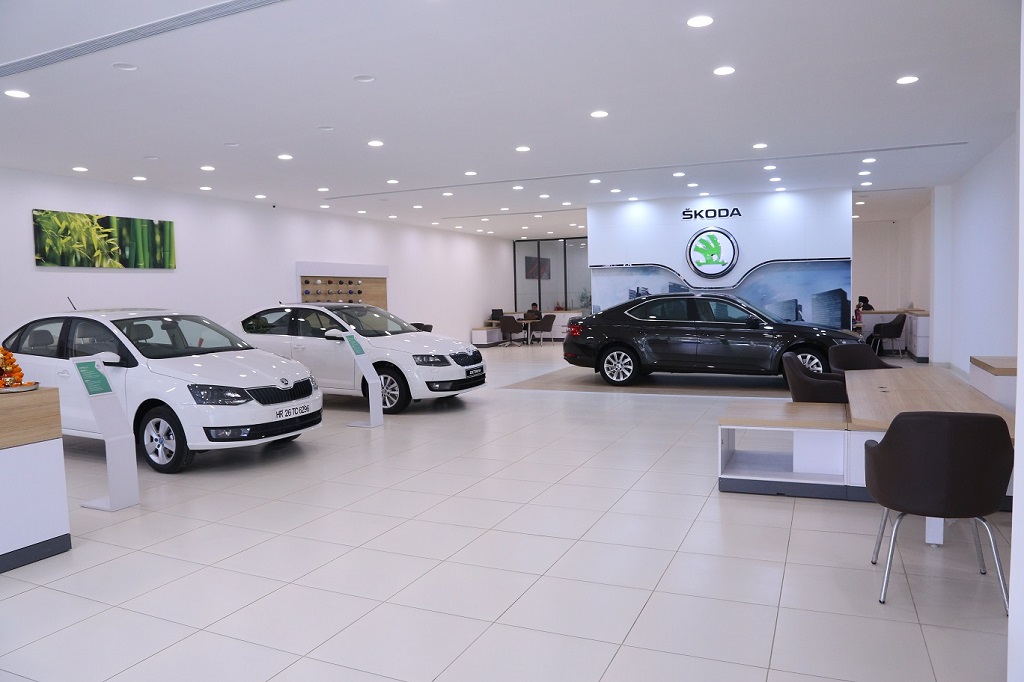 >      ŠKODA's new 5,100 sq.ft state-of-the-art showroom is located in Moti Nagar, New Delhi
>      19,000 sq.ft service facility located at 0.5 kms from the facility
>      Aryaveer Motors is ŠKODA Auto India's 31st facility redesigned with the new identity
New Delhi, 7th March, 2017: ŠKODA Auto India inaugurated its state-of-the-art 3s facility in association with Aryaveer Motors Pvt. Ltd. in New Delhi. The new facility will cater to customers in this region and will be a key touch point with respect to sales, service and spares. The new facility boasts of a modern set-up and a customer focussed design.
The sales facility, located at Najafgarh Road, Moti Nagar sprawls across an area of 5,100 sq.ft accommodating 6-car display. Additionally, a 19,000 sq.ft service facility is located at 0.5 kms from the showroom at the Najafgarh Industrial Area. Aryaveer Motors is ŠKODA Auto India's 31st facility sporting the new corporate identity.
Commenting on the inauguration of the new facility, Mr. Ashutosh Dixit, Director – Sales, Service & Marketing, ŠKODA Auto India Pvt Ltd said, "We are very happy to partner with Aryaveer Motors Pvt. Ltd. This is an important part of our strategy to strengthen our presence in this part of the country and another step towards enhancing our ownership experience. We expect Aryaveer Motors to play an important role in establishing the brand's presence in this part of the city .
Mr. Gautam  Sablok, Dealer Principal – Aryaveer Motors said,  "At ARYA  we believe in placing the customer's interest first, while ensuring a well-trained manpower delivers professional and delightful experiences. This 3s facility will cater to all the customer's requirements in terms of sales, service and spares."
ŠKODA Auto India is in the process of revamping its entire dealer network which will entail – manpower training, a customer friendly layout and business processes along with a refreshed design that will be the key to demonstrating the power of the brand.
New ŠKODA Showroom: friendly, bright, inviting and customer friendly processes:
The redesigned dealerships in India and globally will offer modern showrooms with a great look and feel, customer friendly environment, creating a pleasant atmosphere and transparency. The exteriors of the dealerships have been completely redesigned. The new appearance of the ŠKODA dealerships will be the brand's powerful statement.
Another important aim is to improvise the visibility of the buildings. Elevating the buying experience, ŠKODA India has introduced a next-generation iPad based sales tool for sales consultants. With the help of this tool, the consultants will be able to explain the features of  ŠKODA cars in an interactive and engaging manner.
The launch of the redesigned dealership is the latest chapter in ŠKODA Auto India's commitment to strengthen its presence in the country.
ŠKODA AUTO India:
Has been operating in India since November 2001 as a subsidiary of ŠKODA AUTO a. s. Czech Republic which is one of the oldest automobile companies in the world with its headquarter in Mladá Boleslav
ŠKODA AUTO India has 3 models on sale in India – ŠKODA Superb, ŠKODA Octavia, and the ŠKODA Rapid.
ŠKODA AUTO India has a network of 65 sales and 66 service outlets across the country and has sold over 2,34,575 units since November 2001
It has set up a state-of-the-art manufacturing facility in Shendra near Aurangabad, Maharashtra
For more information please visit www.skoda-auto.co.in
ŠKODA FB Page – https://www.facebook.com/skodaindia
ŠKODA Twitter Handle – https://twitter.com/skodaindia