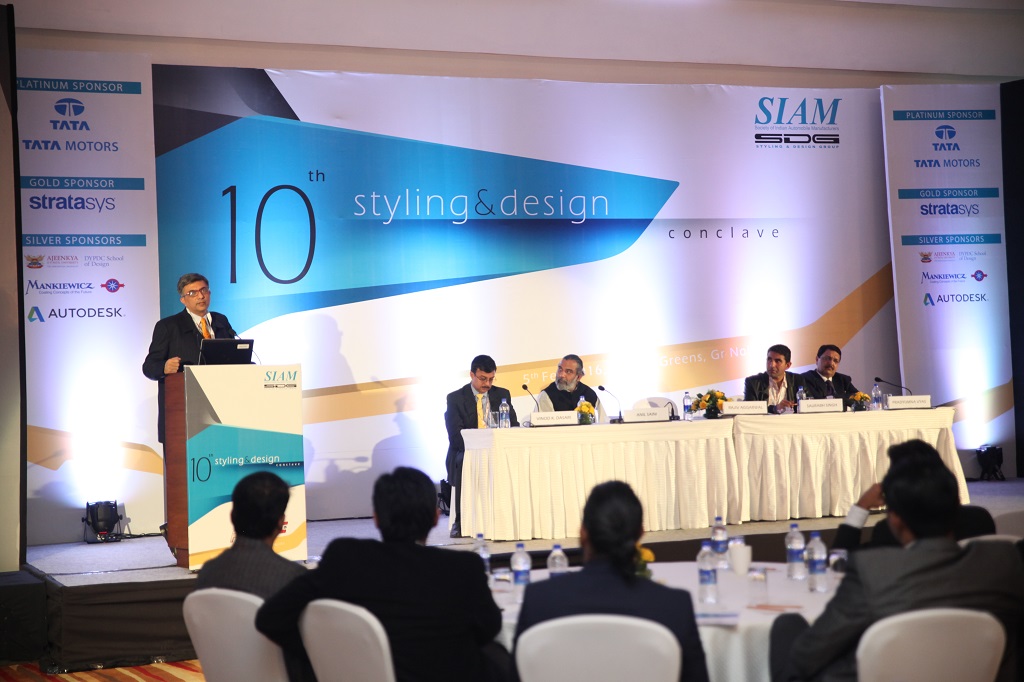 ~ Mr Mohd Basha, Advisor, TVS was honored for his Significant Contribution in Indian Automotive Design ~
~ Gaurav Nandi from MIT was awarded with a cheque of Rs 1 Lakh for his model "EXTROSS" at Automotive Design Challenge 2016 ~
Society of Indian Automobile Manufacturers (SIAM), today organized the 10th Styling & Design Conclave and also concludes the 8th Automotive Design Challenge at Hotel Jaypee Greens Golf & Spa Resort, Greater Noida, Delhi NCR. The conclave marked the spectacular opening with the central theme, "Design in India" looking at Design as significant contributor to 'AMP 2026' and eventually to 'Make in India'. The 10th Styling & Design Conclave served as a unique platform for exchange of ideas.
As has been the case with the conduct of previous nine successful Conclaves, SIAM once more in the 10th Styling & Design Conclave showcased automotive designing ideas originating out of India, demonstrating nation's potential for the automotive industry.
The tenth edition of conclave witnessed the presence of influential automotive design professionals and people closely associated with design from domestic and global brands who shared their experiences through trends reports, technology developments, case studies, design processes and on role of design in building and sustaining a brand's value.
The event this year was dignified by eminent speakers like Rajeev Sharma, Head- Proto Hero Moto Corp; Pratap Bose, Head of Design, Tata Motors; Gaurang Shah, HOD Transportation Design, MITID, Pune; Saurabh Singh, Head of Design Studio, Maruti Suzuki and Adil Jal Darukhanwala, Editor in Chief, Zeegnition.
Mr. Anil Saini, Chairman, SIAM Styling and Designing Group (General Motors) opened the session elaborating upon the theme "Design in India" and gave a broader perspective by the growth of design in the last 30 years.
Mr. Rajiv Aggarwal, Joint Secretary DIPP, Ministry of Commerce & Industry, Govt of India, the chief guest at the conclave, emphasizing on the year's theme, said "The Future is completely based on the innovation, we are becoming a trend setter with respect to the contributions made towards designing in vehicles that are being well accepted globally"
Mr Vinod K Dasari, President, SIAM who emphasized on the fact that a lot of things are taken into consideration before manufacturing a vehicle which includes cost, safety and meeting emission norms. He said " We are one those countries which is the fastest growing & adapting nation with respect to style and design of the vehicle"
Mr Pradyumna Vyas, Director, NID highlighted that Growth of auto design pedagogy in the design institutes. Also emphasized the need for auto makers to get in India Design mark for their automotive products.
Speaking on the Indian OEM story, Mr. Pratap Bose, Head of Design, Tata Motors said "Designs have played a crucial role in bringing a change in the automotive Industry, India has a huge bunch of young talented designers who will shape the future of the designing in vehicles by bringing in innovative designs to cater the needs of the customer"
SIAM handed over a cheque of Rs 10 lakh towards clay modelling program. Mr Mohd Basha, Advisor, TVS was honored for his Significant Contribution in Indian Automotive Design.
Besides such invigorating sessions, SIAM encouraged students to look at automotive styling vocation, keeping in view the objective of improving skill sets and cultivating the talent along with proficiency in automobile designing in India.
Moreover, a design competition subjected on 'Vehicle for Planet Keplar' was also organized among the students participating in the 8th Automotive Design Challenge (ADC).
The conclave culminated with an award ceremony for the Automotive Design Challenge after the final evaluation of participants' submissions. The competition saw participation from more than 100 plus students representing approximately 5 colleges viz NID, IIT-IDC, DYPDC, MIT & ISD. The award for the 'Best Car Design' was given to Mr. Gaurav Nandi  Student of MIT, and was also handed over a cheque of Rs 1 Lakh who had presented the model "EXTROSS"