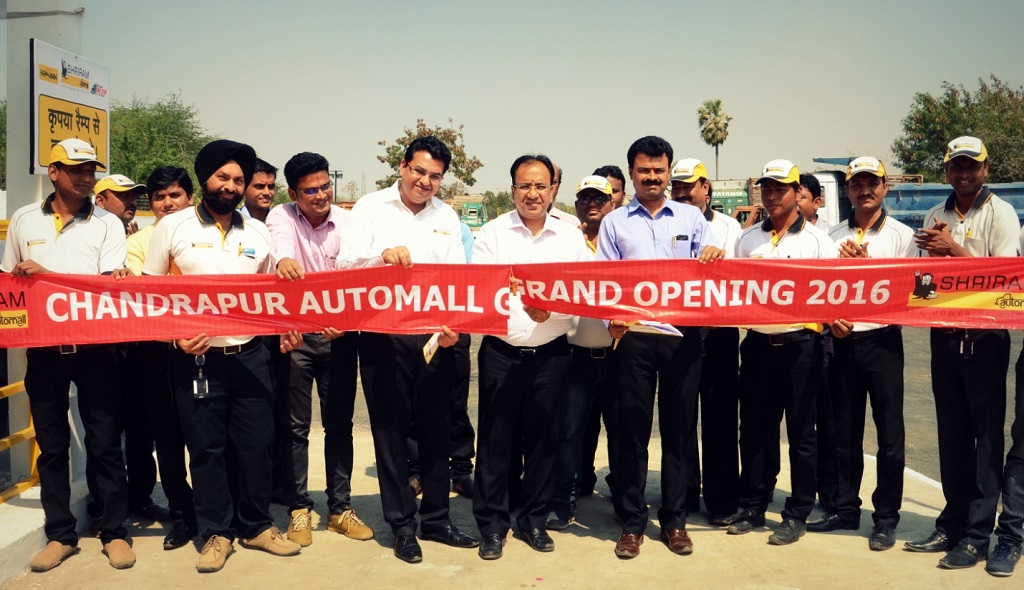 Strengthening the presence in the country, Shriram Automall launched Chandrapur Automall in Central Zone on February 16, 2016.
New Delhi, Shriram Automall India Limited (SAMIL), the pioneers in Pre-owned Vehicle and Equipment Industry, marked the launch of their Chandrapur Automall on February 16, 2016 in line with the aggressive expansion plans of the company. Spread over a sprawling area of 0.75 acres, this is the 8th edition to the existing list of Automalls in Central Zone. The Automall has been strategically located near the Nagpur Highway road which is surrounded by vast agricultural lands.
"The Central Zone is one of the best performing zones for the company; every Automall in the zone is serving as one stop destination for our customer for all their used vehicle & equipment needs. Chadrapur Automall is a part of company's expansion plan to benefit maximum people with our professional services & built 60 Well Structured Automalls by the end of FY 2015-16", said Mr. Sameer Malhotra, CEO, Shriram Automall India Limited
Shriram Automall is a one stop shop that provides its customers with Comprehensive solutions for all their needs related to pre-owned vehicles. Company enjoys an extensive presence across the nation with 150+ bidding locations and more than 50 established Automalls. Identifying a great potential in the pre-owned segment of automobile space here, it is all set to make a significant contribution to the growth.
People from across the locations of Kosara, Datala, Morwa & Kondumal region will be reaping benefits of Shriram Automall's Holistic services and unique platforms for easily disposing and acquiring vehicles.
List of Existing Automalls in Central Zone:
AUTOMALLS –Central Zone
Bhopal
Gwalior
Raipur
In conjunction with the inauguration ceremony, a live bidding event was also held at the Chandrapur Automall where over 40 vehicles & construction equipment were displayed on the ramp for the customers to bid on. The event day witnessed a large footfall with 50+ registrations recorded on the day and disposal of 80% inventory. As a part of the CSR initiative by Shriram Automall, scholarship cheques were distributed to make contribution towards education of the children of truck drivers. The company also felicitated customers with Driving Your Trust cards to acknowledge their trust.
About Shriram Automall India Limited (SAMIL)
SAMIL is one-of-its kind facility, is a wholly owned subsidiary of Shriram Transport Finance Company (STFC). It is India's first-ever service provider that offers various well organized and transparent bidding platforms, including physical, online, one stop classified and negotiated deals, for acquisition & disposal of pre-owned commercial vehicles, construction & industrial equipment, tractors & agricultural equipment, passenger vehicles, three wheelers and two wheelers. Company has its presence all over the country with its already established 55 Automalls and 100+ bidding locations. The company has been awarded ISO 9001:2008 certification for its Quality Management System and rated AA+ from CRISIL.