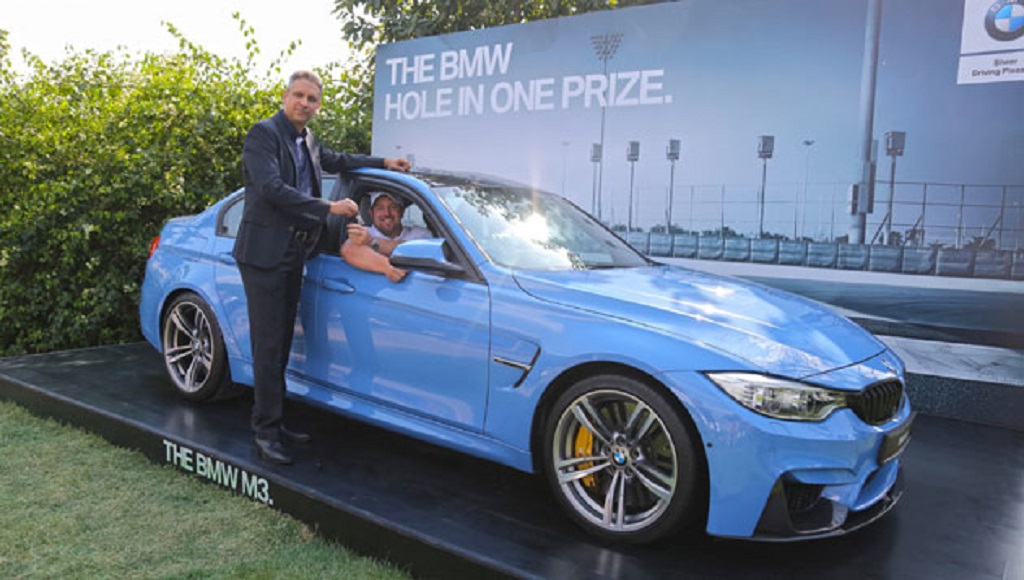 Gurugram, Haryana, India: BMW awarded a BMW M3 to Mr. Duncan Stewart from Scotland, who scored a Hole-in-One in the Hero Indian Open tournament. Mr. Vikram Pawah, President, BMW India handed over the keys of the BMW M3 to Mr. Stewart at a Hole-in-One prize distribution ceremony held on the Gary Players Course at DLF Golf and Country Club on 11 March 2017.
The hole-in-one challenge is an extraordinarily tempting offer, but one that most pros have yet to take up. To win the BMW M3, the criteria was to meet two important conditions: first, the golfer must score a hole-in-one; and second, it must be on the specific hole where the BMW M3 was to be awarded as the prize.
Mr. Duncan Stewart struck the third Hole-in-One of his professional golf career with a six-iron from 178 yards on the par-three fifth hole at the DLF Golf and Country Club in Gurugram.
Mr. Vikram Pawah, President, BMW Group India said, "BMW is driven by passion and excellence, the inherent qualities of a winner. BMW celebrates its passion for golf sport by promoting professional and amateur tournaments across breathtaking golf courses. Across the globe, BMW's association with golf has been a long-standing one and we are delighted to present the sport and its many valuable attributes to a broader audience."
The BMW M3 embodies a blend of motor sport genes and uncompromised everyday usability within an emotionally rich overall concept. This high-performance sports car sets new standards in terms of overall concept, precision and agility. The design language reflects a harmonious interplay of sportiness and elegance while the beautiful craftsmanship and premium materials create an exclusive ambience in the interior – making every drive of BMW M3 a journey of discovery for all the senses. Power, responsiveness and revving ability characterize the sheer driving pleasure of the BMW M3.