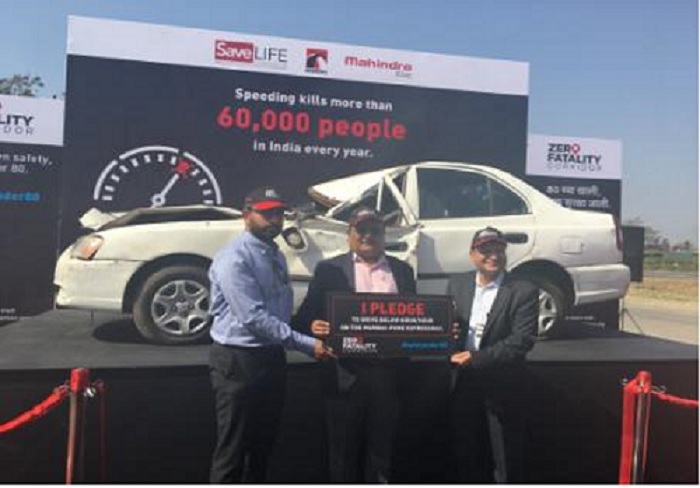 Campaign to educate about the dangers of speeding
Initiative expected to reduce road crash facilities to zero by 2020
Replicable model can be implemented across the country
SAFETY UNDER 80 awareness campaign launched by Save LIFE Foundation in partnership with MSRDC supported by Mahindra & Mahindra Ltd
Mahindra & Mahindra Ltd. in collaboration with Maharashtra State Road Development Corporation Ltd (MSRDC), and SaveLIFE Foundation today launched the "Safety under 80 campaign" as part of an awareness campaign about the Zero Fatality Corridor (ZFC) initiative.
"Safety Under 80"— talks about the dangers of speeding. This initiative is expected to reduce the number of road crash fatalities on the Mumbai-Pune Expressway (MPEW) from an annual average of 130 to 0 by the year 2020. It is a pioneering attempt to build a replicable model for road safety that can be implemented across any road in the country.
The Zero Fatality Corridor (ZFC) is an initiative that was launched in 2014 when Mahindra & Mahindra Ltd. (M&M) signed an MOU with SaveLIFE Foundation. Following that, in 2016 a historic MOU was signed by Maharashtra State Road Development Corporation Ltd (MSRDC), SaveLIFE Foundation and Mahindra & Mahindra Ltd. which formally launched the ZFC initiative that works on the 4Es of Road Safety, Education, Engineering, Enforcement and Emergency Care to create MPEW as a Zero Death corridor.
The campaign was officially launched by Radheshyam Mopalwar IAS, Vice Chairman and Managing Director, MSRDC in the presence of Captain Abhay Lambhate, General Manager – Administration & CSR (Automotive & Farm Equipment Sector (AFS), Mahindra & Mahindra Ltd. (M&M) and Piyush Tewari, Founder and CEO, SaveLIFE Foundation at the Khalapur Food Plaza.
Radheshyam Mopalwar stated that, "People need to know that speeding is dangerous. As part of MSRDC's endeavour to ensure safety of commuters on the MPEW, we have under the Zero Fatality Corridor initiative, made significant progress on all fronts. This campaign which targets speeding is part of that continuing effort and aims to make the expressway safe for all."
Vijay Nair, Vice President – Admin & CSR (AFS) & Employee Relations (Auto Division) M&M said, "At Mahindra safety and caring for society is a way of life. We have initiated several programs across the country, and believe that a project like the ZFC has a far reaching impact. We hope to help in creating India's 1st Zero Death Corridor. This is one of the many ways we enable people to Rise."
Talking about the campaign, Saji Cherian, Director, Operations of SaveLIFE Foundation, said, "Although the speed limit on the expressway is 80km/hr, we know that adherence to it is quite minimal. Through this campaign, we want to remind the commuters that speeding has serious consequences and encourage people to be more responsible while driving."
As per the Analysis of Road Accidents in India, 2015 report by Ministry of Road transport and Highways, more than 60,00 people lose their lives and estimated 2,50,00 are injured in road crashes in India in 2015 alone. According to the World Health Organisation (WHO), speeding is one of the five key risk factors that lead to road crash deaths and injuries. An increase in average speed is directly related to both the likelihood of a crash occurring and the severity of the consequences of the crash. With the maximum speed limit on the MPEW being 80km/hour, the campaign's key objective is to educate the commuters on the expressway about the possible tragic outcomes of exceeding that limit. The shocking consequences of speeding are exhibited through dramatic outdoor hoardings and installation of crashed cars on both the corridors of the MPEW.
About Maharashtra State Road Development Corporation Ltd. (MSRDC)  
MSRDC is a corporation established and fully owned by the Government of Maharashtra. MSRDC strives to deliver exceptional, strategic and integrated infrastructure services to the State of Maharashtra. MSRDC constructed India's first Expressway, the Mumbai-Pune Expressway (MPEW) which redefined the values of traffic and commuter needs and put MSRDC on India's map of transport infra companies. The Bandra Worli Sea Link (BWSL), has become Mumbai's new landmark and adds a feather in the cap of India's infrastructural growth story. Record time construction of 55 flyover project in the city of Greater Mumbai, NSGM connecting Mumbai and Nagpur through inner parts of Marathwada and Vidarbha are other projects which gives credentials to the MSRDC