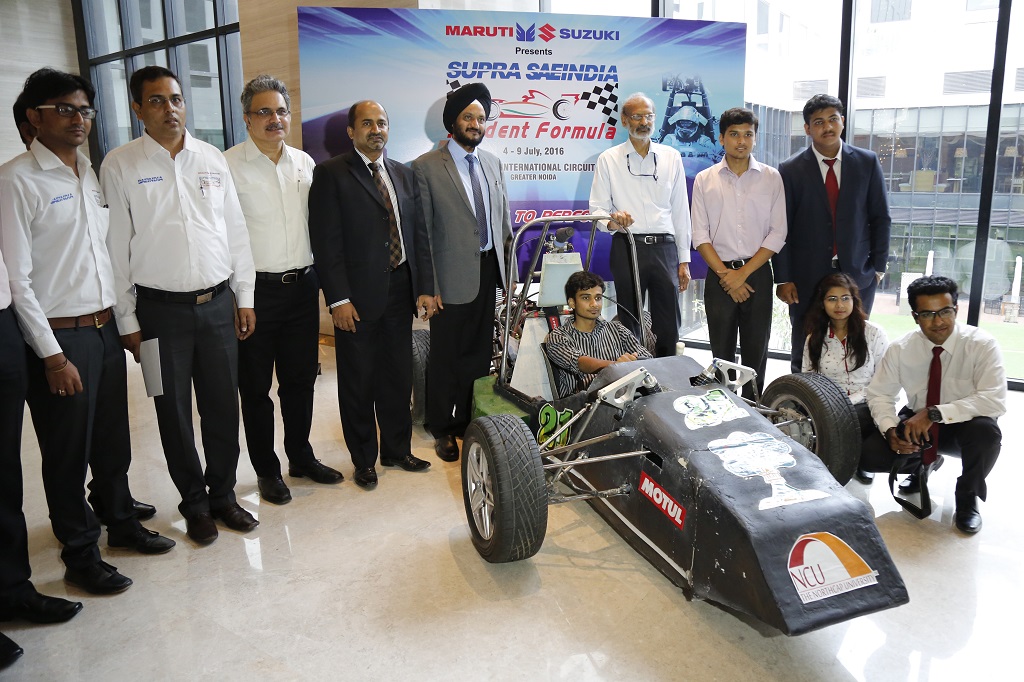 Student Formula competition witnesses highest enrollment ever with 150 teams and 3750 participants
Announces award for best woman participant and team with maximum women participants
The 5th Edition of SAEINDIA SUPRA, India's biggest formula student competition, is all set to roar into action from 4th -9th July 2016 at the Formula 1 track, Buddh International Circuit, Greater Noida, with support from Maruti Suzuki India Limited, the country's leading passenger vehicle manufacturer.
Introduced in 2011 in India, SUPRA aligns with the Government's Automotive Mission Plan 2016 and offers engineering students a platform to explore and demonstrate their aptitude in automobile engineering. It provides challenging and practical experience in the fields of manufacturing and production, while evaluating students on the profitability and market relevance of their prototypes.  It is well supported by the automotive industry, with over a hundred professionals from more than 25 companies volunteering to support the event in various capacities.
In order to encourage an increasing number of women to participate in the event, two special award categories have been announced in the 5th Edition of SUPRA. While the first recognizes the best woman participant, the second rewards the team with the maximum number of women participants. Around 200 women will be participating in SUPRA this year and there will be an all women's team joining the event as well.
Speaking on the occasion, Mr. Prashant K Banerjee, Convener- SUPRA SAEINDIA 2016 & Deputy Executive Director (Technical) Society of Indian Automobile Manufacturers said, "SAEINDIA SUPRA has set a high standard in student formula competitions, with extraordinary support from the industry and academia. It contributes to the Government's Skill India initiative, providing an excellent platform for skill development and enhancement."
"This year, the students will be tested on a range of technical attributes in a mix of static and dynamic events by an experienced panel of judges, including experts from Germany and Russia. The team with the best overall combination of design and construction, financial planning, and performance on the track will emerge victorious," Mr. Banerjee added.
Speaking on the occasion, Mr. R S Kalsi, Executive Director, Marketing & Sales, Maruti Suzuki India said, "We had first collaborated with SUPRA SAEINDIA in 2011 to encourage budding talent in motorsports and engineering. To conceptualize, design, fabricate and run a Formula prototype car from start to finish, provides great hands-on experience. Through this effort, Maruti Suzuki is bridging the gap between academia and industry. We are confident this exposure will enhance employability of young students in the Industry and prepare them for challenging assignments."
FORMULA SAE is a student design competition organized by SAE International, held annually in the USA. The competition started in 1978 and was originally called SAE Mini Indy. In 2011, SAEINDIA decided to start the event in the country and named it SUPRA (abbreviated from Super Racing).
The concept behind SUPRA SAEINDIA is that a fictional manufacturing company has contracted a student design team to develop a small Formula style race car. The prototype race car is to be evaluated for its potential as a production item. The target marketing group for the race car is the non-professional weekend autocross racer. Each student team designs, builds and tests a prototype based on a series of rules, whose purpose is both ensuring on-track safety (the cars are driven by the students themselves) and promoting clever problem solving. The prototype race car is judged in a number of different events.