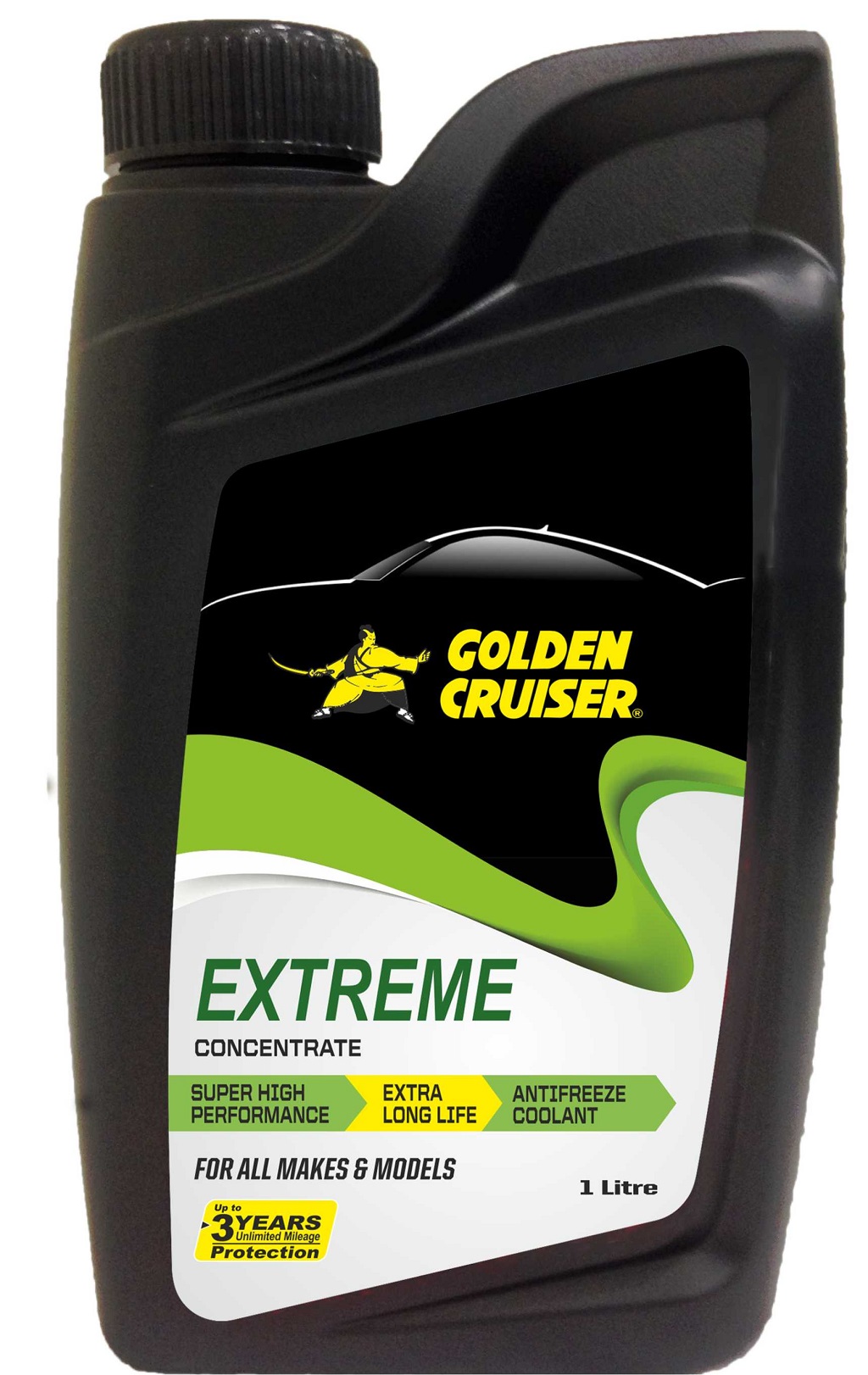 Provides Trouble Free Protection for Over Three Years
New Delhi 10th March 2017:  S-CCI India Pvt Ltd, manufacturers of Golden Cruiser range of coolants, brake fluids, windshield washer fluids and other speciality chemicals have introduced EXTREME Long Life anti freeze coolant.
EXTREME Long Life anti –freeze coolant uses a  technologically advanced formulation based upon a concentrated blend of premium long-lasting inhibitors designed to provide protection against temperature extremes, rust, corrosion, scale, and premature water pump failure. With unlimited mileage, EXTREME has a Long Service life of over 3 years with 1 part coolant and 1 part water irrespective of mileage run.
While making the announcement Mr. S K Singh, Director S-CCI India Pvt Ltd said, "A Coolant is as important as motor oil in vehicle maintenance. If you fail to take care of your machine's cooling system, you could end up with major engine failure on the trail. We have launched a full strength antifreeze concentrate that provides trouble-free protection in all weather conditions round the year.  Our objective is to exceed our competitors in the areas of technology, quality, and customer service."
EXTREME has unmatched anti-corrosion & Lubrication Properties and is easy to use. Long life Coolant is usually changed once per year or at 30,000 Kilometers. This keeps the coolant functioning properly and helps prevent corrosion and deposits from forming inside the cooling system. As corrosion can damage the radiator, water pump, thermostat and other parts of the cooling system, so the coolant in a vehicle with more than about 50,000 Kilometers should be tested periodically. EXTREME Long Life Coolant reduces overall cost of cooling system maintenance from the product side and repair side by improving cooling system hardware life.
Extreme change period is 2 years if dilution is 2 parts water and 1 part coolant and 3 years with 1 part coolant and 1 part water irrespective of mileage run as against the current set of coolants, which are changed once in two to three years depending on vehicle usage.
"EXTREME" helps prevent vehicles from overheating and also prevents the water that it mixes with in the radiator from freezing or boiling. It comprises of a 50/50 mix of Deionised Demineralised water (DIDM) and antifreeze. These two substances work together to maintain a proper ratio of heat energy and prevent eventual breakdown and destruction of the engine. Long-life engine coolant (50/50 mixture of antifreeze and water), provides protection against boiling in hot weather and freezing in cold weather for several years, with little or no maintenance.
About S-CCI – Golden Cruiser India
S-CCI India is a joint venture with CCI Corporation, Japan and manufactures Engine Anti-Freeze Coolants, Brake Fluids and other specialty chemicals. A product of contemporary technology from CCI Corporation, Japan, Golden Cruiser is trusted by American, European as well as Japanese automakers for its technological advantages over other products. With over several million Kilometers of field testing done on different chemical systems, the Golden Cruiser products have had an edge over others for several years in different parts of the world.CCI was established in 1949, and since then, CCI has been developing high-quality engine Anti-Freeze coolants and brake fluids based on on-going research. CCI Corporation has a 60% market share in Japan and 19% worldwide with manufacturing plants in Japan, USA, UK, China, Taiwan and Thailand. For more information on S-CCI India, please visitwww.scci.co.in.