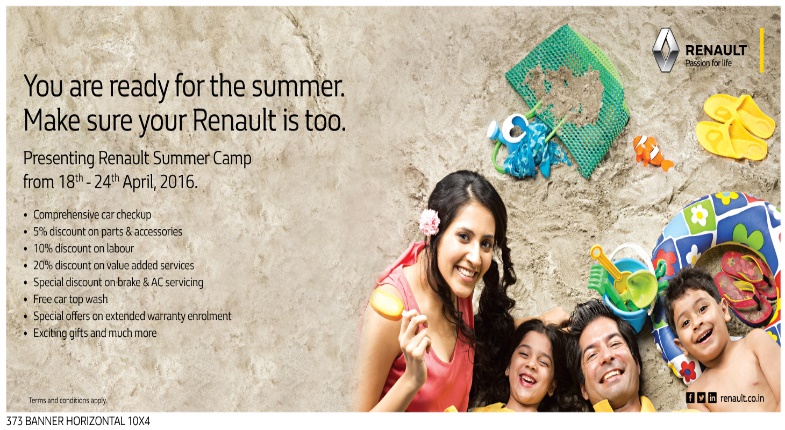 Week-long initiative 'Renault Summer Camp' to be held from April 18 to April 24 at all Renault service facilities across India
Together with a comprehensive car check, several customer engagement activities planned to make it an exciting experience along with special offers on parts and accessories
Continuing its commitment to enhance customer satisfaction with an enriched brand ownership experience, Renault India, one of the fastest growing automotive companies in India, announced the commencement of a nationwide service initiative, 'Renault Summer Camp'.  The service camps will be organized at all Renault service facilities across India from April 18 to April 24, 2016.
The objective of organizing the service camps is to ensure optimal performance of the cars. Trained and well-qualified service technicians are dedicated to provide the care and expert attention that is needed for the cars. The service camp offers Renault owners a car check-up as per the guidelines stipulated by Renault India enabling a detailed examination of all key functions of the car. Such periodical checks ensure necessary actions for enhanced performance of the car and provide customers a rewarding ownership experience. The service camps are also used as a platform to educate customers about their cars, driving rules and basic car maintenance.
Renault India customers can also avail of attractive offers on spare parts and accessories, labour charges, brake servicing, AC servicing and other value added services. Renault India will also provide a special offer on 'Renault Secure', which covers Road Side Assistance and Extended Warranty.
In addition to the car check-up facilities, several fun activities will be organized for customers, making it an exciting experience.
Renault Service Camps have always received an overwhelming response from customers and Renault will continue to build on such customer connect activities as it expands its footprint in India. With substantial efforts and developments on product, network and customer engagement, Renault India has entered a new phase of growth in India, and is gearing up towards making its products and services more accessible to customers across the country