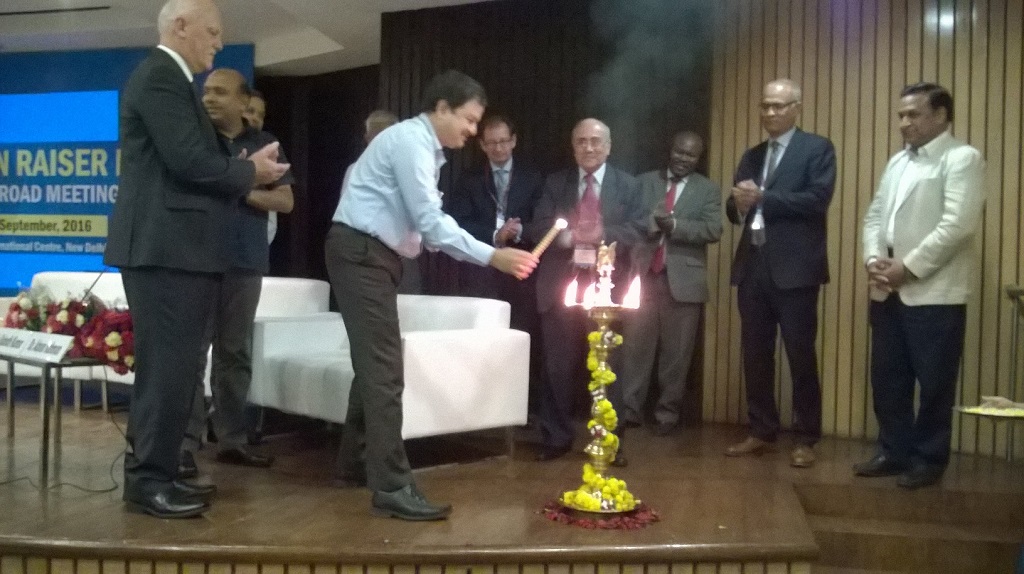 India to host World Roads Meet (Wrm) 2017 for the first time  with focus on 'Safe Roads And Smart Mobility :The Engines Of Economic Growth'
Amitabh Kant, Ceo, Niti Aayog ,Raghav Chandra, Chairman Nhai And Abhay Damle, Jt Sec, Morth to be key note speakers at curtain raiser meet on September 8
India is all set to host the Four day  18th International Road Federation (IRF) World Roads Meet (WRM 2017 )  for the first time from November 14-17, 2017.
"In view of the growing demand for road infrastructure, mobility, and the increasing importance of India as a market for road infrastructure and services, India is a befitting venue for the forthcoming  mega event. The theme of the 18th WRM is "Safe Roads and Smart Mobility : The Engines of Economic Growth." WRM 2017 will bring together representatives of business, industry, governments, public sector organisations, mult-ilateral institutions, leaders and transport experts from the automotive, financial, road and transport infrastructure, and construction sectors;  professionals, academics, consultants, infrastructure operators, contractors and manufacturers from across the world."  Said MR K K Kapila, Chairman , International Road Federation , the global body working for better and safer roads world wide .
"The theme chosen for WRM – 2017 addresses Safe Roads, Smart Mobility and economic growth; cherished aspirations across the world. As urbanization gathers pace, there are demands for more road capacity, there is more traffic, congestion, pollution, traffic accidents and fatalities, all of which bear negatively affect our quality of life, and place a huge burden on the economy of countries. As the world's population continues to grow, these challenge will increase in both magnitude and complexity. The WRM – 2017 will explore safe, sustainable, and smart solutions for addressing these and future challenges." Said Mr Kapila.
"The Ministry of Road Transport and Highways, Government of India has extended their full support to WRM – 2017.  I am confident that with the support of the Government of India the WRM will be a big success. A curtain raiser event for WRM 2017 has been organised on September 8, 2016 to discuss future plans with various stakeholders in the conference including the government to make the event a grand success . Eminent dignitaries including   Mr Amitabh Kant, CEO, NITI Aayog, Mr Raghav Chandra, Chairman, NHAI, Mr Abhay Damle, Joint Secretary, Ministry of Road Transport and Highways (MoRTH)  will be the keynote speakers on government role on Safe roads and smart Mobility. "said Mr Kapila,
The other who will speak will include     Mr. David Stuart Watt, President, Roads' Australia, Mr. Eric Le Corre, Director, Corporate Affairs, Michelin, Mr. Joseph Haule, Chairman, Road Fund, Tanzania, Mr. Anand Kumar, Managing Director, National Highways and Infrastructure Development Corporation and Dr. Subodh Kumar, Trauma Care Centre, All India Institute of Medical Sciences(AIIMS) .
Niti Aayog CEO Amitabh Kant here on Wednesday said India must aim for 9-10 per cent GDP growth for which the private sector also needs to pitch in along with government-initiated efforts.
"We must aim for 9-10 per cent GDP (gross domestic product). We need to change the country's mindset to boost growth. Not only the government but also the private sector, led by automobile industry, needs to change its mindset," Kant said.
He was speaking at the annual conference here of SIAM (Society of Indian Automobile Manufacturers), the apex organisation representing vehicle and vehicle engine manufacturers in the country.
Kant said the government is putting in a lot of resources to put in place the right infrastructure to boost growth.
"The total constructed roads have increased by 40 per cent while the total roads awarded have seen an increase by 52 per cent," he added.
The prime minister also called for increased focus on decongesting hotspot points on highways by developing by-passes & improving logistic flow. He also directed measures to reduce waiting time at toll plazas.
Modi asked the Ministry of Road Transport and Highways to boost share of private sector in road financing. Abhay Damle, Joint Secretary (Transport) Delhi, while addressing school students on road safety stated that Indian roads were the deadliest. Fatalities due to road accidents across India were the highest till date last year.
In 2015 with a total number as high as 1.46 lakh. This equated to 400 deaths each day or 1 death each 3.6 minute. There was a 5% increase in fatalities in 2015 over that accounted for in 2014.
A per data received, Uttar Pradesh recorded the highest number of fatalities in road accidents. This was followed by Tamil Nadu, Maharashtra, Karnataka and Rajasthan. While larger states noted a marked increase in fatalities due to road accidents, the number declined in both Delhi and Chandigarh while Assam also saw decline in road accident related deaths compared to that experienced in 2014.
Also See – How road accidents are studied by experts?
All efforts taken by both central and state government to curb the rising incidents of road accidents have had little impact. New measures are being introduced to curb crashes and fatalities but it seems to be failing. Stronger laws, better enforcement and higher fines for breaking traffic regulations seems to be the need of the hour.
Towards A Mechanically Strong and Safe Road Infrastructure 
Regional Editors Conference 2016
Speaking to senior journalists during the Regional Editor's Conference in Chennai today the Chairman, National Highway Authority of India (NHAI), Shri Raghav Chandra said that the goal of the Ministry of Road Transport and Highways is to create and maintain a countrywide network of road infrastructure that is mechanically strong, designed to ensure safety for commuters and is compatible with the requirements of efficient and sustainable development. With regard to Projects Awarded and Completed during 2014-15 and 2015-16 he gave the broad achievements mentioned below:
| | | |
| --- | --- | --- |
| | 2014-15 | 2015-16 |
| Total length of roads awarded | 7566km | 10,000 km |
| Total length of roads constructed | 4410 km | 6029 km |
While informing the gathering on a major initiative like Bharatmala he said this project aims to build national highways to connect coastal and border areas including small ports, backward areas, religious places, tourist places, improve connectivity to Char Dham and connect all district headquarters to national highways.
Shri Chandra told the gathering how another major initiative , the Setu Bharatam , intends to make road travel safe by constructing Railway Over Bridges (ROB) or Railway Under Bridges (RUB) at all 208 level crossings in the country. The aim is to make national highways free of railway level crossings by 2019.  This is being done to prevent the frequent accidents and loss of lives at level crossings. They will be built at a cost of Rs. 20,800 crore .
He also informed that the Cabinet Committee on Economic Affairs approved development of 1120 kms of national highways in the States of Karnataka, Odisha, Bihar, Rajasthan and West Bengal. The work for development to two lane standards is under Phase-I of the National Highway Interconnectivity Improvement Project (NHIIP) with World Bank assistance. The estimated cost is Rs. 6461 crore.
The Chairman said the government has approved a plan for constructing 1000 km of expressways along high density corridors like the Vadodara-Mumbai corridor and Delhi-Meerut corridor. The approved expressways on high density corridors are Delhi-Meerut (66 km.), Eastern Peripheral Expressway – 135 km long Greenfield Expressway from Palwal in Haryana to Kundali via Dasna and the 135 km long Western Peripheral Expressway which is being executed by Government of Haryana.
 He informed that  the Ministry has fixed a 2.5 times increase in the target for award and construction of national highways for 2016-17. The ministry has set a target of 25,000 km of national highways to be awarded in 2016-17 as against the 10,000 km awarded in 2015-16. The construction target has been set at 15,000 km as against the 6000 km constructed last year. Of the total length of national highways targeted for award, 15,000 km would fall under the target of NHAI and 10,000 km under the target of the Ministry and National Highways and Infrastructure Development Corporation (NHIDCL). NHAI's target for construction has been fixed at 8000 km while for the Ministry and NHIDCL, the target is 7000 km.
Shri Chandra informed the gathering , the speeding up of road projects has been made possible due to several policy interventions which include the freedom to decide Mode of delivery whether PPP or EPC , Ministry is authorized to appraise projects up to Rs.1000 crores in place of earlier Rs. 500 crores ,Enhanced inter-ministerial coordination ,Exit Policy for  contractors, Revival of Languishing projects , Promoting innovative project implementation models like Hybrid Annuity Model,Amendments to the Model Concession Agreement (MCA) for BOT Projects , Segregation of Civil Cost from capital Cost for NH projects for appraisal & approval , Rationalised compensation to concessionaires for languishing NH projects in BOT mode for delays not attributable to concessionaires .
Talking about road safety the Chairman said that the government plans to reduce fatality due to road accidents by 50% by 2020. Several initiatives have been taken for this:
A National Road Safety Policy has been approved
The government has constituted the National Road Safety Council as the apex body to take policy decisions in the matter of road safety.
The Ministry constituted Group of Ministers from eight states to deliberate and propose strategies for reducing road fatalities.
The Ministry has introduced the Motor Vehicle (Amendment) Bill 2016.
The Ministry has launched a media campaign to promote road safety.
NGOs have been sensitized to work on Road Safety
Road safety has been made an integral part of road designing; safety audits are being taken up for selected stretches of national highways.
723 black spots have been identified which ware accident prone and steps are being taken to rectify engineering defects at such spots at a cost of Rs. 11,000 crore.
       The  Highway Advisory System was launched on 10th March 2016 as a pilot project on Delhi-Jaipur highway is a free-to-air information distribution system that uses radio to make the travelling experience on national highways safer.
Ministry has sanctioned 25 Institutes of Driver Training and Research and 15 Inspection and Certification Centers .Vehicle Inspection Centre at Nashik (Maharashtra) started operation from Oct. 15 and more than 15000 vehicles have been tested so far.
Good Samaritans Guidelines: Guidelines dated 12th May 2015 have been issued by the Ministry to prevent the harassment of "Good Samaritans" who help road accident victims. Hon'ble Supreme Court has accepted these guidelines and has asked States for implementation.