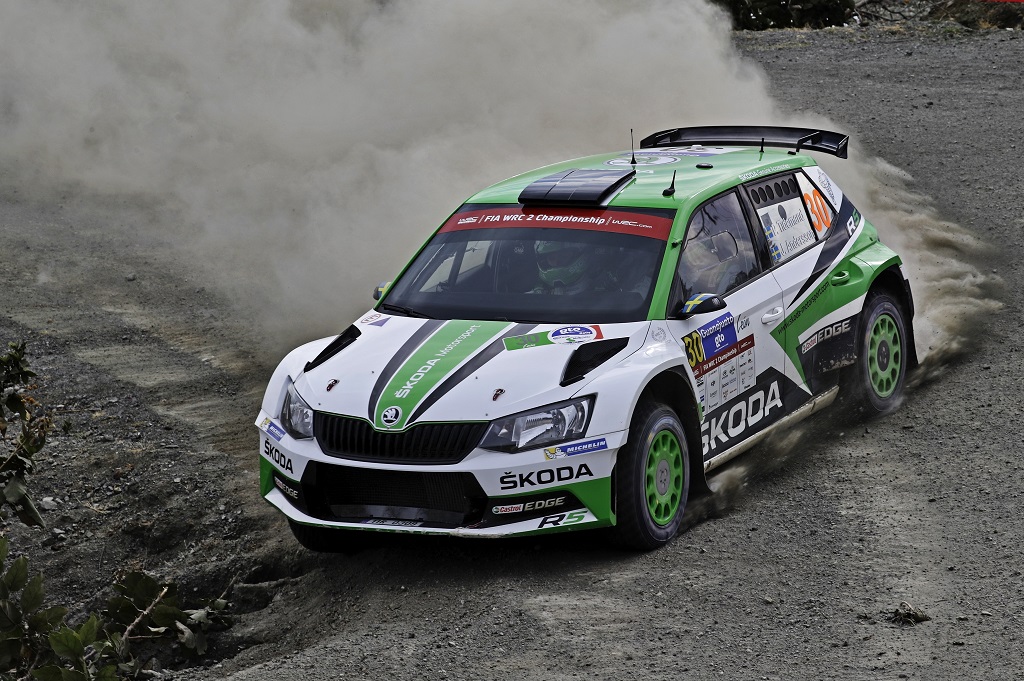 › ŠKODA works drivers Pontus Tidemand and Andreas Mikkelsen share the lead in the FIA World Rally Championship (WRC 2) with equal points
› Every single win in the WRC 2 category so far has gone to ŠKODA teams
› Double wins for Mikkelsen and Tidemand – the ŠKODA FABIA R5 dominates the WRC 2
› Pontus Tidemand takes to Argentine gravel, aiming for his third victory of the season
› The demanding gravel rally in Argentina climbs to an altitude of 2000 metres
Mladá Boleslav, 27 April 2017 – The 2017 season couldn't be going better so far for ŠKODA. Works drivers Andreas Mikkelsen (winner of the Rallye Monte Carlo and Tour de Corse together with co-driver Anders Jæger-Synnevaag) and Pontus Tidemand (winner in Sweden and Mexico with co-driver Jonas Andersson) share top place on the championship table in the WRC 2 classification with the same number of points. Tidemand is the only ŠKODA works driver on the grid in Argentina and is in a position to take over outright leadership of the WRC 2.
Around 360 kilometres over 18 special stages, ranging from the Argentine prairie to altitudes of more than 2000 metres, sandy tracks across flatlands and rutted mule trails high in the mountains – these are the ingredients of one of the world championship's toughest gravel rallies. The gradient profile of the tracks in the foothills of the Andes near Cordoba is not dissimilar to that of the Rally Mexico, where some of the cars suffered breathing difficulties and temperature problems in the thin mountain air. Not so the ŠKODA FABIA R5, which carried Pontus Tidemand to victory in Mexico. The Swede is taking this as a good sign for the Rally Argentina. His ŠKODA FABIA R5 was transported directly from Mexico to Cordoba and is, to a certain extent, already "acclimatised".
As the only works team taking part, Pontus Tidemand and co-driver Jonas Andersson are flying the flag for ŠKODA Motorsport in Argentina. But ambitious private teams are well placed to attack in the fight for top place. Poles Hubert Ptaszek/Maciek Szczepaniak and four other teams are putting their faith in a ŠKODA FABIA R5. Gustavo Saba Rodriguez (PRY) and Benito Guerra (MEX) in particular look well set to score a top result.
The Rally Argentina kicks off on the evening of Thursday 27 April with a spectacular show stage in Cordoba. The winner is expected to cross the finish line in Carlos Paz around midday on Sunday 30 April.