~ This is one of India's largest EV infrastructure project in the private investment sector~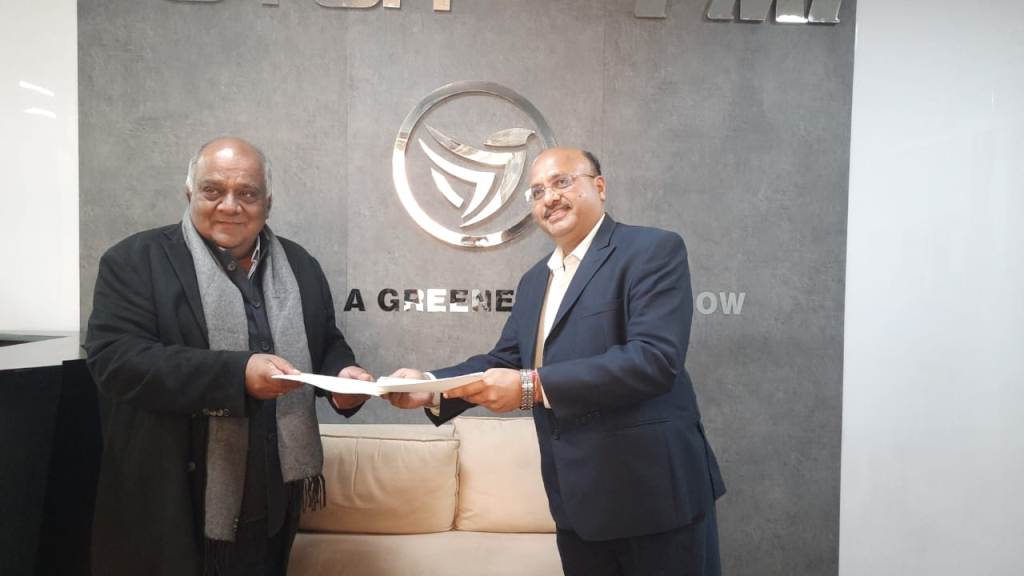 Mumbai, 22 January 2021: –The new decade will carve massive space for e-mobility in India that is rapidly evolving, and electric vehicles are at the forefront of this change. In the post-pandemic world, it is expected to increase the need for mobility options for a sustainable future. Panasonic Life Solutions India offers a comprehensive range of hi-tech EV chargers and accessories with a global focus on protecting the environment and reducing carbon footprints. To meet the rising demand for e-mobility, in the first phase of the roll-out, Panasonic Life Solutions India will provide high-tech EV charging infrastructure for more than 1000 electric buses to PMI Electro Mobility Solution Private Limited.
Panasonic Life Solution India's electric mobility ecosystem portfolio includes AC chargers and DC chargers. With these services, the aim is to cater to the EV fleet owners, e-commerce, and logistics companies at large, thereby supporting them to manage their fleet efficiently.
Mr. Dinesh Aggarwal, Joint Managing Director, Panasonic Life Solutions India Pvt. Ltd. said that, "The opportunity for electric mobility in the country is huge and it is paving the pathway for electrification across other modes of transport. At Panasonic Life Solutions India, our unrelenting quest for innovation is guided by our philosophy of connectivity, comfort, and safety. It has enabled us to take the lead and develop an EV charging infrastructure. In order to encourage wider adoption of e-mobility, the central government introduced Phase II of the FAME scheme to facilitate the EV market in India. Such good policy support is required to encourage EVs through an ecosystem of research, manufacturing, storage, and charging infrastructure. We are excited about extending our e-mobility services across the states of Uttar Pradesh, Gujarat, West Bengal, and Odisha in the first phase. With this, we aim to create an infrastructure that will cater to the unsatiated needs of multiple stakeholders and inspire the public to use sustainable technologies such as EV instead of private vehicles in the country".
Talking about the announcement, Mr. Satish Jain, PMI Electro Mobility Solution Private Limited, said "PMI has to supply 1000 Electric buses to across 18 cities in India, on Gross Cost Contract Basis. The buses shall operate 200~220 kms on a daily basis. For which, a reliable charging infra partner is needed. Panasonic being one of the most reputable brands provides additional comfort. The chargers provided by Panasonic are one of the most advanced, and fast chargers by which we will be able to charge our buses within 40 mins. PMI is proud to be a strong partner in the current e-mobility movement in India and takes pride in being a major stakeholder in the public transportation sector.
About Panasonic Life Solutions India:
Established in 1963, Panasonic Life Solutions India (formerly known as Anchor Electricals), is a wholly-owned subsidiary of Panasonic Corporation. With a constantly expanding product range and growing market share, it is one of the leading manufacturers of electrical construction materials with presence across India. Its sales and operating profit are steadily growing, and it concluded the last financial year with net sales of nearly INR 34 billion. Being a prominent player in the Indian electrical segment the company has about 35 domestic offices and 9500 employees.
Currently, the company's 7 manufacturing units at 4 locations in India are manufacturing electrical appliances products, synonymous with quality. The company offers a wide spectrum of electrical solutions in consumer products ranging from Wires & Cables, Lighting, Solar power, Wiring Devices, Switchgears, Infrastructure and Indoor Air Quality (IAQ).
About PMI Electro Mobility Solutions Private Limited
Established in 2017, PMI Electro Mobility is a manufacturer of 'clean fuel' commercial vehicles in India. PMI is a subsidiary of PMI Coaches Private Limited, which is one of the largest bus and coach manufacturing entity in India. PMI has a well-established manufacturing facility capable of rolling out 2500~3000 buses per year.
Currently, the company has established a battery manufacturing unit to manufacture 6000 battery packs per annum. PMI as a part of its' expansion plan and to enlarge its' portfolio is in process to establish another manufacturing unit in Chakan, Pune to expand its' product lines from buses to a full range of commercial vehicle by 2025.
Website: http://pmi-india.in/