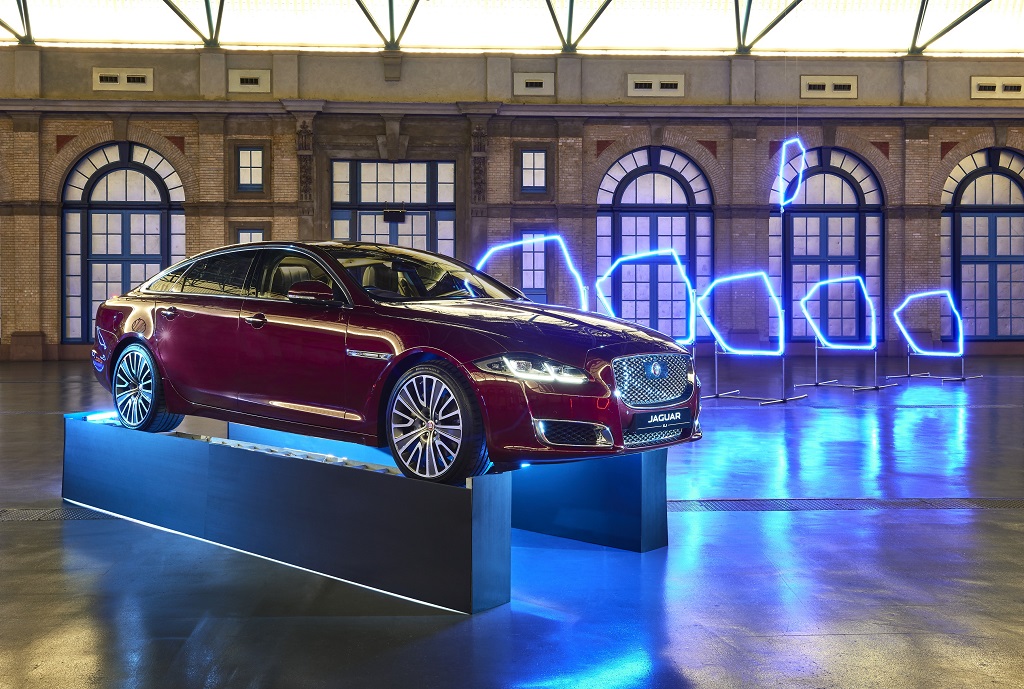 Drone race demonstrates first-class luxury and space in long-wheelbase Jaguar XJL
Professional racers fly drones through rear cabins of Jaguar XJLs and door-shaped gates illuminated in Phosphor Blue and Red to show-off interior ambient lighting
Try it for yourself: New drone and driving Smart Cone challenge coming soon to Jaguar's free to attend Art of Performance Tour*
Visit www.jaguar.com/experience to book your space
Jaguar XJL boasts extra five inches of legroom over standard wheelbase XJ
New performance Jaguar XJR575 drives drone pilots to race venue in speed, style and comfort
Jaguar XJL delivers latest technology inside and out
WATCH THE VIDEO HERE: https://youtu.be/RXSviP1HqWg
London, UK, Monday 18th September 2017 – Jaguar has staged a unique drone race to demonstrate how much room there is in the super spacious, super-lux long-wheelbase XJ saloon.
High-speed drones piloted by professional racers flew through three cars during the race at Alexandra Palace, on a course marked out with 13 gates the same shape as an XJL rear door.
Travelling at speeds of up to 60mph, the drones navigated their way through the door-shaped gates lit in Phosphor Blue and Red to highlight two of the XJ's stunning interior lighting options.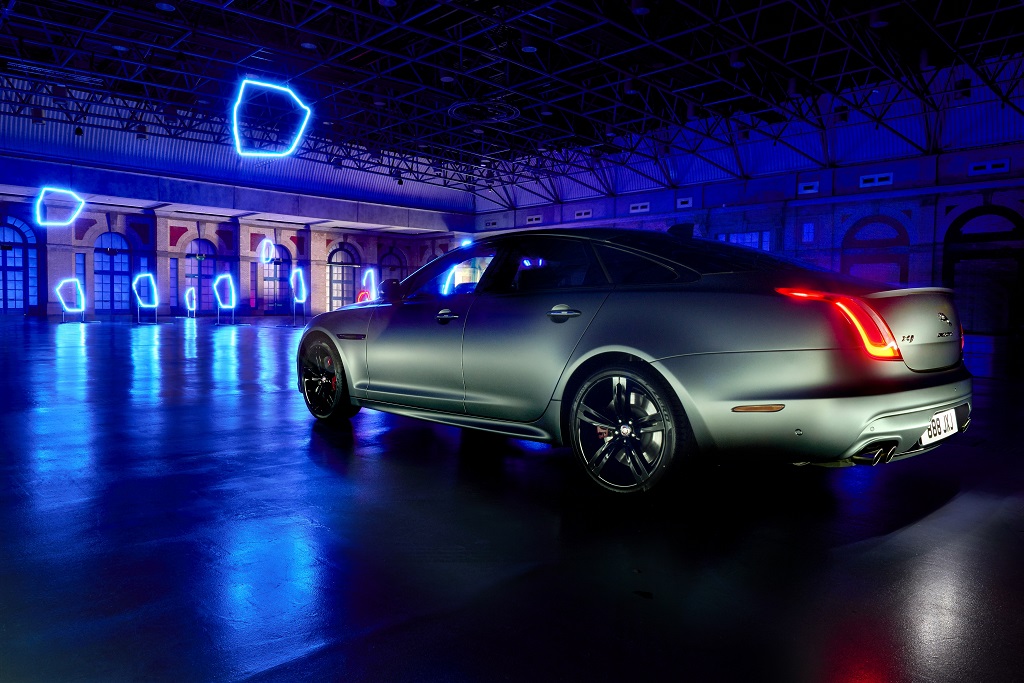 'Game of Drones' was inspired by a new challenge soon to be introduced in Jaguar's Art of Performance Tour* – a worldwide tour for Jaguar fans that provides the opportunity to drive the latest Jaguar products. The challenge will allow fans to take part in a real life cat and mouse chase with a drone and a Jaguar on the Smart Cone driving course.
"I've been racing drones in competition for years, but this is a first for me. The course was a great test, but the fact we were able to go at such speeds proves how much space the doors of the Jaguar XJL gave us. Despite having to fly through the cabin we were still pushing the drones to their top speeds."
Brett Collis, victorious drone pilot
The ease with which the drones flew through the Jaguar XJL cabin is testament to the extra five inches of rear legroom over the standard wheelbase XJ.
Perfectly suited to those seeking comfort on the move, the XJL boasts an exquisite interior and sporting agility that makes for a commanding presence inside and out. This is thanks to features such as airline style reclining seats with massage function, increased headroom, fold-out tables and specially tuned rear suspension to enhance ride comfort.
Allied with 3.0-litre V6 engines available in petrol (340PS) and diesel (300PS), as well as a 5.0-litre V8 510PS petrol engine, owners can rest assured in the performance of whichever option they choose while enjoying the comfort inside the cabin.
Full of technology, the XJL shows new levels of connectivity and offers an effortless driving experience with features that include full LED headlights, all-wheel drive and All Surface Progress Control (ASPC), as well as the latest Touch Pro infotainment system.
"Quality and comfort are always at the forefront of our minds and this is especially true for the Jaguar XJL. The long wheelbase gave us the space to create a passenger experience that is second to none. We might not have designed it with drone racing in mind, but it's a fun way to demonstrate the spacious environment we've created."
Ian Callum, Director of Design, Jaguar
The drone pilots flew their craft while sitting in the back of the performance flagship for the XJ range – the new XJR575 – which boasts a 575PS power output and a 0-100 km/h (0-62 mph) time of just 4.4 seconds. Offering effortless refinement alongside acceleration, Jaguar Land Rover's 5.0-litre V8 supercharged engine produces 700Nm of torque.
It comes with a choice of two bespoke new exterior colour finishes from Special Vehicle Operations – Velocity Blue and Satin Corris Grey – while the exterior also sports updates to the rear spoiler, side sills, front bumper and lower air intakes with gloss black surrounds.
Striking red brake callipers now accompany the 20-inch Farallon gloss black wheels, as part of an exterior refresh that brings new badges and twin bonnet louvres. A stylish final flourish comes inside the cabin, with bespoke embossed tread plates standing out alongside the intaglio and diamond-quilted seating.
The XJL and XJR575 are manufactured at Jaguar Land Rover's Castle Bromwich plant alongside the XE, XF and F-TYPE.