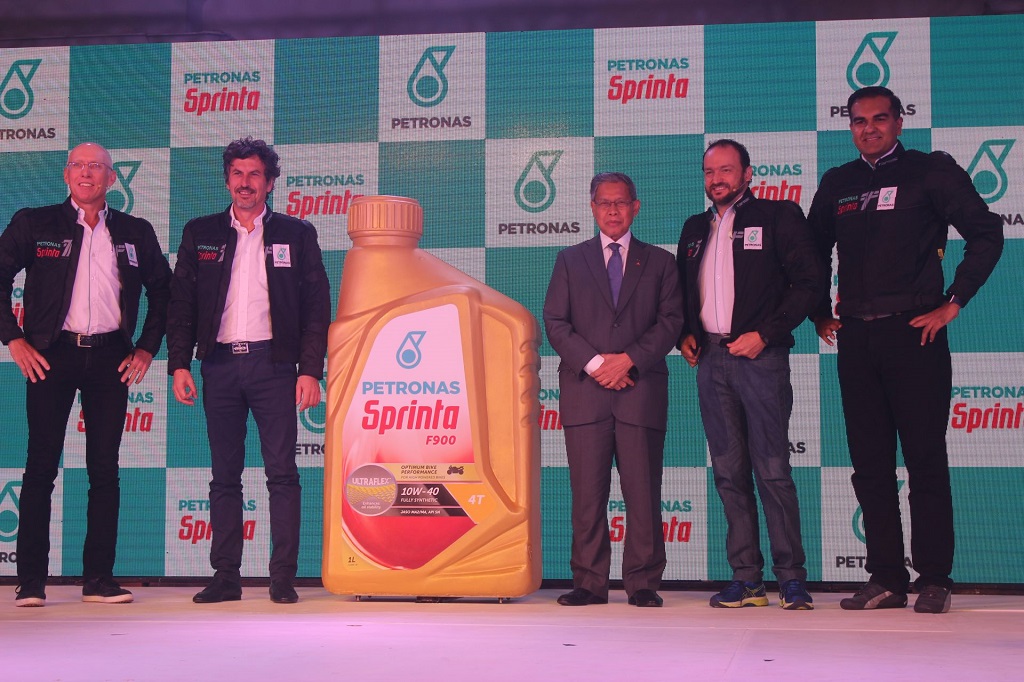 A motorcycle lubricant that effectively resists engine stress to prolong bike life and improve ride quality
Mumbai, India, 30 March 2017 – PETRONAS Lubricants International (PLI) today launched PETRONAS Sprinta with UltraFlex™, its flagship range of motorcycle lubricants formulated to resist engine stress and promote a longer bike life.
This new range of motorcycle lubricants addresses the core requirements of motorcycle riders who want reliable and better quality rides.
Managing Director and Group Chief Executive Officer of PLI, Giuseppe D'Arrigo, said, "For a majority of bike owners, motorcycle is the primary mode of transport for their daily commutes, usually under heavy traffic conditions. This potentially leads to extensive usage and heavy load on the motorcycle, putting a lot of stress on the engine."
Bike stress is often caused by high shear conditions that results from severe mechanical stress and high temperature inside the engine. These conditions lead to rattling noise and sluggish performance.
"Combining our century-long expertise in lubricant technology and consumer-focused innovation, PETRONAS Sprinta with UltraFlex™ technology is formulated with strong oil film that enhance oil stability to address the diverging effects of bike stress. Ultimately, our aim is to address the very issues that motorcycle owners face to provide better riding experience and longer bike life." D'Arrigo added.
Tests conducted using global industry standards show that PETRONAS Sprinta with UltraFlex™ have the ability to provide superior oil film strength that is up to 41% higher than the industry benchmark . This alone helps the engine to endure the effects of load, speed and engine stress without breaking down, while allowing the bike to respond better. The new range of lubricants also offers exceptional deposit control, thus maintaining bike power and ride quality.
The overall global market population for motorcycles, scooters and mopeds is expected to reach over 700 million units by 2021 . This category is growing at a rate of 8% per annum; driven mainly from rising economic conditions, lack of public transportation, poor road infrastructure and growth in the young population.
D'Arrigo added, "Our growth ambition is built on technology as a fundamental differentiator to continuously deliver superior products and services to meet consumer needs, while preparing ourselves to capture rising market opportunities." The launch of PETRONAS Sprinta with UltraFlex™ aims to tap on this sizeable and growing market opportunity. This marks another milestone for PLI on the back of its strategic aspiration to be among the world's top 5 lubricants players.
The new range of PETRONAS Sprinta lubricant will be made available globally, in phases, from  30 March 2017.
About PETRONAS Lubricants International
PETRONAS Lubricants International (PLI) is the global lubricants manufacturing and marketing arm of PETRONAS, the national oil corporation of Malaysia. Established in 2008, PETRONAS Lubricants International manufactures and markets a full range of high-quality automotive and industrial lubricants products in over 100 markets globally. Headquartered in Kuala Lumpur, PLI has over 30 marketing offices in 26 countries, managed through regional offices in Kuala Lumpur, Turin, Belo Horizonte, Chicago and Durban.
Currently ranked among the top 10, PLI is driving an aggressive business growth agenda to secure its position as a leading global lubricants company.