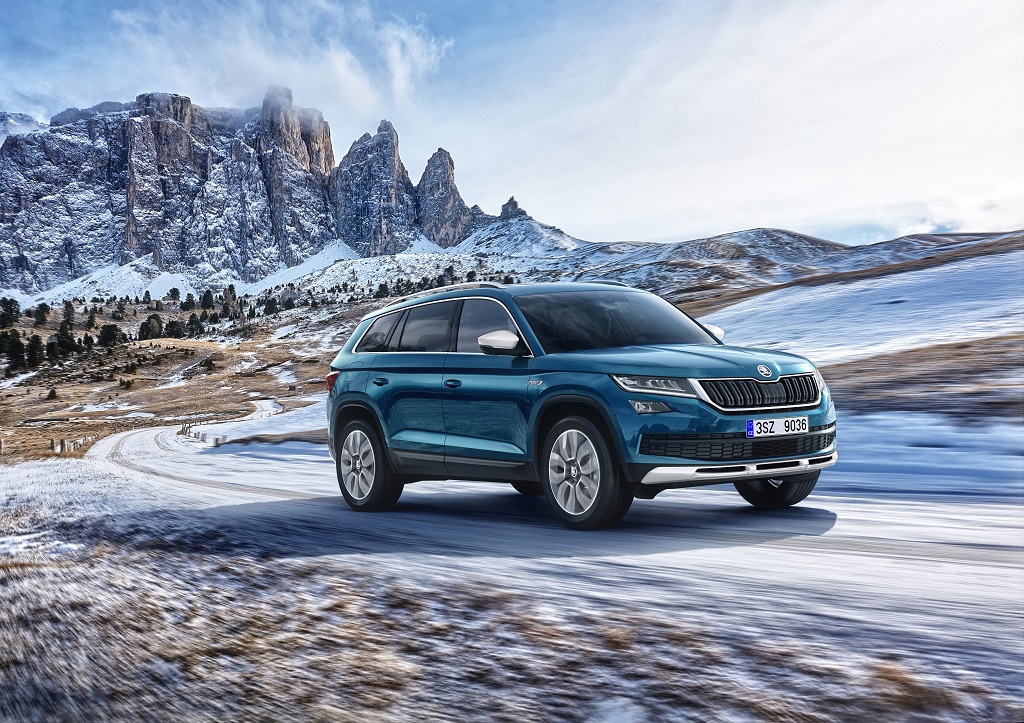 ŠKODA deliveries increase by 2.4% to 93,800 vehicles
Strong growth in Eastern (+23.2%) and Central Europe (+17.6%)
ŠKODA KODIAQ heading to customers from end of February
Mladá Boleslav, 13 February 2017 – ŠKODA seamlessly continues last year's record results: In January, the Czech car manufacturer delivered 93,800 vehicles to customers worldwide, 2.4% more than in the same period last year (January 2016: 91,600) and more than in any January before. ŠKODA models were particularly in demand in Eastern (+ 23.2%) and Central Europe (+17.6%).
"ŠKODA has made a good start to the year. Our deliveries remain at a high level around the world," says Werner Eichhorn, ŠKODA Board Member for Sales and Marketing. "We are optimally positioned with our current model range and the new products. The new ŠKODA KODIAQ in particular will provide further impetus for the brand. Our new SUV model will gradually be introduced on the international markets from end of February."
With a total of 1,127,700 vehicles, ŠKODA delivered more than one million cars to customers worldwide for the third time in a row. January's result continues this success.
In Western Europe, ŠKODA grew by 4.0% in January to 34,200 vehicles (January 2016: 32,900). In Germany – the brand's strongest European single market – deliveries rose to 11,200 vehicles (January 2016: 10,500 vehicles, +5.9%). The brand grew in double-digit figures in France (1,700 vehicles; +17.2%), Italy (2,000 vehicles; +20.1%), Spain (1,600 vehicles; +11.2%) and Sweden (1,000 vehicles; +21.6%). In Central Europe, ŠKODA recorded sales growth of 17.6% with 16,700 vehicles (January 2016: 14,200 vehicles). On the Czech home market, deliveries increased 19.5% over last January's results (6,400) with 7,700 vehicles. ŠKODA also recorded double-digit growth over January 2016 in Croatia (200 vehicles, +43.5%), Poland (5,800 vehicles, +20.4%) and Hungary (900 vehicles, +14.1%).
In Eastern Europe, the Czech carmaker grew by 23.2% to 2,400 vehicles (January 2016: 2,000 vehicles). Deliveries in the Ukraine rose by 118.5% to 300 vehicles (2016: 100 vehicles). In the Baltics, ŠKODA recorded growth of 22.3%; the brand delivered 500 vehicles here (January 2016: 400 vehicles).
In Russia, the number of deliveries increased slightly to 3,600 vehicles (January 2016: 3,600, +0.4%).
The Czech manufacturer's models are in high demand in Turkey and Israel. In Turkey, the brand's vehicle sales increased by 79.3% to 1,300 vehicles (January 2016: 700 vehicles). In Israel, deliveries increased by 9.6% to 3,500 vehicles (January 2016: 3,200 vehicles).
In China, the brand's largest single market, ŠKODA delivered 30,000 vehicles (January 2016: 31,400; -4.3%).
ŠKODA will also be pushing ahead with its model campaign in 2017. With the new ŠKODA KODIAQ and the revised ŠKODA OCTAVIA, two new models will be launched in February. Additional product innovations, such as the product upgrade of the ŠKODA CITIGO, will follow in the course of the year.
ŠKODA deliveries to customers in January 2017 (in units, rounded off, by model; +/- in percent compared to January 2016):
ŠKODA OCTAVIA (37,400; -4.6%) ŠKODA RAPID (17,700; +5.9%) ŠKODA FABIA (15,700; +8.2%) ŠKODA SUPERB (13,500; +37.2%) ŠKODA YETI (6,400; -27.3 %) ŠKODA CITIGO (only sold in Europe: 2,500; +5.2 %)