Mumbai, February 27, 2017: TataCLiQ.com has joined the launch celebrations of the Tata Hexa, the lifestyle utility vehicle from Tata Motors, as the online partner.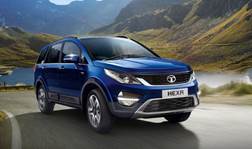 In addition to buying their favorite brands across apparel, electronics, and footwear, consumers can now also experience the hextraordinary, power-packed and dynamic Tata Hexa on Tata CLiQ. This exclusive partnership will enable consumers to book test drives, explore additional features and benefits with just a CLiQ.
Based on a new versatile platform – the HEXA is a complete vehicle package, with an exceptional combination of design, luxury, off-road and on-road capabilities, boasting modern and exciting architecture, plush interiors and next-generation connectivity and performance related features, enhancing the functionality of the vehicle.
Speaking on the partnership Ashutosh Pandey, CEO TataCLiQ.com said, "We are really happy and excited with this exclusive partnership. Tata Hexa promises to be a perfect combination of style, features and performance and we are sure that our discerning consumer base will be excited to discover the brand-new SUV on our portal."
According to Mr. Vivek Srivatsa, Head of Marketing, Passenger Vehicle Business Unit, Tata Motors, "With rapidly changing digital landscape, brands across industries are aligning themselves to adjust and conform to the interactive world. Adressing this digital shift, we are delighted to partner with TataCLiQ.com for our recently launched lifestyle vehicle, HEXA. As we are targeting a far younger set of buyers, we believe this partnership will help us reach out to the right set of customers in a more effective way."
The HEXA features a new first-in-segment 'SUPER DRIVE MODES' system, to provide customers with a pleasurable, comfortable and dynamic driving experience. This 'Super Drive Modes' system allows the driver to seamlessly switch between four different driving modes – Auto, Comfort, Dynamic and Rough Road, for enhanced ride comfort & stability over different terrains. The new system is a flawless combination of the vehicles Engine performance, new-generation Electronic Stability Program (ESP), Torque on Demand (TOD) and the vehicles Instrument Cluster display and ambient lighting, which can be activated through a well-placed rotary knob, on the center console.
Equipped with Tata Motors 'CONNECTNEXT Infotainment system', the HEXA has an ergonomically placed 5″ touch screen exclusively designed by Harman™, with 10 JBL™ branded speakers, featuring voice recognition and smart phone integration. The ConnectNext App suite includes, NAVIMAPS App, Juke-Car App, Tata Smart Remote App and Tata Smart Manual App
So, get set and CLiQ away on TataCLiQ.com to experience what it's like to be a proud owner of Tata Hexa!