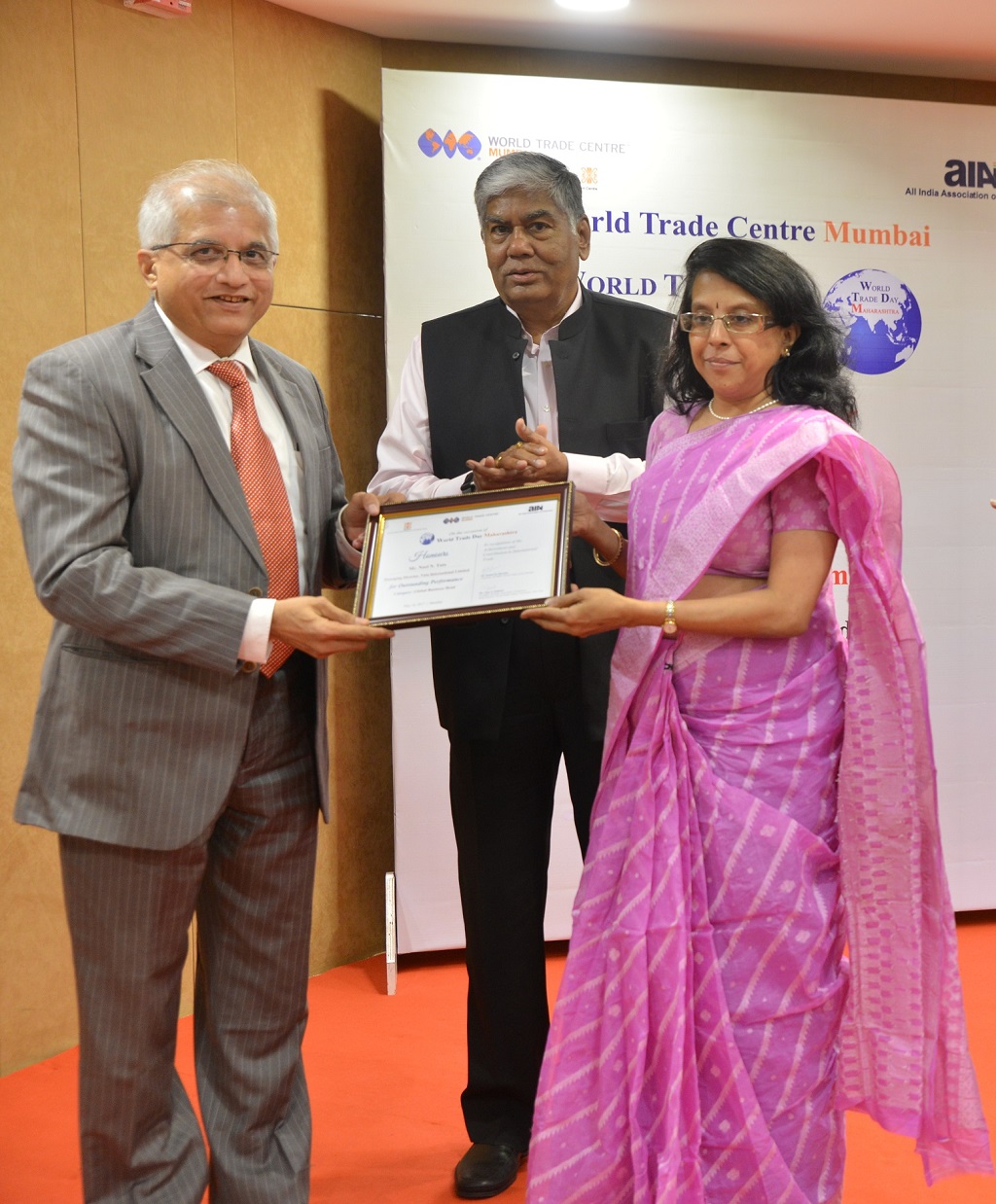 Recognized by MVIRDC World Trade Centre in Mumbai, the award was handed over during the 1st celebration of World Trade Day Maharashtra
Mumbai, 19th May, 2017:
Mr. Noel N Tata, Managing Director, Tata International Limited, was felicitated by the MVIRDC World Trade Centre in Mumbai under Global Business Head Category for the company's outstanding performance in international trade. The award was presented during the first celebration of World Trade Day Maharashtra on 18 May 2017.
Mr. Ajay Ponkshe, Head, Finance & Accounts and Legal & Secretarial, Tata International, received the award from Chief Guest Dr. Malini Shankar, Director General – Shipping, Government of India. Also present at the event were dignitaries like Mr. Vijay G. Kalantri, Vice Chairman, MVIRDC World Trade Centre, Mumbai, Dr. Siddhartha Roy, Economic Advisor, Tata Group, Dr. Prabir De, Professor, RIS and Coordinator, ASEAN-India Centre, New Delhi, and Dr. Rupa Chanda, Professor, RBI, Chair in Economics, Indian Institute of Management, Bangalore.
The event is the first in the series of World Trade Day Maharashtra celebrations being held to enhance the export competitiveness of Maharashtra. The felicitation ceremony was preceded by a panel session with expert panelists sharing their views on Regional Trading Blocs and the Emerging Trading System.
Tata International has been recognized by the industry as a leading exporter of leather and leather products from India for the past several years. The company is also a leading distributor of Tata Motors' commercial vehicles in Africa, an established player in metals and minerals trading sectors and an emerging player in the agricultural products trading sector.
The felicitation ceremony was preceded by a panel session with expert panelists sharing their views on Regional Trading Blocs and the Emerging Trading System.
About World Trade Day
World Trade Centre Mumbai has launched a first-of-its kind programme in India, World Trade Week, to create awareness about the benefit of International Trade and its impact on regional growth. The week-long programme will educate micro, small and medium enterprises (MSMEs) and aspiring entrepreneurs about the direction of world trade in the new world order on the backdrop of recent international developments such as BREXIT, changing foreign policy in the USA, rebalancing of the Chinese economy and so on.
The programme will also educate aspiring exporters and MSMEs about the organizations that offer trade services such as issuing certificate of origin (COO), organizing importer-exporter meeting and international trade shows.
About Tata International
Tata International Limited [TIL], is the global trading and distribution company of the Tata group. Established in 1962, TIL's key business verticals are metals trading, distribution (auto and allied), leather and leather products, minerals trading and agri trading with a presence in manufacturing and supply chain integration in select businesses. The company operates through its network of offices and subsidiaries across 39 countries, spanning Africa, Europe, Middle East, Latin America and Asia and has spearheaded forays into new geographies for the group. Besides, TIL has been a forerunner of the Indian industry in Africa.
Over the years, TIL has formed strong strategic alliances and partnerships that have reinforced its role in international trade and business. With a turnover of USD 2.02 billion (2015-16), the company is supported by about 10000 strong employee base.
The company is deeply committed to being a proactive and responsible member of the community and the environment in which it operates. Stringent goals for the reduction of our carbon footprint and greenhouse gases in the leather plant and other facilities, coupled with initiatives for empowering local communities in equal measure, drive the company's long term sustainability agenda. Winner of several prestigious national awards and International certifications for Environment and Quality, it is also a signatory to the UN Global Compact.