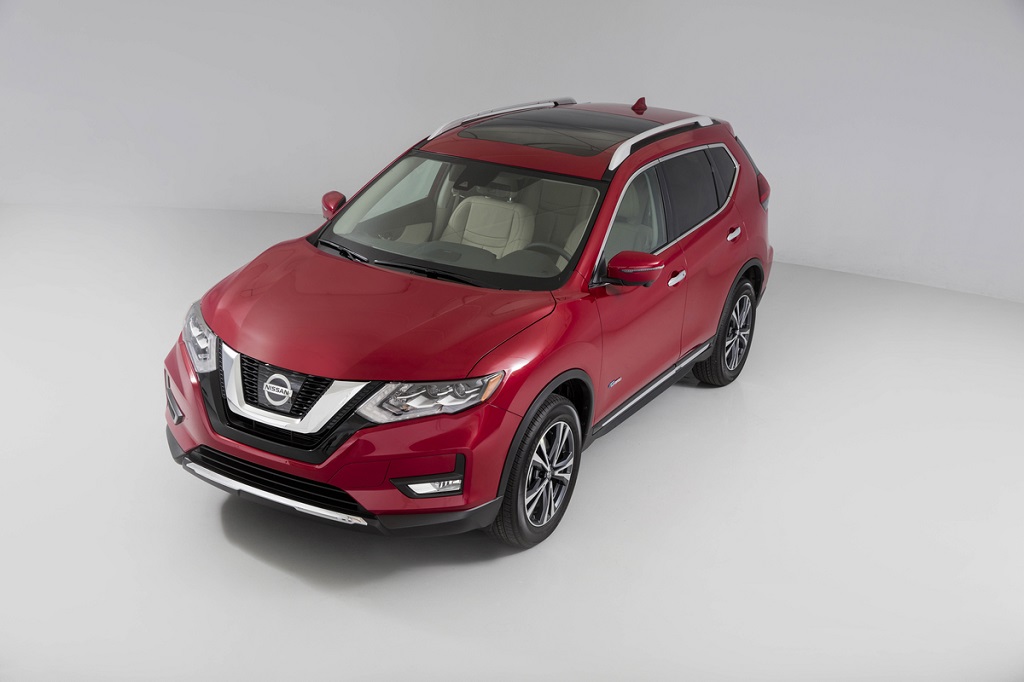 The Nissan Rogue Hybrid, the newest addition to the popular Rogue crossover lineup, offers a second powertrain choice for Rogue buyers for the 2017 model year – in both FWD and AWD applications. Like the 2.5-liter inline 4-cylinder gasoline engine-equipped standard Rogue models, the Rogue Hybrid offers freshened exterior and interior styling, additional safety, security and driving aid technology and a wide range of standard and available comfort, convenience and utility features.
The new, compact hybrid powertrain is designed to balance performance with significant increases in fuel efficiency. It takes full advantage of an electric motor's instant torque for exceptional acceleration and, in combination with the 2.0-liter engine and advanced Xtronic transmission, provides an energetic feel under all driving conditions.
The 2017 Rogue Hybrid produces projected fuel economy1 of 33 mpg city, 35 mpg highway and 34 mpg combined (estimated) for the front-wheel drive model. Rogue Hybrid all-wheel drive models are projected at 31 mpg city, 34 mpg highway and 33 mpg combined (estimated)1. Most significantly, it does so with virtually no compromise of performance, interior roominess or cargo space (compared to standard Rogue models).
The hybrid system combines an advanced 2.0-liter 16-valve DOHC aluminum-alloy inline 4-cylinder engine and a compact lithium-ion battery with an innovative one-motor, two-clutch control. The system's gasoline engine is rated at 141 horsepower and 144 lb-ft of torque, while the advanced 30 kW electric motor is rated at 40 horsepower and 118 lb-ft of torque. The hybrid system net power is 176 horsepower.
At the core of the Rogue Hybrid gasoline-electric hybrid system is Nissan's advanced Intelligent Dual Clutch Control system. The first of the two clutches is a dry clutch installed between the 4-cylinder engine and the electric motor, where the torque converter would normally be, and the second is between the motor and Xtronic transmission.
The high-output lithium-ion battery is able to charge/discharge quickly, which contributes to high-speed, precise control of the electric motor and optimum clutch control, and in combination enable smooth start and quick shift changes. An Intelligent Regenerative Braking system partially recharges the battery during vehicle braking and additional fuel economy is provided by an Idle Start/Stop system.
In addition, with use of the compact Lithium-ion battery located under the rear cargo area, the Rogue Hybrid maintains its flat rear floor for easy passenger access to the rear seat and little reduction of cargo room.
2017 Rogue Hybrid
2017 Rogue
Powertrain
2.0-liter 16-valve DOHC aluminum-alloy inline 4-cylinder, 30 kW electric motor, Nissan Intelligent Dual Clutch Control
2.5-liter DOHC 16-valve inline 4-cylinder
Horsepower (hp)
176 (net)
170 @ 6,000 rpm
Torque (lb-ft)
–
175 @ 4,400 rpm
Transmission
Xtronic transmission with manual gear shifts and standard Sport and Eco Mode switches
Xtronic transmission with manual gear shifts and standard Sport and Eco Mode switches
Projected Fuel Economy (estimated)1 – FWD
33 mpg city
35 mpg highway
34 mpg combined
26 mpg city
33 mpg highway
29 mpg combined
Projected Fuel Economy (estimated)1 – FWD
31 mpg city
34 mpg highway
33 mpg combined
25 mpg city
32 mpg highway
28 mpg combined
Cargo Volume (cu. ft.):
Behind 1st row
Behind 2nd row
61.4
27.3
61.6
28.4