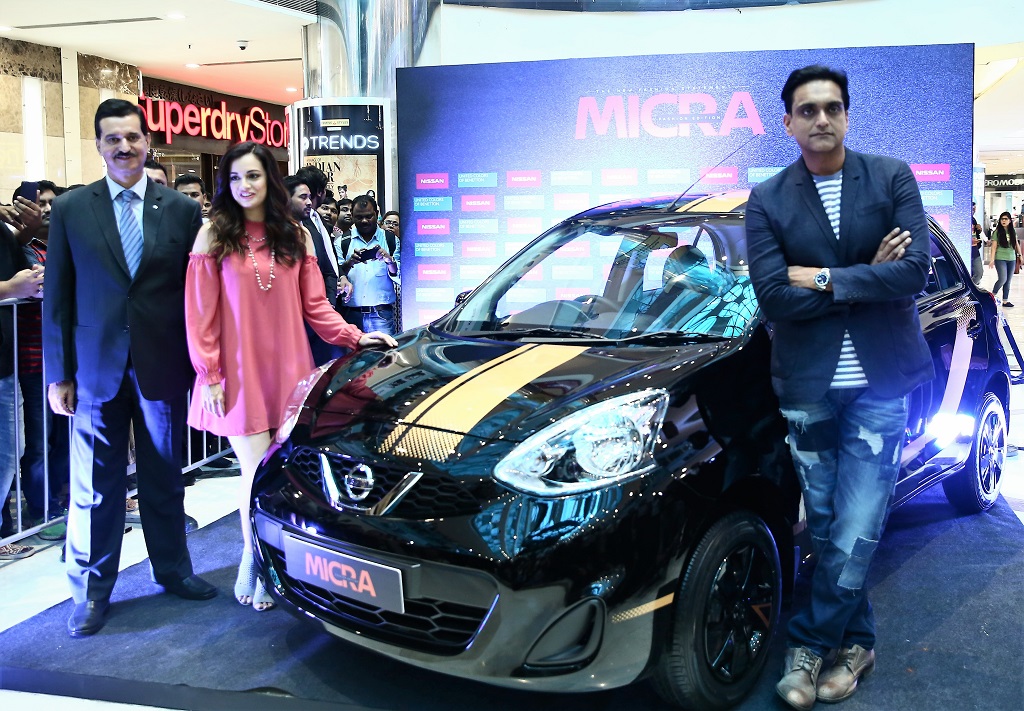 – The limited edition Micra Fashion is inspired by leading fashion brand United Colors of Benetton #MICRAXBENETTON –
Available in two exciting colour options, Fashion Black and Fashion Orange
Equipped with Nissan Connect connectivity and CVT automatic transmission
6.2 touchscreen audio visual navigation available for the first time on Nissan Micra
Starting price of INR 6.09 lakhs (ex-showroom Delhi)
GURUGRAM, India (September 12, 2017)—Style took centre stage as Nissan India launched the Nissan Micra Fashion – a limited edition car with exterior and interior styling elements inspired by the leading fashion brand United Colors of Benetton. It combines Benetton's Italian fashion sensibilities and global taste with interiors brimming with structured patterns and a subtle array of colors. This new Micra variant was launched today at the United Colors of Benetton store in Ambience Mall, Gurugram, with the car revealed by Bollywood actress Dia Mirza.
Mr. Arun Malhotra, managing director, Nissan Motor India Pvt. Ltd. said, "We are excited to offer our customers a new, stylish choice for the festive season. Nissan Micra Fashion Edition brings a sophisticated interior ambience with a host of new features and inspiration infused from Benetton's rich heritage of Italian style and global research. The car combines high style and great performance thanks to the CVT automatic transmission for an engaging and comfortable driving experience."
Mr. Sundeep Chugh, CEO & MD, Benetton India Pvt. Ltd, said "We are honored to serve as a fashion inspiration for Nissan's latest automotive innovation, with our long standing Italian legacy of design, innovation and sustainability. Moreover, as a brand we are strongly committed to women empowerment and their safety, through our social campaigns. Nissan's latest edition of Micra is engineered with an automatic transmission and NissanConnect, which has over 50 safety and security features. The offering therefore truly appeals to the youth and women of today, and bears strong synergies with Benetton's social commitments and design aesthetics."
Colors, innovation and sustainability lie at the very foundation of Benetton's design philosophy, creating strong synergies and making Benetton a befitting inspiration for Nissan Micra's Fashion Edition. Adorned with sporty decals and accentuated bold stripes, with the interior crowned with Benetton signature headrests, the new Nissan Micra Fashion Edition has been designed to spice up the festive season this year. This spirited and stylish car will also feature NissanConnect, Nissan India's integrated information and communication platform that provides an enhanced driving experience through the user's smartphone.
The Micra Fashion limited edition will be available during the festive season at INR 6.09 lakhs (ex-showroom, Delhi) across all Nissan dealerships in India.
The Nissan Micra enjoys a loyal base of young consumers looking for elegance, quality and reliability in their cars. Now the desire for Japanese technology merged with European styling can be met with this attractive and stylish edition of the Micra. Based on the Micra XL CVT model, the Nissan Micra Fashion takes artistry and panache a notch higher with features such as new body decals on the side and roof; black door mirrors with designer stripes; new designer floor mats; Benetton-signature headrest covers; seats with orange stitching; and European black interiors with orange touches, among others.
The Nissan Micra Fashion Edition comes with several attractive features:
Stylish exteriors
Designer body graphics with Micra decal
Black wheel covers with orange inserts
Bold designer stripes on the exterior door mirrors
New improved interiors
Orange interior with Piano Black finishes
European black-colored seats with orange stitching
Designer floor mats to match the interior design touches
Designer headrest covers with Benetton signature
Advanced Techology
CVT automatic transmission mated with a 1.2L petrol engine
NissanConnect connectivity
6.2 touchscreen audiovisual navigation through phone mirroring
The first 500 customers of the Nissan Micra Fashion limited edition will receive a hamper with exclusive Benetton personal accessories such as belts and designer wallets for both men and women. This is part of the unique marketing association between Nissan and United Colors of Benetton specific to this launch.
The Nissan Micra Fashion Edition will feature the built-in NissanConnect platform with a three-year free service package. NissanConnect includes a suite of connectivity services which offers a host of convenience, navigation and safety applications. It was launched by Nissan India in August 2017.
The Nissan Micra's fuel economy for the CVT automatic variant is 19.34 kmpl under ARAI test conditions. Owners can also avail of the 5-year extended warranty package.
About Nissan Motor India Pvt. Ltd.
Nissan Motor India Private Ltd. (NMIPL) is a 100 percent subsidiary of Nissan Motor Co. Ltd. Japan. The company was incorporated in 2005 and offers innovative and exciting products across the hatchback, MUV, SUV and sedan segments in India. Nissan together with its global alliance partner Renault set up a manufacturing plant and a Research & Development Centre near Chennai. Nissan in India has a portfolio of two brands, Nissan and Datsun.
About Nissan Motor Co., Ltd. 
Nissan is a global full-line vehicle manufacturer that sells more than 60 models under the Nissan, Infiniti and Datsun brands. In fiscal year 2016, the company sold 5.63 million vehicles globally, generating revenue of 11.72 trillion yen. Nissan engineers, manufactures and markets the world's best-selling all-electric vehicle in history, the Nissan LEAF. Nissan's global headquarters in Yokohama, Japan, manages operations in six regions: Asia & Oceania; Africa, Middle East & India; China; Europe; Latin America; and North America. Nissan has a global workforce of 247,500 and has been partnered with French manufacturer Renault under the Renault-Nissan Alliance since 1999. In 2016, Nissan acquired a 34% stake in Mitsubishi Motors, which became the third member of the Alliance – a grouping with combined annual sales of almost 10 million units a year.
About Benetton Group and United Colors of Benetton
Benetton Group is one of the best-known fashion companies in the world, present in the most important markets with a network of about 5,000 stores. A responsible group that plans for the future and lives in the present – with a watchful eye to the environment, to human dignity, and to a society in transformation – the Group has a consolidated identity comprised of colour, authentic fashion, quality at democratic prices and passion for its work. These values are reflected in the strong, dynamic personalities of the United Colors of Benetton and Sisley brands.
United Colors of Benetton's commitment to social issues has always been a central feature of the brand that, through its communications campaigns and collaborations with leading non-profit organizations, makes the public reflect on social issues of universal relevance.