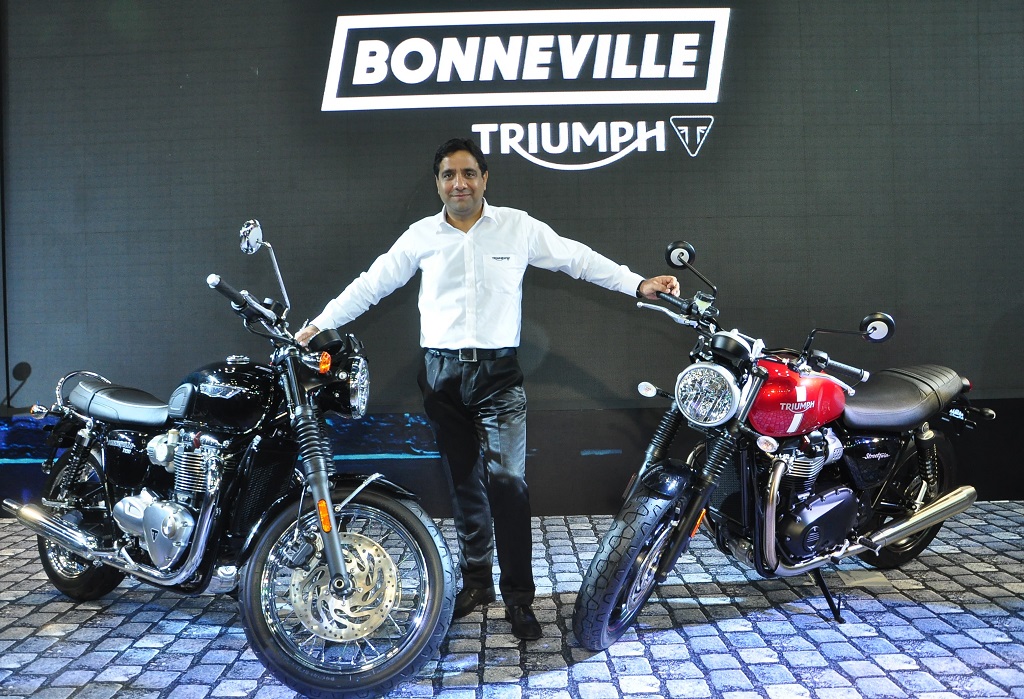 British Icons. Global Legends. Reborn.  
The next generation of Triumph  Bonneville motorcycles  
More Beautiful, More Powerful, More Capable
• Introducing the next generation of the iconic Bonneville – with three exciting new Bonneville motorcycles coming to India. From the fun and accessible ridability of the new Street Twin, to the timeless style of the Bonneville T120 through to the Thruxton R, the Triumph racing legend reborn. All with 100% authentic Bonneville character and truly modern capability and performance.
• Powered by an all-new Bonneville engine family built specifically for the modern classic riding style, with more torque, more immediate and exciting power delivery, and a richer sound you can really feel and hear.
• With a new 'ground up' chassis and suspension design unique to each Bonneville – delivering stunning handling, comfort and control.
• Each model, a beautiful evolution of the iconic Bonneville styling – tighter and more crafted, with enhanced styling cues faithfully taken from classic Bonneville bikes of the past.
• Named after the salt flats in Utah where Triumph set the motorcycle world land speed record in 1956, Bonneville was THE original British Superbike and a genuine motorcycle icon, recognised the world over.
New Delhi, February 4th, 2016: We are proud to announce the opening of a new chapter in the story of the most famous name and distinctive silhouette in motorcycling: the Triumph Bonneville to India.
A family of three exciting new motorcycles with 100% authentic Bonneville character, style and presence – all featuring a class-defining level of performance, capability and quality, driven by an all new Bonneville engine family. With a dedicated chassis and suspension package for each new model and a carefully integrated package of rider-focused technology for enhanced confidence, control and performance, the new Bonneville family all ride and handle how a class-leading, truly modern classic should.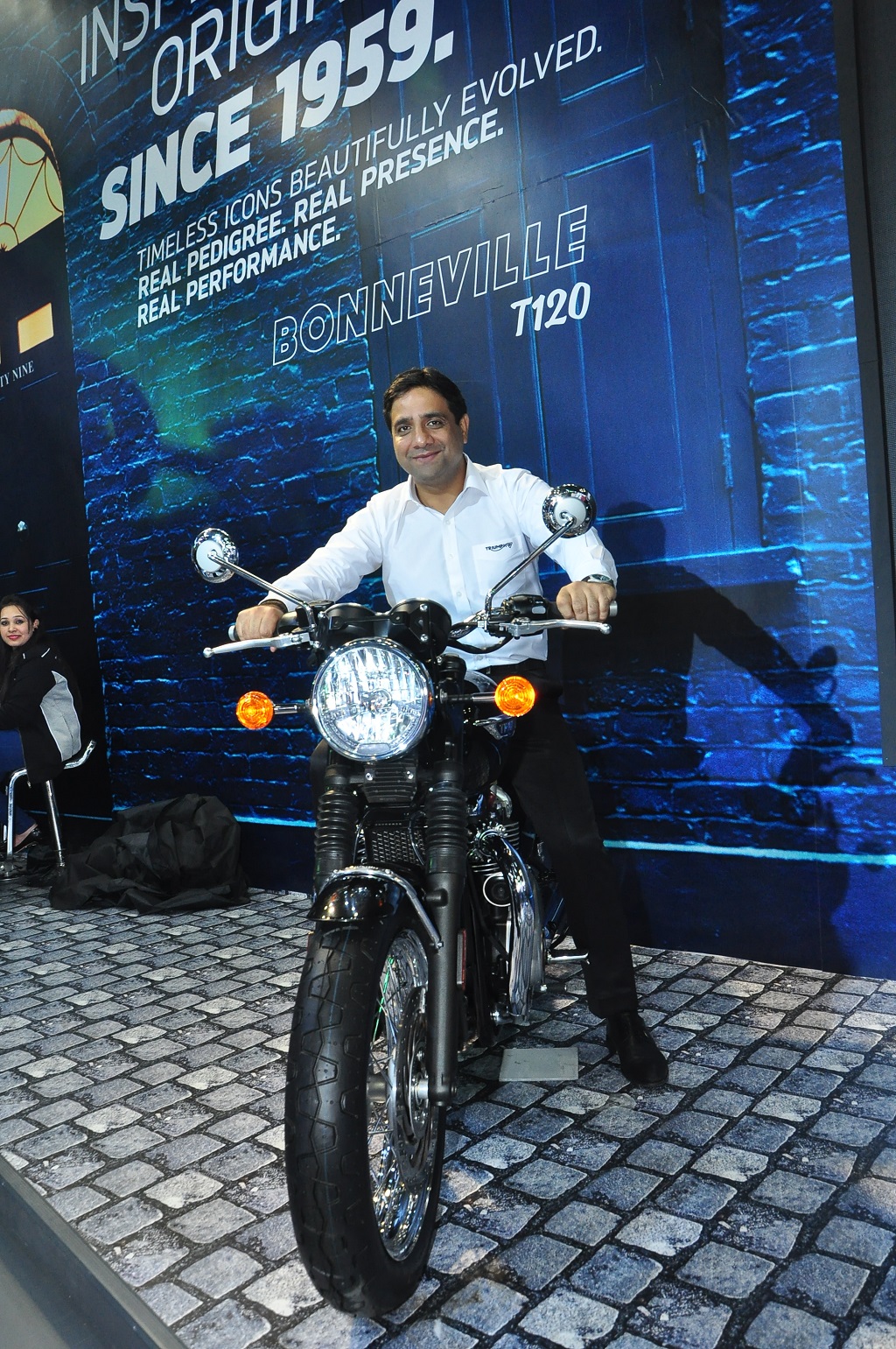 Speaking on the occasion, Vimal Sumbly, Managing Director, Triumph Motorcycles India, said 'Our classics already enjoy a huge fan following here in India with people from all walks of life enjoying these iconic motorcycles. Modern classics are becoming more and more popular since people today are looking for character, style and fun. For us here in India this is the perfect timing since this market is fast expanding. We're extremely excited about the 3 new Bonneville's that have unveiled here in India today. The models selected for India are a result of the feedback we received directly from our customers and are very sure of their success within the India market.'
The new Bonneville model line-up for India Three all new Bonneville models – all with 100% authentic character, beautifully enhanced styling and truly modern performance. The Street Twin is our most contemporary, fun and accessible new Bonneville, powered by an all-new high torque 900cc engine. With its unique character, distinctive sound, stripped-back styling and dynamic riding experience, the new Street Twin is the perfect Bonneville for today's rider and the perfect starting point for personalisation.
The Street Twin's fun, engaging and easy-going riding experience comes courtesy of an all-new chassis and suspension – designed to bring Triumph's signature ride dynamic of neutrality and agility, and deliver refined and intuitive handling. The Street Twin sets a new standard of modern capability, with a wealth of rider-focused technology to deliver advanced control, safety and enhanced rider confidence, integrated sensitively and without compromise, to maintain its authentic Bonneville style and character. The Street Twin is an exciting contemporary take on the original Bonneville silhouette, with stripped-back styling, clean lines and minimal bodywork.
The timeless style and iconic character of the original 1959 model is reborn in the classy and authentic Bonneville T120. Crafted to the highest standard of detailing, quality and finish, and matched by the capability and performance of a truly modern classic. Powered by the all-new Bonneville 1200cc high torque engine, fed by beautiful, authentically styled, twin throttle body. Inspired by the legendary 1959 Bonneville and styled to incorporate more of the original's iconic DNA, with a significantly higher level of finish, beautifully authentic detailing and standard of equipment that sets a new benchmark.
The Bonneville T120 features a wealth of original detailing and a new level of standard equipment, including deep chrome multi-piece badges, grab rail and wheel rims, centre stand, heated grips and innovative twin skinned chrome exhaust headers and peashooter style silencers – developed specifically to minimise heat discoloration and deliver that authentic 'straight through' pipe run.
Also showcased today was the all new 1200cc Thruxton R, the real deal. With genuine poise, power and performance, it is the ultimate modern classic café racers. With beautifully imposing and authentic styling, it has the power, braking, performance and handling to live up to its legendary name.
The new Thruxton chassis and suspension is all about sharp handling that really delivers on its café racer looks. With sporting ergonomics, clip-on bars, fully adjustable suspension and 17inch front wheel, for stunning handling and agility, combined with Triumph's signature ride dynamic of neutrality, agility and stability, the new Thruxton R delivers a truly engaged and thrilling ride. A striking and imposing evolution of the iconic Thruxton racer with the same 'flat-on-the-tank' ethos and streamlined sports silhouette, it is crafted with styling cues from classic Thurxton's of the late '60s and features an incredible level of detailing, including a uniquely beautiful new Monza-style filler cap.
New Bonneville Engine family The 900cc high torque engine of the new Street Twin. Delivering a massive peak torque figure of 80Nm at a low 3200 rpm – which is an amazing 18% more than the previous generation, delivered low down and across the whole rev range. Benefitting from the pinpoint accuracy and instant throttle response of Triumph's next generation ride-by-wire fuel-injection and engine management system, the Bonneville Street Twin is engineered with a charismatic 270° firing interval for an immaculately smooth, linear power delivery through the smooth five-speed gearbox.
The 1200cc high torque engine of the Bonneville T120. The engine profile has been beautifully crafted to incorporate key heritage styling cues from the legendary 60's Bonneville bikes, sensitively incorporating contemporary components to maintain that iconic engine sillouette. The finish has also been taken to a new high standard, with brushed aluminium engine covers, with elegant bronze detailing, on the T120.
The game-changing 1200cc high power 'Thruxton spec' engine.
This all-new 'low inertia – high performance' six-speed engine features a lighter crank, higher compression and unique airbox. Behind the new 1200 engines stylish exterior sits a cutting-edge liquid cooling system, carefully integrated to minimise its visual impact whilst achieving cleaner emissions and enhancing fuel efficiency.
All with truly modern capability, including the pinpoint accuracy and instant throttle response of Triumph's next generation ride-by-wire fuel-injection system, and liquid cooling that improves fuel economy by an amazing 36% on the Street Twin alone. In addition, the 1200's all feature rider modes for enhanced responsiveness and control.
More Beautiful
Designed from original Bonneville lines, more refined, sharper, tighter and crafted, applying styling cues faithfully taken from the classic Bonneville bikes – like the 1968 Bonneville and the 1959 original. They feature high quality finishes and a striking level of detailing to enhance their iconic looks.
An innovative approach to sensitively incorporating modern functionality, including the exhaust system on the T120, which has an authentic and clean straight through design, achieved by an ingenious twin skin design that covers the pipe run, through the cat box under the bike, and out again.
More ways to make your own Bonneville yours
To make it easier, we've also created a set of exciting 'inspiration' kits to use as the starting point for riders to create their own Bonneville custom, or to have fitted by their Triumph dealer as a complete set – from Scramblers and Brat Trackers, to Track racers and Café racers. This includes, for the first time, a full factory Thruxton R Race Performance kit, specifically developed for closed circuit competition.
The future of the Bonneville, not a futuristic Bonneville
The interest and appeal of modern classic motorcycles is growing and evolving quickly, with many manufacturers bringing new models onto the market.
Our new Bonneville family takes the legendary story to the next chapter – with a major injection of performance, and real riding capability, without losing the original character of the iconic Bonneville, and without becoming a techno reinvention with just a styling nod to the past.
Talking about the Bonneville, it stands for freedom, open roads, independence and some of the most stylish motorcycles ever made. Still looking, sounding and feeling like a proper motorcycle should, today's Bonnie connects you to the legacy of over 50 years, but is built with everything that comes with modern engineering too. Triumph has made sure that a Bonneville retains all that is great about the name. One still gets the breath-taking looks on a bike that is dependable enough for everyday use as well as easy and fun to ride. But the Bonneville is meant to be ridden, and not just to look good. It has been and continues to be one of the most sought-after models in the Indian market.
The Bonneville has been one of the most sought after motorcycles among Hollywood legends and has been burning the tarmac across the globe. Synonymous with the classical British cult, the Bonneville brings about the quintessential English pedigree of class, style and attitude. The Triumph Bonneville is an ideal motorcycle to customize and give it a unique bespoke look. With its sophisticated management computer programmed for cleaner emissions and robust throttle response, the Bonneville is certain to fascinate the riders who are looking for some heavy duty performance on road.
Bonneville. Reborn.
Highlights
• All new Bonneville parallel twin engine family
• More exciting Bonneville Soundtrack
• All new chassis and suspension
• 470+ stylish high quality accessories
• New partnership with Vance & Hines
Key Features