Wins in all 3 categories of the championship
New Delhi, February 07, 2013: Tata Motors has claimed a sweeping win in India's first-ever National TSD (Time-Speed-Distance) Rally Championship – FMSCI-JK Tyre Indian National TSD rally, through its motorsports team, Tata Motors Full Throttle. Tata Motors Full Throttle fielded the Tata Sumo Gold, Tata Sumo Grande, Tata Safari Dicor and the Tata Vista.
 Tata Motors Full Throttle's feat was led by the husband and wife duo of Satish Gopalkrishnan and Savera D'souza, who clinched the Overall INRC TSD Championship and first place in the Pro-Expert category, catapulting Tata Motors over other reputed car manufactures. Tata Motors Full Throttle also won the Pro-Stock class, with the Bangalore-based driver-navigator pair of Chidanand Murthy and Sujith Kumar BS, while Dipali Poddar and Ipsita Das from Kolkata, won the Ladies INRC TSD Championship for Tata Motors Full Throttle.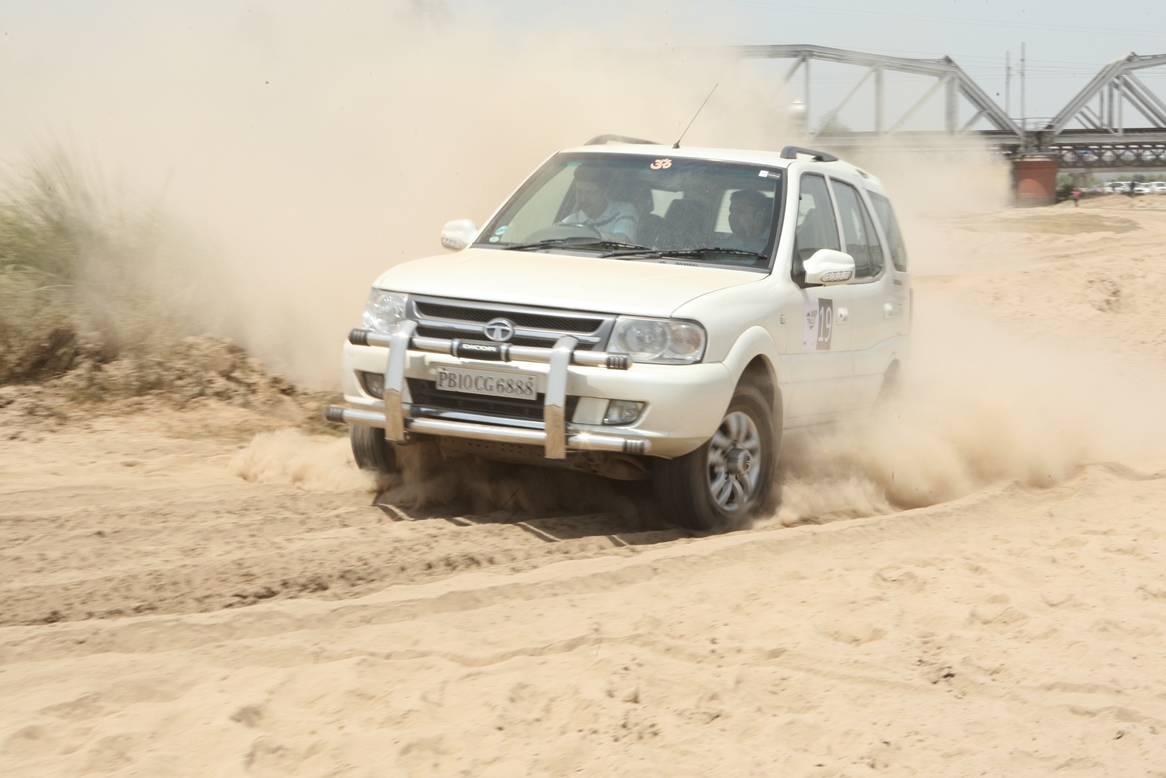 Commenting on Tata Motors championship win, Mr. Ranjit Yadav, President, Passenger Vehicles Business Unit, Tata Motors, said, "We at Tata Motors are extremely enthused by our achievement. Motorsports is of strategic importance to any car manufacturer globally and Tata Motors is proud to have found a winning formula through this victory. It is a platform that we at Tata Motors use to improve on overall performance, safety and quality of our vehicles and is also the most effective way, to have our customers involved. Everyone likes to be part of a winning team."
Tata Motors launched Tata Motors Full Throttle in February 2011, as a platform for steering the company's participation in motor sports, including developing and testing of Tata Motors passenger vehicles. Tata Motors Full Throttle has been victorious in some of the most reputed rallies namely Desert Storm, Dakshin Dare, Raid De Himalaya, Eastern Mountain Safari rally and the Hornbill International Motor rally.
Tata Motors Full Throttle recently launched off-roading properties for customers of Tata Motors utility vehicles, namely Tata Motors Full Throttle Experience and Tata Motors Full Throttle Trails. Full Throttle Experience, are off-roading expeditions which span over a number of days, while Full Throttle Trails, are half-day off-roading events.
In the motorsports arena, Tata Motors works very closely with Jayem Automotive Coimbatore, achieving the highest levels of performance, from its passenger vehicles
Final Championship standings (top 3):
Overall Manufacturers Champions: Team Tata Motors
Overall:
1st place – Team Tata Motors – Satish Gopalkrishnan / Savera D'souza (78 points)
2ndplace – Team Tata Motors – Karthick Maruthi / Sankar Anand (71 pts)
3rd place – Team Tata Motors – Sachin Singh / Chandrasekhar M (57 pts)
 Pro-Expert:
1st place – Team Tata Motors – Satish Gopalkrishnan / Savera D'souza (78 points)
2ndplace – Team Tata Motors – Karthick Maruthi / Sankar Anand (77 pts)
3rd place – Team Tata Motors – GB Girijashankar Joshy (68 pts)
Pro-Stock:
1stplace – Team Tata Motors – Chidanand Murthy / Sujith Kumar BS (133 pts)
2ndplace – Team Tata Motors – Shanmugam Gopalkrishnan / Venkatesh Sekar (81 pts)
3rdplace – Team Tata Motors – Srikanth Gowda / Kuriakose Elias Paarel (52 pts)