~Jee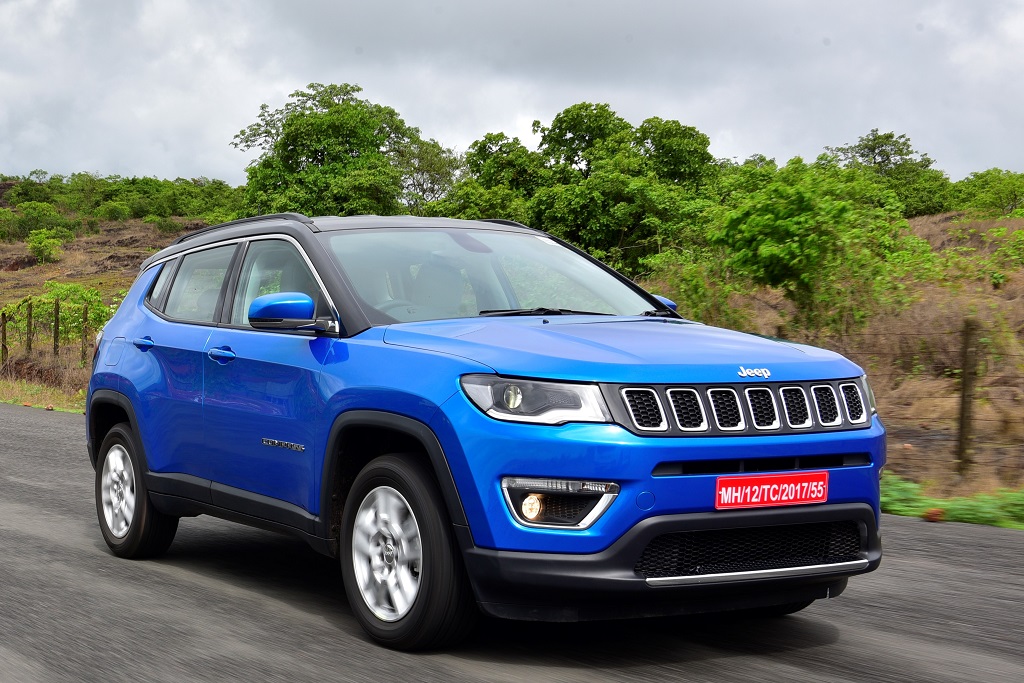 p Compass wins the Car of the Year Award & Bajaj Dominar wins NDTV Two Wheeler of the Year Award~
National, December 14, 2017:
Mid-week blues were put to rest with the champagne brunch at the coveted NDTV Car and Bike Awards 2018, presented by HDFC ERGO General Insurance Company and powered by Mobil coming to an end.
​India's most credible automobile awards saw the coming together of leaders and trendsetters of the automobile industry celebrating the best of the best from the sector at the DLF Golf & Country Club, Gurgaon.
Jeep Compass and Bajaj Dominar were awarded the NDTV Car of the Year and NDTV Two Wheeler of the Year Award respectively.
The 13th Edition of the Awards also honoured products that were launched over the past year, across both car and bike segments and also recognised industry leaders, advertisers, marketers and PR professionals from the industry. Also included in the program was a panel discussion on Digital Marketing and Consumer Engagement.
The product awards boasted a panel of eminent jury members including Dr V Sumantran, Senior Industry Consultant, Aditya Patel, Racer; BVR Subbu, Marketing Professional and Automobile Industry Veteran; Gul Panag, Auto Enthusiast and Biker; Rayomand Banajee, Racer & Mentor; Jens Meiners, Motoring journalist and Vice Chair, World Car Awards; Aishwarya Pissay, Racer; Siddharth Vinayak Patankar, Editor-in-Chief: Auto, NDTV Network;  Preetam Bora, Editor-Bikes, NDTV CarandBike; and Cyrus Behram Dhabhar, Assistant Editor Auto, NDTV.
The Mobil CNB Viewers' Choice Awards for both Cars and Bikes, like every year, provided NDTV viewers with not only an exciting opportunity to vote for their favourite car and bike nominees, but also stand a chance to take the year's hottest wheels home. Renault Capture and Bajaj Dominar were announced as the Mobil CNB Viewer's Choice Car and Two Wheeler respectively.
Speaking at the 13th edition of the awards, Siddharth Vinayak Patankar, NDTV Group's Editor-in-Chief:Auto & Director, World Car Awards said, "Every year we aspire to make this process more transparent and even more credible. And look at how best to celebrate and recognise the hard work the auto industry puts in. Am extremely proud of our process and the juries we had, so I am confident that the best have won, whilst staying extremely relevant."
The jury for the Marketing and Communications awards categories included Kushan Mitra, Managing Editor, The Pioneer; Mukesh Kumar, Executive Director of HDFC ERGO General Insurance Company Ltd.; Prahlad Kakar, Founder and Director – Genesis Film Production Pvt. Ltd and Co-Founder – Reefwatch Marine Conservation; Prasanjeet Dutta Baruah, Head of Automotive, Telecom and New Business for India and South Asia at Facebook; Prema Sagar, Vice Chair, Burson-Marsteller, Asia Pacific & Principal/Founder, Genesis Burson-Marsteller and Siddharth Vinayak Patankar, Editor-in-Chief-Auto & Head of Automobile Programming, NDTV Group.​
To ensure a seamless and transparent selection process, each product jury member got a hands-on experience of each car and bike nominee at the Buddh International Circuit F1 track in Greater Noida, along with the nominee's specifications to ensure that only the most deserving automobiles were awarded.  Audit partners Ernst and Young tabulated the results based on secret ballot voting by the jurors that helped decide the top honours.
The winners are encapsulated below:
Category
Winners
Two Wheelers
Commuter Motorcycle of the Year
Hero Glamour
Entry Premium Motorcycle of the Year
Yamaha FZ25
Entry Cruiser Motorcycle of the Year
Suzuki Intruder
Premium Motorcycle of the Year
Bajaj Dominar
Sport Bike of the Year
Triumph Street Triple
Touring Motorcycle of the Year
Harley-Davidson Fat Bob
Adventure Motorcycle of the Year
Honda Africa Twin
Performance/Luxury Motorcycle of the Year
BMW S 1000 RR
Scooter of the Year
Honda Cliq
Two-wheeler Manufacturer of the Year
Bajaj Auto
Mobil CNB Viewer's Choice Two Wheeler of the Year
Bajaj Dominar
NDTV Two wheeler of the Year
Bajaj Dominar
Cars
Hatchback of the Year
Maruti Suzuki Ignis
Premium Hatchback of the Year
Honda WR-V
Subcompact Sedan of the Year
Maruti Suzuki Dzire
Compact Sedan of the Year
Hyundai Verna
Fullsize Sedan of the Year
Volkswagen Passat
Subcompact SUV of the year
Tata Nexon
SUV/Crossover of the Year
Jeep Compass
Fullsize SUV of the Year
Skoda Kodiaq
Luxury SUV of the Year
Land Rover Discovery
Premium Car of the Year
BMW 5 Series
Performance Car of the Year
Audi S5
Sports Car of the Year
Porsche Boxster 718
Supercar of the Year
Lamborghini Huracan Performante
Car Manufacturer of the Year
Maruti Suzuki India
Mobil CNB Viewers' Choice Car of the Year
Renault Capture
NDTV Car of the Year
Jeep Compass
General Awards
CNB Green Award
Okinawa Ridge
CNB Automotive Man Of The Year
Mr Y K Koo, MD, Hyundai Motor India
Design Of the Year
Car: Tata Nexon
Two-wheeler: Indian Scout Bobber
HDFC Ergo Safety Award Winner
Winner: Hyundai for "Be The Better Guy" CampaignRunner-Up: Maruti Suzuki for "#PehniKya?" Campaign
Best Innovation in Integrated Communication (Two Wheeler)
Winner: Yamaha Cygnus Ray ZR – Let It Go Runner-Up: TVS Victor, UnstoppableSpecial Jury Mention: Honda Cliq & Bajaj V – Invincible Indians
Best Innovation in Integrated Communication (Four Wheeler)
Winner: Datsun rediGo – Vote for Change Runner-Up: Ford EcoSport Unboxing Special Jury Mention: Nissan GT-R Map of India
Best PR and Communications Team (Two Wheeler)
Winner: TVS Motor – Influencer EngagementRunner-up: Okinawa – Power the Change
Best PR and Communications Team (Four Wheeler)
Winner: Maruti Suzuki for "#PehniKya?" CampaignRunner-up: Audi India for #A5BratPack
Best Television Commercial (Two Wheeler)
Winner: Bajaj Platina – Jhatka Mana HainRuner-up: Suzuki Access – Kam eeta Hai & Hero for FIFA Inspire
Best Television Commercial (Four wheeler)
Winner: Jeep Compass – FablesRunner-up: Maruti Wagon R – 20 Lakh: Big Hearted CarSpecial Jury Mention: Skoda Kodiaq –Power Should Be Beautiful