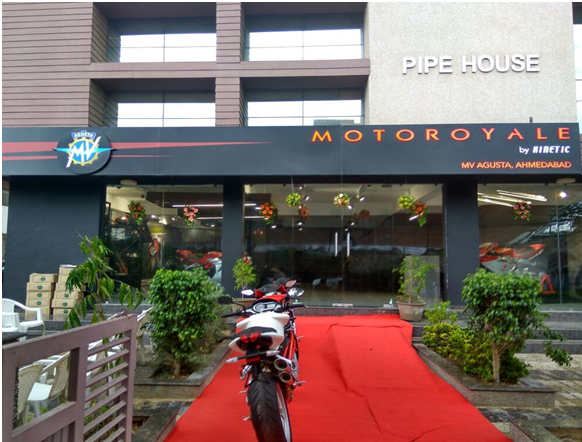 Unveils its second showroom in India, MVAgusta Ahmedabad
Delivers 8 Vehicles on first day
World class showroom made as per international standards at S G Road with sales, service and spares support
MVAgusta is the Italian manufacturer of one of the world's most exotic and premium motorcycles, priced from 16.78L – 40 laks etc showroom
The Motorcycles boast of in line 3 & in line 4 cylinder engines which have up to 200 BHP of power with advanced electronics including a 8 level traction control and ABS
MVAgusta has tied up exclusively with the Kinetic Group of Companies to launch their motorcycles in India
MV Agusta Superbikes available through exclusive 'Motoroyale' showroom in Ahmedabad, Gujarat.
MV Agusta India Pvt. Ltd., exclusive partners with MV Agusta; the legendary Italian company known for the world's most premium high-performance superbikes, today announced its official entry into Gujarat via an exclusive showroom in Ahmedabad. The company unveiled its range of superbikes − the F4, F3 and Brutale 1090 −which will now be available at its second 'Motoroyale' dealership in Ahmedabad. MV Agusta Ahmedabad delivers 8 vehicles at the inauguration day.
Motoroyale is Kinetic Group's chain of high-end motorcycle stores with bikes sourced from some of the leading two-wheeler brands in the world.
The showroom will operate as 'MVAgusta Ahmedabad.
Commenting on the launch, Mr.Ajinkya Firodia, Managing Director of MV Agusta India Pvt. Ltd., said, "I am delighted to inaugurate our 2nd world class showroom in India, and that too in Ahmedabad. Gujrat has always supported all new product innovation, and was a pioneering market for Kinetic Luna & Kinetic Honda many years ago.  Now, it has become one of the most important market for Superbikes in India.  MVAgusta is the most premium motorcycle brand in the country, and boasts of in-line 4 cylinder and in line 3 cylinder engines delivering upto 200 BHP of power.  100% Italian, they are designed by legends like Massimo Tamburini, and owning a MV is a dream for all enthusiasts. MVAgusta has received a terrific response in the country, and we have already sold over 15 motorcycles since launch.  With our network expansion, and with partners like MVAgusta Ahmedabad, we are confident of MVAgusta's grand entry in India"
Mr. Hardik Patel, proprietor at MVAgusta Ahmedabad, said "We are very happy with our association with MVAgusta India.  Kinetic is already an experienced player in the automobile segment, and we are sure that we will make a big success of a brand like MV.  We invite all bikers to come see the world's most beautiful motorcycles"
Following Ahmedabad, Motoroyale dealerships will soon be inaugurated in Bangalore, Chennai, Delhi and Mumbai. Motoroyale showrooms will focus on sales, service, spares and after sales support for MV Agusta customers in India. MV Agusta India Pvt. Ltd. has the exclusive distribution rights for all MV Agusta motorcycles in India, Bangladesh and Sri Lanka.
About MV Agusta:
Based in Varese, Italy, MV Agusta was found in 1945 and today MVA machines are considered the holy-grail of high-performance motorcycling. With groundbreaking bikes like the F4, which was designed by the legendary Massimo Tamburini, and the Brutale range of naked sportsbikes, MV Agusta sets the standards in the world of high-performance superbikes. The Italian company has won multiple titles in 500cc and 350cc road racing world championships, and has also won many races at the Isle of Man TT, the world's toughest road racing circuit. MV Agusta has a strategic tie up with Mercedes–AMG GmbH for co-marketing of their products. The two brands, which are icons of speed, sportiness and high performance, both on two and four wheels, will work together closely for marketing and branding of their products. Mercedes–AMG has a 25 per cent stake in MV Agusta.
Range information:
About MV Agusta F4:
The MV Agusta F4, which was originally designed by the legendary Italian motorcycle designer, Massimo Tamburini, has often been hailed as the best-looking superbike in the world by the motorcycle press in Europe, the US and Japan. The bike is powered by a 998cc four-cylinder engine, which produces an immense 195 horsepower and equally impressive 111Nm of torque.
The MV Agusta F4 is priced at Rs. 28.05 lc (ex-showroom AMD) and is available in Red/silver/matt black & White ice pearl/matt black color/s.
About MV Agusta F4 RR
The F4 RR is the top-end version of the F4 series. The F4 RR has high-performance motorcycling history in its blood and is the epitome of emotion, performance, speed and incomparable design. It boasts of an inertial control platform with lean angle sensor, a redefined riding position, full Ride-By-Wire, Öhlins electronic suspension and steering damper as well as GP-spec titanium con rods. Its 998cc four-cylinder engine develops 201 horsepower and boasts a top speed of 297.5 km/hr.
The MV Agusta F4 RR is priced at Rs. 37.55 lc (ex-showroom AMD) and is available in White ice pearl/metal black carbon & Avio grey/black carbon color/s.
About MV Agusta F3
The F3 800 is the class-leader in the supersports segment. Its styling mirrors that of its elder sibling, the legendary F4, which was designed by the great Massimo Tamburini. And the bike is powered by an advanced 800cc 3-cylinder engine that provides exhilarating power and performance. In terms of safety, too, the F3 800 is extremely well equipped, with ABS, 8-stage traction control and multiple riding modes for tailor-made power delivery characteristics.
The MV Agusta F3 is priced at Rs 17.70 lc (ex-showroom AMD) and is available in Matt metallic senna black & Pearl ice white/matt avio grey & Red/silver color/s.
About MV Agusta Brutale 1090
Powered by a 1078cc four-cylinder engine that produces 144 horsepower and 112Nm of torque, the naked Brutale 1090 offers intense acceleration, an intoxicating top speed and overall performance that's simply exhilarating. An even more exciting power configuration of 158 hp is also available.
The MV Agusta Brutale 1090 is priced at Rs 21.14 lc (ex-showroom AMD) and is available in Matt Black & Matt White color/s.
About MV Agusta Brutale 1090 RR
The absolute expression of power and riding pleasure, the Brutale1090 RR knows no compromise. A perfect synthesis of design, automotive engineering and performance!! The Brutale 1090 RR is true excellence on two wheels. Its name embodies the essence of a model rooted in motorcycling history, while looking to the future with advanced technological solutions: the motorsports ABS system and advanced inline four-cylinder engine combine safety and total control with emotion and exuberance.
The MV Agusta Brutale 1090 RR is priced at Rs 26.44 lc  (ex-showroom AMD) and is available in Black metallic/avio grey metallic& Graphite metallic/pearl ice white color/s.
About MV Agusta India Pvt. Ltd.:
MV Agusta India Pvt. Ltd. is a part of the Kinetic Group of companies, a pioneering automotive group in India. Kinetic has been in the automotive business since 1972 and is widely known for its innovative products. Kinetic has always been known for introducing advanced technologies in India, and has extensive experience in retail as well as after-sales service for two-wheelers