• Luxe Drive, an engaging platform for customers, based on the three pillars of Adrenaline, Gourmet and Design mesmerized the luxury car enthusiasts in Bangalore
• Mercedes-Benz has associated itself with 'Gauri Khan Designs' created by the talented Gauri Khan
• Established Chef Ritu Dalmia's exclusive food menu was highly appreciated by the patrons
• A unique experience of adrenaline rushing activities: Patrons were enthralled while driving the wide range of Mercedes-Benz vehicles
• Patrons got a chance to test drive the vehicle of their choice. Provision also made for a complementary vehicle evaluation, opportunity for a special trade-in, personalized finance offers and other value additions
• Black Edition: For the first time a brand new line, the 'Black Edition' was presented that comprises exclusive Mercedes-Benz accessories and merchandise for brand loyalists
• Luxe Drive will travel across the country to provide the exclusive luxury experience | After Bangalore, Luxe Drive will travel to Nasik
Mercedes-Benz India, the country's prominent luxury car maker brought the highly popular and innovative customer engagement programme, Luxe Drive to Bangalore. Luxe Drive, formed on the three pillars of adrenalin, gourmet and design has created a superlative luxury brand experience for patrons and brand loyalists across age groups.
Mercedes-Benz India has tied-up with 'Gauri Khan Designs' designed by the talented Gauri Khan for the first time, this created quite a fervour among people present at the event. The patrons enjoyed the mouth-watering recipes prepared by the established and famous Chef Ritu Dalmia. The highlight of Luxe Drive has always been the display of adrenaline rushing range of Mercedes-Benz cars; their technological prowess in addition to providing an ultimate luxury driving experience. The engaging Luxe Drive was conducted at Varahasandra Expressway, Near Nice Road Toll Plaza & Nice Road Office.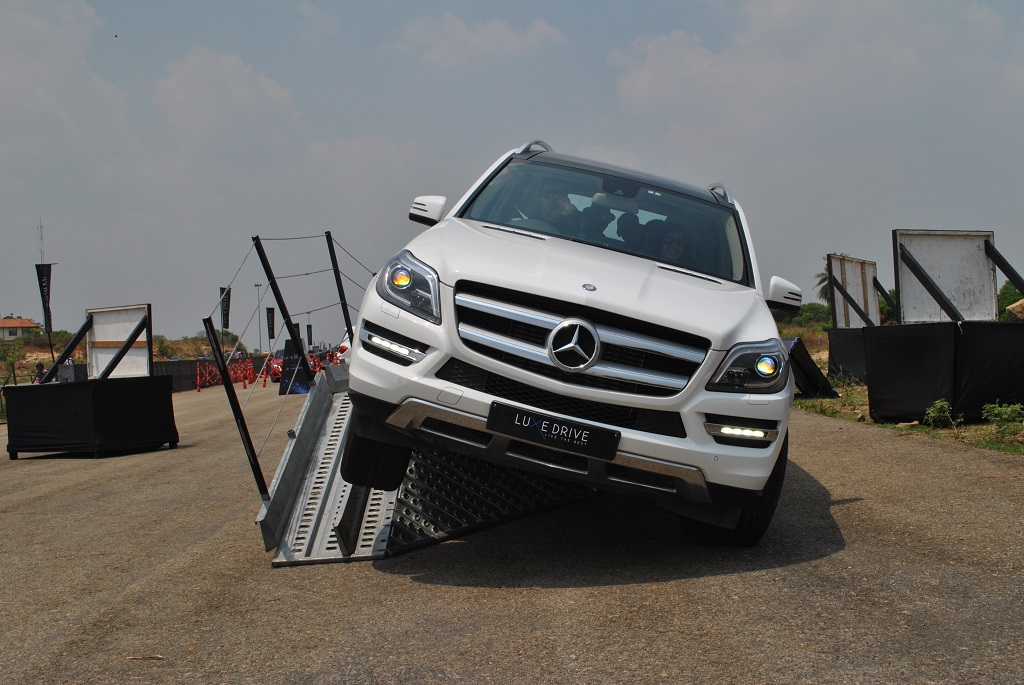 Speaking on the occasion, Roland Folger, Managing Director and CEO, Mercedes-Benz India said, "Bangalore has always attracted those who can innovate and create new benchmarks in technology; it exemplifies the philosophy of Mercedes-Benz. The IT capital of India has been renowned for its ardent motoring enthusiasts for many decades now. Over the years, we are delighted to witness significant growth in demand and affinity towards our brand and its products in this market. With innovative events like Luxe Drive, we aim at winning the hearts and minds of consumers by engaging with them on an interpersonal level.
We believe Bangalore has an incessantly growing and knowledgeable customer base that appreciates luxury. Keeping our winning philosophy in mind, we promise to create more such fascinating experiences synonymous with the 'Three Pointed Star'."
The unique and engrossing Mercedes-Benz Luxe Drive showcased the technical expertise and superior performance that Mercedes-Benz range of vehicles are capable of. This is demonstrated through a series of self-driving exercises on a specially designed test track. Managed by a team of expert drivers, various vehicle dynamics and features were experienced by participants in both off-road and on-road conditions. The visitors also experienced the memorable 'Ah My God!' feeling with the range of breath taking AMG range of performance cars.
Apart from the adrenaline rushing cars, the extraordinary designer collection 'Gauri Khan Designs' created by Gauri Khan mesmerized everyone. Similarly, the Order of the Star of Italian Solidarity award winner, Chef Ritu Dalmia's relish able dishes was appreciated by one and all.
There was also a special zone for exclusive Mercedes-Benz merchandise where guests chose and took home their favorite merchandise. The special 'kids' zone' with games for engaging the kids while their parents / relatives indulged in the experience was an added attraction, making Luxe Drive a fun-filled event. The MercedesTrophy zone had exclusive Mercedes Trophy goodies on display that kept the participants and families engaged throughout. Patrons also had the unique opportunity to get a free car evaluation from Mercedes-Benz pre-owned car sales team and an opportunity for special trade-in and personalized finance offers.