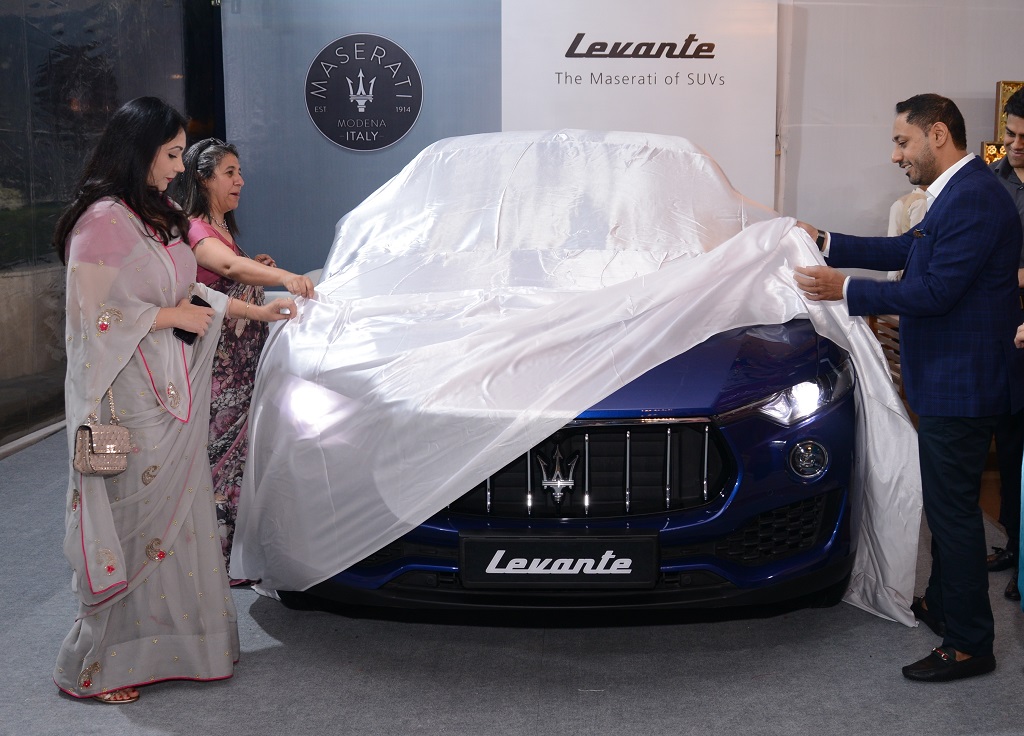 New Delhi, October 09, 2017: Maserati, the Italian luxury carmaker offered a sneak preview of the Levante – first ever SUV in its hundred-year history, in New Delhi at the  Royal Fables, a heritage platform that promotes regal, royal India in all its glory
As the luxury partner for Season 9 of Royal Fables, the Maserati Levante made a debut appearance in the city where it was exhibited from October 5-7 at DLF Emporio. The exposition presents heritage inspired fashion, jewelry, automobile, art and lifestyle; typically everything that has a regal past but reproduced to fit contemporary life-styles.
The Levante will be officially launched in India in Q4 of 2017. As with many Maseratis from the past, the new car's name is inspired by a wind: the Levante is a warm Mediterranean wind that can change from a light breeze to an irresistible natural force in an instant, mirroring the character of the first Maserati SUV.
The Levante is distinctively Italian in style, with breath-taking and iconic Maserati design features. The car chassis describe the car's overall dynamic,  with performance-oriented features, such as the extensive use of lightweight materials, ideal 50-50% weight distribution, lowest in class center of gravity are specifically developed to offer thoroughbred on-road drivability, typical of all Maserati cars and with features like air suspension and the Q4 AWD system it delivers solid off-road capability, as demanded in the SUV segment.
For India, the Levante will be fitted with a 275hp 3 litre V6 Turbo Diesel, combined with the "Q4" intelligent all-wheel drive system – which can transfer torque between the axles instantaneously when required – and an 8-speed automatic gearbox, with integrated Start & Stop System. In terms of performance, the Diesel-powered Levante (275hp) covers 0-100 km/h in 6.9 seconds, and has a top speed of 230 km/h. The exclusive Indian clientele love all things big and at first glance, the most obvious for the Levante is the length and like any true Maserati, this is a grand car, longer and wider than some of its closest competitor.
Catching an exclusive glimpse of the Levante much before the launch, at the event that re-creates the 'living room of the royals', were the royal families and connoisseurs including Princess Diya Kumari of Jaipur, who graced the evening as the chief guest. The other eminent guests who attended the event include scions of royal families such HH Raja Randhir Singh & Princess Ria Singh of Patiala, HH Rani Vinita Singh of Patiala, Nawab Kazim Ali, Kumar Saheb Padmanabh Singh of Gondol, Princess Mriganka Singh of Jammu & Kashmir with Mr Nirvan Singh – scion of the erstwhile Patiala royal family, Yuvraj Vikramaditya Singh of Jammu & Kashmir and Mr Dhananjay Mahadik MP from Kolhapur.