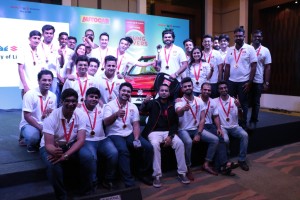 Mumbai, March 21st, 2016: In terms of absolute numbers more people die in road crashes in India than anywhere else in the world, including the more populous China. According to a WHO report, there is one death on the Indian roads every five minutes and this is expected to escalate to one death every three minutes by 2020.
The Maruti Suzuki Autocar Young Driver was established in 2009 in an effort to make India's roads safer, by spreading the message of safe and responsible driving amongst the youth.
Now in its seventh edition, the Maruti Suzuki Autocar Young Driver Award 2015 concluded at the Institute of Driving & Traffic Research (IDTR) grounds, in a glittering function in New Delhi on March 19, 2016. Mohit Kumar Malik (24) from Faridabad beat over 4,10,000 other hopefuls to be crowned India's safest young driver and win a Maruti Suzuki Alto 800.
The contest which is open to all Indian driving license holders up to the age of 30 attracted 41,292 entries from all corners of the country when online registrations opened in December 2015. The online quiz whittled the field down to 810 candidates for phase two. They were tested on their practical driving skills at Maruti Driving Schools in 42 major cities across India. In the third phase, 30 finalists were flown to Delhi for the grand finale where they were judged on the basis of 20 parameters pertaining to safety, vehicle control, theory knowledge and its application while driving. With this crown Mohit Kumar Malik takes over as the brand ambassador for road safety from last year's winner Pranay Agarwal.
To engage the youth of the country in the subject of road safety, Maruti Suzuki Autocar Young Drivers Award initiated a series of fun videos with funny-man José Covaco taking digs at the unsafe driving practices across the country, pitching one Indian city against the other. Viewers were invited to join the debate on #RoadSafetyWars.
Mr. R. S. Kalsi, Executive Director (Marketing & Sales) at Maruti Suzuki India Ltd. said "As India's leading car maker, it is our responsibility to play a proactive role towards enhancing road safety and creating awareness about high driving standards. The Maruti Suzuki Autocar Young Driver Contest is one such initiative. Safe Driving is a habit that needs to be inculcated in people at a very early age. An annual event in our calendar, it provides a perfect platform for young drivers to improve their driving skills. Because at Maruti Suzuki, we believe that better drivers makes better roads."
Commenting on the initiative, Mr. Hormazd Sorabjee, Editor at Autocar India, said, "Autocar India takes pride in being associated with Maruti Suzuki for this initiative, now in its seventh edition, which aims to make young drivers aware of the dangers of rash and perilous driving. Driving responsibly is our motto, be it in any car or any terrain. We hope to reach out to the youth of the country and educate them in driving safe and maintaining road discipline."