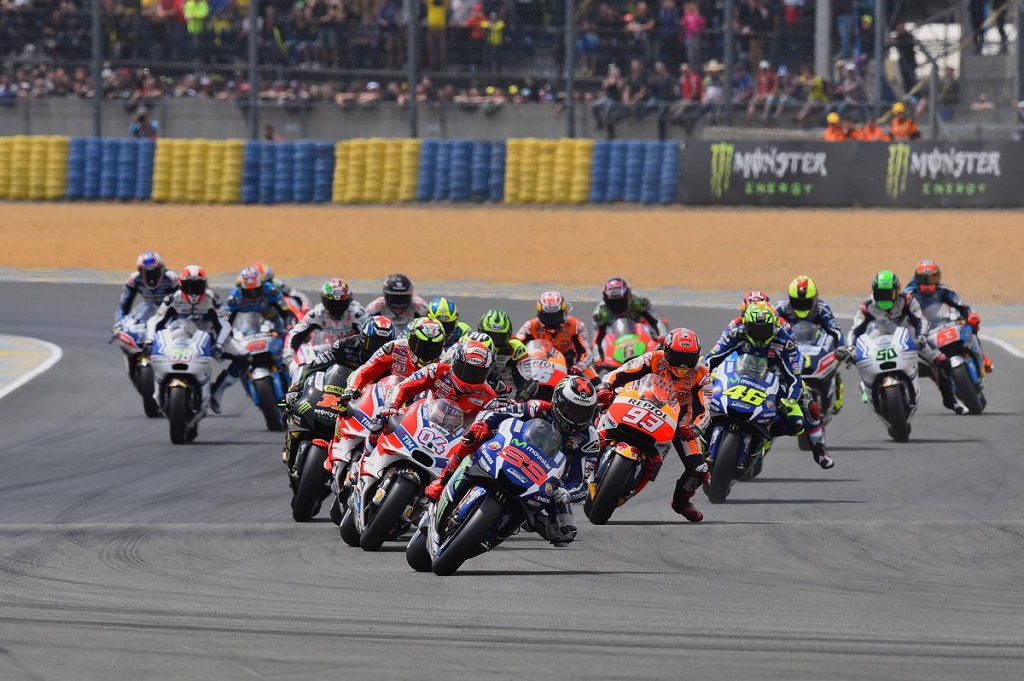 Michelin's next mission of its first season back in MotoGP™ will see the French tyre company take the trip to Italy for round six of the World Championship which will be held at the unparalleled Mugello circuit.
Situated in the stunning Tuscan countryside, approximately 35km from Florence and surrounded by the imposing hills that tower over the track like mountainous spectators, Mugello is a favourite circuit with riders and fans alike. The spectacular location is a perfect backdrop to the fast and technical layout of the circuit, which will certainly be a challenging examination of Michelin's tyres. Mugello is almost a perfect combination of fast and slow corners over many elevation changes, allied to one of the fastest straights on the MotoGP calendar where the riders enter it off the last turn of the track at speeds of 350km/h. Intense braking sections are also a feature of the 5,245m circuit, so good front tyre stability will be needed along with a balanced bike set-up. Rear tyres will be made to work very hard as well, the centre of the tyre will need to give the best grip to help the riders accelerate and power out of the slow corners, while the fast flowing sections through famous curves such as Arrabbiata 1 and 2, Palagio and Casanova-Savelli will need impressive grip levels on the tyre-edge.
With the rigorous demands that are needed for the Mugello circuit, Michelin has worked tirelessly since the last race and will take a range of tyres to Italy that it believes will be suited to the demands that the track will put upon the rubber. The MICHELIN Power Slicks for the rear will both feature the new less stiff construction that was launched successfully in Le Mans recently. Available in soft (white identifying band) and medium (no band) compounds, both tyres will have an asymmetrical design with a harder right-hand-shoulder to cope with increased stresses put on that side of the tyre. The MICHELIN Power Slick for the front will again be available in three compounds, soft (white band), medium (no band) and hard (yellow band). If wet weather should occur the MICHELIN Power Rain tyre in soft (blue band) and hard (no band) will be available, as will the MICHELIN Power Inter (silver band), which is designed to be used in changeable conditions.
Round six of this season's championship will get underway on Friday 20th May when Michelin and the whole MotoGP field will take to the track for two Free Practice sessions. Qualifying for Sunday's 23-lap race will take place on Saturday afternoon. This will decide the grid positions for one of the most eagerly awaited, colourful and passionate races of the season, one that will see many riders pushing to the limits and almost certainly the incredible spectacle of the after-race track invasion in all its flamboyant splendour.
Piero Taramasso – Manager of the Two-Wheel Motorsport Group:
"Mugello is one of a kind on the calendar, it is one of the events that has everything, a brilliant track that's a very testing layout for the riders – with up and downhill sections, a very long straight and blind curves – superb scenery, a passionate crowd – especially at Poggio Secco – and exciting racing. All this with some amazing restaurants with great food and wines close by certainly makes this a must-go-to race. We are not here for the party though and we know we have a very tough task on our hands. Le Mans was good for us and the new rear tyre worked well, but Mugello is a completely different activity. We have to be prepared to have a tyre that works under very hard-braking, give good grip and has an impressive edge-grip to cope with the fast-flowing sections. All this and we also has to contend with extreme changes in temperature, due to the mountains it can be quite cool in the morning, but when the sun is at its warmest the track can exceed 40°C, so we have to be ready for all eventualities, it has even been known to rain at Mugello! With that in mind we have a range of tyres which we think will work well and give the riders what they need. As always we will be monitoring the situation all weekend and hope that on Sunday evening we can experience some of the party for ourselves and get a bit of the famous Italian 'Dolce Vita'."