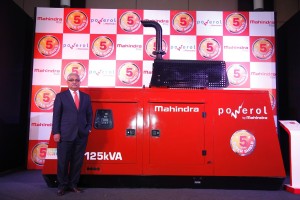 Pune, March 21 2016: Mahindra Powerol, a business of the newly formed Mahindra Powertrain Division and part of the $16.9 billion Mahindra Group, today announced the launch of its all new range of 125kVA Diesel Generators (DG).Designed at its R&D hub – Mahindra Research Valley in Chennai, this new range of diesel generators are aesthetic in its appeal and futuristic in its design and is 20% more compact. Mahindra Powertrain has also introduced the 5 Years Super Shield Plan which is an all-inclusive, cashless service for DG set owners to ensure complete peace of mind to customers.
 RajanWadhera, President & Chief Executive – Truck & PowertrainandHead – Mahindra Research Valley, Mahindra & Mahindra Ltd, said, "Accessible Technology is the epicenter of all Mahindra initiatives and today's DG launch bears testimony to this philosophy. Together with our unique first time service offeringof a Super Shield Plan, we hope to raise the bar of being a Customer Centric organization. Going ahead, we will continue to put Mahindra Powerol on the fast track within the power generation industry with our futureproduct and service offerings."
With its unique engineering canopy design and compact size, the 125kVA range of diesel generatorswill benefit the customers by using lesser space for installation. This compact DG set will help in reducing carbon footprint by saving on fuel while transportation.Further, the fluted silencer (a patented technology) developed by Powerol will reduce exhaust noise. There is also a reduction of 30% in overall weight of the canopy without compromising on its toughness & rigidity.
Primarily a service driven industry, the purchase decision of DG sets depend on service network and after sales service commitment. The introduction of the Super Shield Plan, a service initiative will go a long way in ensuring complete peace of mind to its customers. This all-inclusive coverage, promises its customers zero maintenance cost, zero repair charges, zero service charges and zero spares replacement costs, for five years.This offer is applicable on DG sets for the range of 82.5kVA to 200kVA.