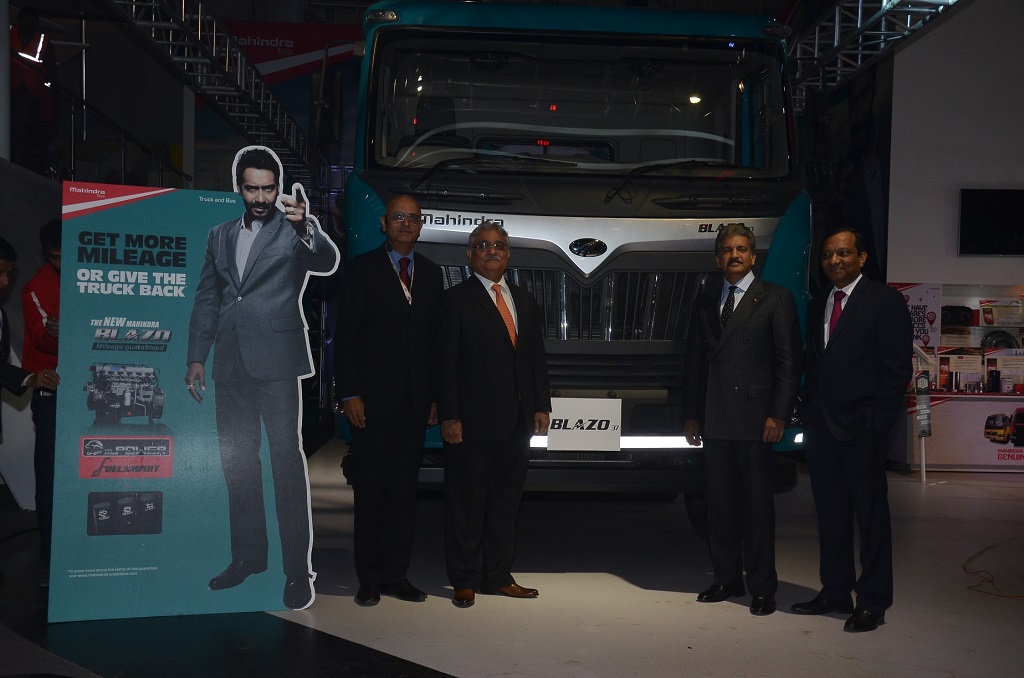 Mahindra Truck and Bus Division (MTBD), a part of the USD 16.9 billion Mahindra Group, today announced the launch of its new heavy commercial truck series under the brand name 'BLAZO'. The 'BLAZO' series includes haulage, tractor trailer and tipper and is equipped with the FUELSMART technology. The highlight of 'FUELSMART technology' is the introduction of CRDe engine coupled with Multi drive mode feature which is usually seen in passenger cars. Multimode feature will have three modes – Turbo, Heavy and Light – which can be switched by the driver as the load and road conditions.
MTBD announced two guarantees for its HCV truck buyers. For the new BLAZO series, MTBD is guaranteeing that the BLAZO series will offer better fuel efficiency than the existing trucks of customers or else they can actually return their truck. Not only that – MTBD is even guaranteeing uptime on its breakdown service by getting the truck back on road in 48 hours or the Company will pay the customer Rs. 1000/- per day!
Speaking on the occasion, Dr. Pawan Goenka, Executive Director & President, Automotive& Farm Sector, Mahindra & Mahindra Ltd., said, "Our truck and bus business has been growing steadily and is taking full advantage of the buoyancy in the HCV segment. We are confident that new BLAZO HCV range will further enhance our position in the market by significantly improving the customer value proposition".
Speaking on the occasion, Mr.RajanWadhera, President & Chief Executive – Truck & Power Train, &Head – Mahindra Research Valley, Mahindra & Mahindra Ltd, said, "At the core of the Mileage guarantee that we are offering for the BLAZO series of trucks is the FUELSMART Technology of our mPOWER CRDE engine.In commercial vehicles there is a challenge to provide a single solution of engine and vehicle power-train configuration to multiple applications and variants. The FUELSMART Technology with its multi-mode switches, will help drivers into choosing correct mode based on load and road conditions, thereby leading to efficiencies".
Mr.Nalin Mehta, Chief Executive Officer, Mahindra Truck and Bus Division, Mahindra & Mahindra Ltd. said, "Our Mileage guarantee is a clear vindication of our engineering excellence and our resolve to provide better value proposition to customers. The Service Guarantee is the outcome of our strong focus on after-sales network by leveraging Group synergies and organic growth in the service touch points and spares retailer network.  Continuous product innovation and customer centricity is at the core of MTBDwhich has made these guarantees possible.
He further added, "We have aggressive marketing plans to promote the new BLAZO series. Besides bringing in the new technology, we have even refreshed the looks of the new series and are introducing the new turquoise blue colour variant. Also, given the sincere confidence that the brand exudes, we have chosen the suave, dashing, macho, popular and well renowned Bollywood actor, Ajay Devgn to be the face of our new campaign featuring the Product and Service Guarantees".