Loaded with wide range of accessories making it the ultimate Tourer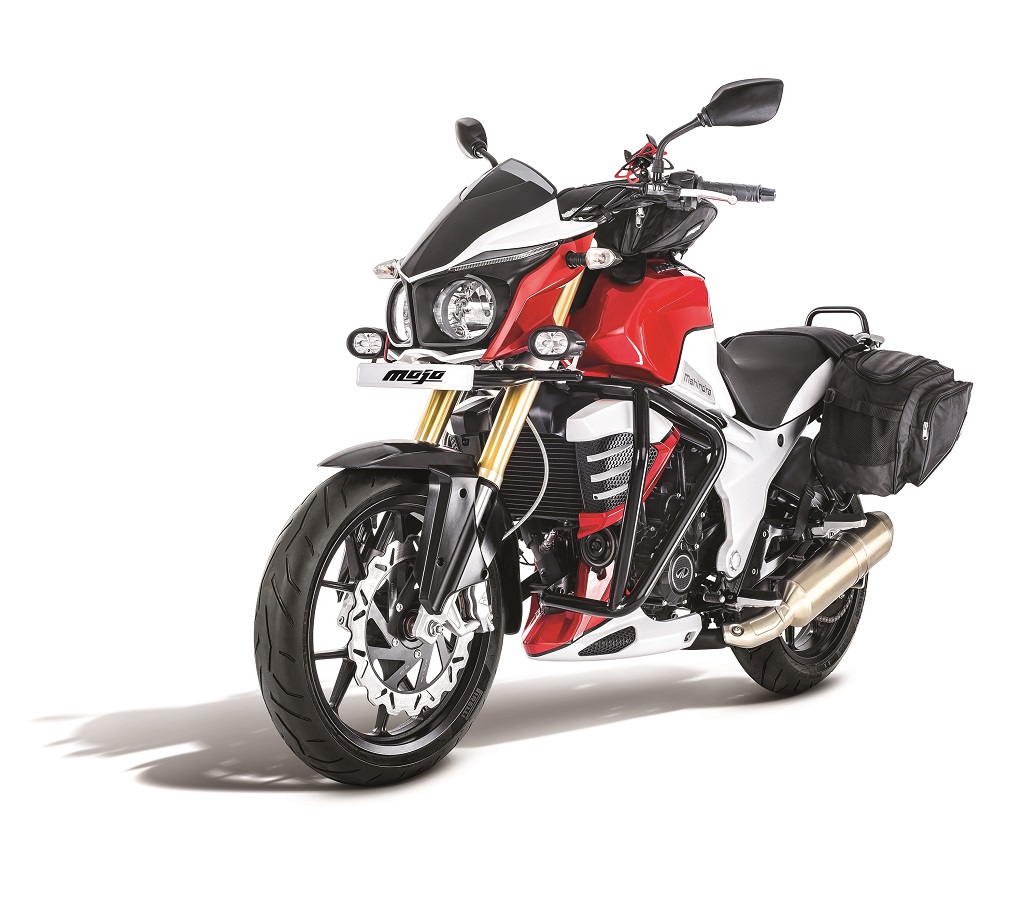 Mahindra Two Wheelers Ltd. (MTWL), a part of the USD 17.8 billion Mahindra Group, today announced the introduction of the Mahindra MOJO Tourer Edition. This fully-loaded motorcycle offers a wide range of accessories designed to offer best in class functionality benefits and enhanced tourer styling.
The Mahindra MOJO Tourer Edition comes equipped with an Accessories Kit consisting of:
Magnetic Tank Bag – This bag comes equipped with 4 rare earth magnets to provide superior grip along with a 13 litre storage capacity.
Saddle Bag and Carrier –These bags have a combined storage space of 38 litres. Made of ultra-tough denier fabric with triple stitching on stress points, they are built to ensure durability.
Mobile Holder – This handy accessory is fully adjustable (360 degree rotation) and comes with a silicon band to ensure grip at high speeds.
Front Guard – This guard is made from high-strength, corrosion-resistant material which effectively protects the fuel tank, radiator guard and engine while enhancing the look of the bike.
Pannier Mount – The matte black powder coating finish makes it rust-resistant while enhancing the style of the bike.
Fog Lamp and Mount – The 20W MOJO Fog Lamps light the way in adverse weather conditions.
These accessories have been selected keeping in mind the functional needs of a tourer – the saddle carrier and panier mount help carry excess luggage over long rides. The mobile holder will aid navigation and provide easy accessibility. The front guard will safeguard the bike from damage while the fog lamp will help enhance visibility during harsh weather conditions.
The MOJO Tourer Edition is priced at Rs.1,88,850 (Ex-Showroom Delhi).
To further enhance the experience of the customer, a Tourer Jacket, designed to enhance rider safety and up the style quotient, is being offered as an Introductory Benefit.
Mr. Naveen Malhotra, Sr. General Manager – Sales, Marketing & Product Planning, Mahindra Two Wheelers Ltd. said, "The emerging trend among the youth is to accessorize their bikes, keeping this in mind, we are excited to introduce the MOJO Tourer Edition. It is aimed at those who have a passion for touring and for whom exploring new terrain is a way of life. The MOJO Tourer Edition is the perfect companion for every biker who is passionate about touring."