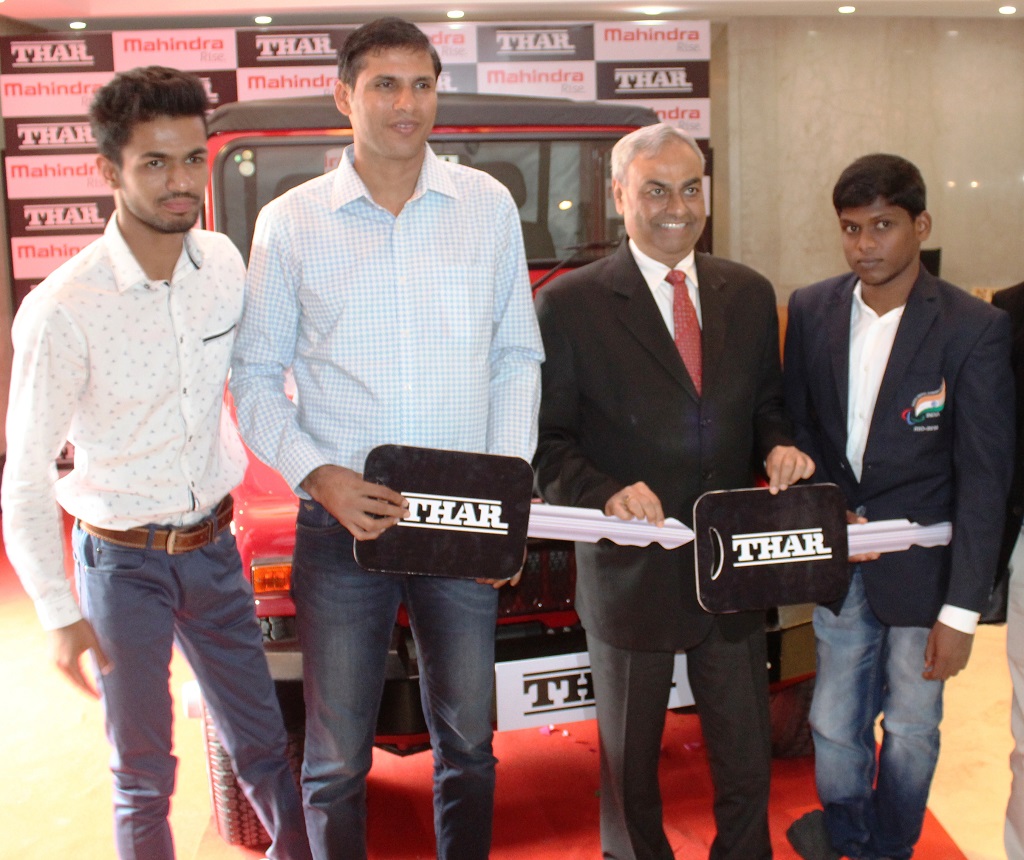 Presents its Cult Off-roader, Thar to gold medalists and cheque of Rs.10 lakh each
Mahindra & Mahindra Ltd. (M&M), India's leading SUV manufacturer, today felicitated India's Paralympics gold medalists Devendra Jhajharia and Mariyappan Thangavelu, and bronze medalist Varun Singh Bhati. Each of the medal winners received a cheque of Rs 10 lakh, while the gold medalists Devendra Jhajharia and Mariyappan Thangavelu were presented with the legendary true blue 4X4 offroader, the Mahindra Thar. All 3 medal winners received the honour for their respective performances at the recently concluded Rio Paralympics 2016.
Pravin Shah, President & Chief Executive (Automotive), M&M Ltd., handed over the keys of the Mahindra Thar and the cheques to the sportsmen at a felicitation ceremony held at the company's office in New Delhi.
Speaking at the felicitation ceremony, Pravin Shah said "It is my pleasure to felicitate our Paralympic medalists as they have put India on the global map with their historic victories. Today, they have become role models for Indian youth that want to excel not just in sports but in any arena. Fighting all odds to come out on top, they symbolize the go anywhere spirit of the Thar making it an ideal vehicle for our Olympic stars to make a personalized statement."
The three Paralympic medalists – Devendra Jhajharia, Mariyappan Thangavelu and Varun Singh Bhati, said, "We are thankful to Mahindra for recognizing our efforts and encouraging us to excel in future competitions. This is a very special gesture from Mahindra."
The felicitation symbolizes the association of the sportsmen and the Mahindra brand, both of which represent a tough and rugged DNA. The Paralympics medalists have emerged as role models for Indian youth by putting the country on the global sports map. In sync with that spirit, Mr. Anand Mahindra announced on Twitter, the cash prize for India's Paralympic medalists and Thar for the gold medalists.
The 'Mahindra Thar' is an ideal vehicle for India's Paralympics champions, who, with their explosive performances at the recently concluded Rio Paralympics captured the imagination of one and all. They displayed extreme grit and excelled in their respective sports, exemplifying Mahindra's RISE philosophy of 'Accepting No Limits'. They are also 'Driving Positive Change' – another element of Mahindra's RISE ethos by altering society's perception of what a courageous, confident and determined sportsman can accomplish. Earlier the company also felicitated Olympic stars, silver medalist shuttler P V Sindhu and bronze medalist wrestler Sakshi Malik with its legendary true blue 4X4 off-roader, the Thar, for their respective performances at the Rio Olympics 2016.
Thar, the cult off-roader is targeted at both off-roading enthusiasts and people wishing to make a unique style statement. It plays a significant role in shaping the lifestyle vehicle segment both in urban and rural India. Popular among generations of off-roading enthusiasts, style seekers and even war-veterans, not many vehicles share the same legendary past and iconic status of the Mahindra Thar. It can triumph over any terrain and reflects the company's legendary tough and rugged DNA like no other model.