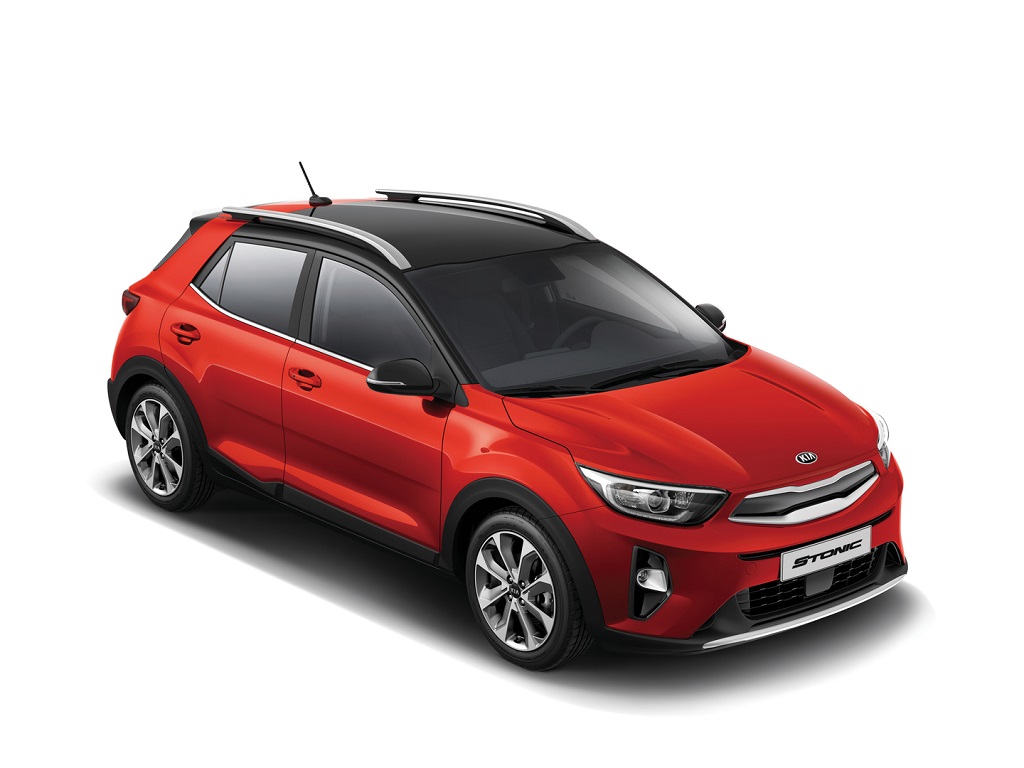 An important conquest model for Kia in a fast-growing segment
Eye-catching, confident, SUV-inspired design
Combines agile handling and a sporty ride for an exciting drive
Powered by a range of gasoline and diesel engines, including 1.0-litre T-GDI
Cabin combines style, technology and customisation options
Smart packaging for a spacious, versatile cabin
Strong, lightweight body with new driver-assistive technologies
On sale in Europe during Q3 2017
Frankfurt, 12 September 2017 – The new Kia Stonic is an eye-catching and confident compact crossover with true European design flair, and is the most customisable Kia ever, inside and out.
A range of lightweight gasoline and diesel engines are paired with manual transmissions, keeping emissions low and efficiency high. The car's ride and handling are tuned to maximise driving excitement, with steering and suspension engineered for European tastes. The car's high-strength steel platform and bodyshell ensure high levels of driving confidence and passenger comfort in all conditions.
The Kia Stonic is one of the smartest cars in its class, with a range of technologies designed to enhance handling, safety, comfort, and convenience. The car's intelligent packaging results in a spacious cabin and enables a high level of storage versatility.
The product of a close collaboration between Kia's European and Korean design studios, the Stonic will be manufactured at Kia's Sohari production facility in Korea. The car is backed by Kia's quality promise and is sold as standard with the company's unique 7-Year, 150,000 km warranty. The Stonic goes on sale across Europe during the third quarter of 2017, in a segment that is due to become one of Europe's largest in the coming years.
The B-SUV segment: Europe's largest by 2020
The Stonic will be an important conquest model for Kia in one of the newest and fastest-growing vehicle segments. The B-SUV segment currently accounts for 1.1 million new car sales in Europe each year – around 7% of the market – and is due to expand to more than two million annual sales by 2020.
"In terms of sales volumes, the B-SUV market is expected to grow to a similar size as the C-SUV segment by 2021, when more than 1 in 10 new cars sold in Europe will be from the Stonic's segment," explains Michael Cole, Chief Operating Officer of Kia Motors Europe. "The B-SUV segment attracts buyers from across the spectrum, with 21% of all customers upsizing from a B-segment supermini, and another 15% downsizing from their C-segment family hatchbacks. Cars like the Stonic also appeal to those looking to replace their compact MPVs.
"This will be one of the most compelling new cars in this rapidly-expanding class, aided by Kia's unique warranty, and the brand's reputation for reliability, quality and contemporary design. As the segment expands, the Stonic looks set to become one of our best-selling cars."
Exterior design: An eye-catching look, and Kia's most customisable car ever
European flair is at the heart of the Kia Stonic's eye-catching appearance. The design of the Stonic has been led by Kia's European design studio in Frankfurt, Germany, in collaboration with the brand's design centre in Namyang, Korea.
The designers' brief was to create an ultra-compact crossover, inspired by SUV design. The compact dimensions and low centre of gravity allow for a sleek, lithe body, inspired by the form, function and confidence-inspiring appearance of Kia's larger SUVs. With short overhangs at front and rear (830 mm and 730 mm), combined with a long bonnet and low roof-line (1,520 mm in height), the Stonic boasts a sporty and confident on-road posture – without compromising the elevated seated position drivers expect of a compact SUV. Black body cladding around the base of the car, and skidplates at the front and rear, add a further element of purpose to the car's design. A roof rack boosts functionality further.
The design is greatly influenced by a philosophy championed by Chief Design Officer Peter Schreyer – "the simplicity of the straight line". The result is one of the brand's most striking cars to date, and it remains immediately recognisable as a Kia thanks to a series of signature design elements. Kia's hallmark 'tiger-nose' grille has been modernised with a new three-dimensional chrome surround, while wide C-pillars echo existing Kia designs, from the brand's city cars up to its full-sized SUVs. Like all Kia models, the Stonic's body blends sharp horizontal feature lines with softer sculpted surfaces.
At the front of the car, parallel feature lines run down the bonnet, connecting with the shoulder line. Soft, sculpted surfaces at the front contrast with the sharp horizontal lines of the grille, lower air intake, skidplate, and fog lamps. The 1,760 mm width is accentuated by wraparound headlamps with slim, precise details and LED daytime running lights, depending on specification.
In profile, the low roofline is complemented by A-pillars located further back than in many rival B-SUVs, giving the appearance of a longer bonnet for a sporty, raked appearance. Within the 4,140 mm length, the passenger cabin sits between bold wheel arches front and rear and a relatively long 2,580 mm wheelbase. Smooth surfaces along the doors are paired with a sharp shoulder line, while the side sills feature a striking kick-up line where body cladding meets the painted exterior panels.
The shoulder line and rear wheel arches flow into the rear of the car, creating a broad, muscular shape. The rear lamps are technical in their execution, echoing the precision of the car's headlamp details. Again, the bodywork's smooth surfaces contrast with the straight lines of the bumper and rear skidplate.
Customisability is important to many buyers in the B-SUV segment, and this is the most customisable Kia yet. The car's unique 'Targa'-style C-pillar creates a natural division in the roof and bodywork – and represents the perfect canvas for a customisable two-tone paint finish. The optional two-tone finish is inspired by that of the 2013 Kia Provo concept car, first revealed at the 2013 Geneva Motor Show. That concept also boasted a 'Targa'-style C-pillar, which now features in the production Stonic.
Customers can select from nine single-tone body colours and five roof colours, creating up to 20 two-tone paint combinations. Depending on the body paint finish, the contrast roof is available in Aurora Black, Electric Green, Signal Red, Clear White, or Tan Orange. Buyers can also choose from 15- or 17-inch aluminium alloy wheel designs.
Ride and handling: Agile handling and a sporty ride for an exciting drive
The Stonic brings an exciting and confident dynamic character to the B-SUV segment, with ride and handling characteristics honed on a variety of European roads to match local preferences. The aim of the development team was to combine sporty and precise handling with straight-line stability and a smooth ride at higher speeds.
More than any other production Kia model to date, the company's engineers have given greater priority to sporty, confidence-inspiring dynamics, with direct and immediate responses. The Stonic features new front and rear suspension setups which are unique to the car, resulting in a fun-to-drive character.
Suspension engineers sought a natural, linear build-up of body roll, with relatively firm suspension compared to many rivals, to minimise roll. The Stonic's steering has also been tuned to be quicker and offer a more precise turn-in than rivals and existing Kia models. The Stonic's short front overhangs also ensure the engines are packaged in such a way as to minimise front axle inertia under cornering.
Technology will play a role in enhancing driver enjoyment, as well as safety. The front-wheel drive Stonic features Electronic Stability Control (ESC) and Kia's Vehicle Stability Management (VSM) system as standard. A range of additional electronic driver support technologies also make the car more enjoyable and confidence-inspiring to drive on all roads, in all conditions. These include:
Torque Vectoring by Braking: intelligently brakes the inside wheels to reduce understeer while accelerating around corners
Cornering Brake Control: brakes the inside wheels under cornering to maintain course and enhance driving stability
Straight Line Stability: brakes individual wheels under heavy braking – for instance, during an emergency stop – to stop the car weaving
Hill Start Assist: ideal for a car that will predominantly be used in urban environments, where stop-start traffic conditions typically prevail
Powertrains: Powered by a range of lightweight, efficient, downsized engines
The Stonic is powered by Kia's most advanced gasoline and diesel engines, designed to maximise mechanical efficiency, performance, and handling enjoyment.
Expected to account for the largest share of sales, the Stonic is equipped with Kia's lightweight 1.0-litre T-GDI (turbocharged gasoline direct injection) engine. The three-cylinder turbo engine enables immediate acceleration and high fuel efficiency, while reducing front axle weight (compared to larger engines) for more immediate handling responses. The lightweight 1.0-litre T-GDI engine produces 120 ps and 172 Nm torque. A 100 ps version of the engine will also be available to buyers from mid-2018.
Also available from launch are a pair of naturally-aspirated gasoline MPI (multi-point injection) engines: the 1.25-litre engine produces 84 ps and 122 Nm torque, while the 1.4-litre unit produces 100 ps and 133 Nm. The most efficient engine in the Stonic range is Kia's 1.6-litre diesel engine, producing 110 ps and torque of 260 Nm.
Every engine in the Stonic range is paired as standard with a manual transmission that is designed to maximise efficiency and gearshift feel. Kia is currently re-engineering its seven-speed double-clutch transmission for the Stonic, due for introduction in 2018 on certain 1.0-litre T-GDI models.
Interior design: Combining style, technology and customisation options
Like the exterior, the Stonic's cabin is based upon European design influences, with Kia's European design studio taking the lead for its execution, and working closely with the company's Korean studio.
The Stonic's cabin echoes the appearance of the exterior, combining straight lines and smooth surfaces. The interior brings together sculpted shapes with geometric forms, and the surface of the dashboard itself is inspired by the clearly-defined lines of the Stonic's exterior. The painted dashboard panel in front of the passenger seat bears the same 'tiger-nose' detail as the grille, while vents at the outer edges of the dashboard even echo the shape of the headlamps.
The wide, horizontal plane of the dashboard enhances the feeling of space, while placing technology and ergonomics at its heart. The dashboard is angled slightly towards the driver for ease of use, and a 'floating' HMI (human-machine interface) sits in the centre of the dashboard. The touchscreen infotainment system results in fewer dashboard buttons, and brings cabin controls higher up into the driver's natural line of sight. The Stonic's heating and ventilation controls sit below the touchscreen, and are operated with large, clear rotator dials.
The interior offers buyers as much potential for customisation as the exterior, with a choice of four colour packs: Grey, Bronze, Orange, and Green. Each of the four packs introduces a range of coloured trim highlights to the cabin and upholstery. Specifying a colour pack also adds a sporty D-cut steering wheel with a flat bottom. The Stonic is finished as standard with single-tone black upholstery, while Grey, Orange and Green colour packs feature two-tone black and grey seats finished in cloth and synthetic leather, with contrast colour stitching and colour highlights. Cars fitted with the Bronze pack are upholstered in perforated synthetic leather – either in single-tone black, or two-tone black and grey.
Practicality and packaging: Smart packaging for a spacious, versatile cabin
Within its compact exterior dimensions, the Stonic's smart packaging maximises interior space for all occupants. The cabin offers plenty of space for driver and passengers, with 1,070 and 850 mm legroom for front and rear passengers, 996 and 975 mm headroom, and class-leading shoulder room of 1,375 and 1,355 mm, respectively. In addition, the D-cut steering wheel and raised, flat base of the dashboard creates generous knee room for front passengers. The fuel tank is located beneath the rear bench to provide rear passengers with ample legroom and a low seating position.
Other elements of the Stonic's cabin are designed to provide practical and intelligent storage areas. Kia interior designers have sought to elevate storage areas so they are higher than those found in many rival models, ensuring they fall within easier reach of occupants. A double-tray storage area at the base of the centre console accommodates the latest large smartphones (such as the Apple iPhone 7 Plus and Samsung Galaxy Note). Every door pocket is shaped to accommodate a bottle, and there are a pair of double cupholders in the front. The glove box is designed to accommodate iPads and other tablet devices. Drivers can also stow their sunglasses in the Stonic's overhead compartment, while the sliding armrest lifts to reveal another storage area.
The Stonic's versatile 352-litre (VDA) luggage bay features a two-step boot floor. This enables owners to expand or shrink the boot as required, and create a flat floor with the rear seats folded down. The Stonic offers the widest boot opening in the B-SUV class to accommodate larger items, and buyers can choose from a tyre maintenance kit or a spare wheel to store beneath the boot floor. A pair of hooks are integrated into the sides of the boot, to stop contents of stowed bags from spilling out. With the rear seats folded down, the Stonic offers owners 1,155 litres of cargo capacity.
Technology: Advanced smartphone connectivity and a range of in-car features
The Stonic incorporates a range of intuitive technologies to enhance comfort and convenience for all occupants. One of the most modern, high-tech cars in its class, Kia's new B-SUV has an infotainment system that seamlessly blends smartphone functionality with the control of key vehicle functions.
The large 7.0-inch touchscreen at the centre of dashboard provides the control panel for the Stonic. The system is sold as standard with Apple CarPlay™ and Android Auto™, offering full acess to smartphone functionality and allowing users to access their apps and stream music on-the-go. There are pinch-and-swipe and voice controls, and optional navigation and DAB digital radio. USB ports in the front of the cabin enable users to physically connect and charge mobile devices. A USB port is also fitted in the rear when buyers specify the optional console armrest.
When equipped with satellite navigation, the Stonic is available with Kia Connected Services powered by TomTom®. The optional connectivity package includes live traffic updates, speed camera locations and alerts*, point-of-interest search, and weather forecasts. Kia Connected Services is available free-of-charge for seven years after the car's purchase.
Like other Kia models, the Stonic is available with a broad range of technologies designed to maximise comfort and convenience. These include: heated front seats and steering wheel; six-speaker audio system; automatic cruise control; electrochromic rear-view mirror; smart key with engine on/off button; rear-view camera; fully-automatic air conditioning; rain-sensing windscreen wipers; and High Beam Assist automatic lighting.
Safety: Strong, lightweight body with new driver-assistive technologies
The Stonic is built on a strong, lightweight platform and bodyshell for maximum passive safety. A high proportion of the new B-SUV's bodyshell is made up of Advanced High Strength Steel, and features 98 metres of structural adhesive welding to further enhance stiffness and safety. The body's energy flow paths are designed to effectively dissipate energy during a collision, around, above and under the passenger compartment. The Stonic is also fitted with six airbags, depending on market (driver, passenger, side and curtain), as well as ISOFIX child-seat anchor points in the rear cabin.
The Kia Stonic is available with a selection of the company's latest DRiVE WISE Advanced Driver Assistance Systems (ADAS) to enhance active safety. ADAS is designed to help drivers remain safely in control of their vehicle, while providing intuitive levels of assistance to help avoid potential hazards. ADAS technologies available in the Stonic include: Forward Collision-avoidance Assist (FCA)** with pedestrian recognition; Blind-spot Collision Warning (BCW) with Rear Cross-traffic Collision Warning (RCCW); and Lane Departure Warning (LDW). Lane Keeping Assist (LKA) will also be available to Stonic buyers from the middle of 2018.
The Stonic also offers an optional Driver Attention Warning (DAW) system, to combat distracted or drowsy driving. In Europe, driver fatigue is believed to be a key factor in up to a quarter of all fatal traffic accidents across the continent***. The system monitors a number of inputs from the vehicle and the driver, and will sound a warning chime and display a graphic in the instrument binnacle if it senses a lapse in concentration from the driver.
Like all Kia models, the Stonic is fitted with VSM and ESC as standard, ensuring stability under braking and cornering if the car detects a loss of traction. Other handling technologies also assist the driver: Torque Vectoring by Braking, Cornering Brake Control, Straight-Line Stability, and Hill Start Assist (see 'Ride and handling').