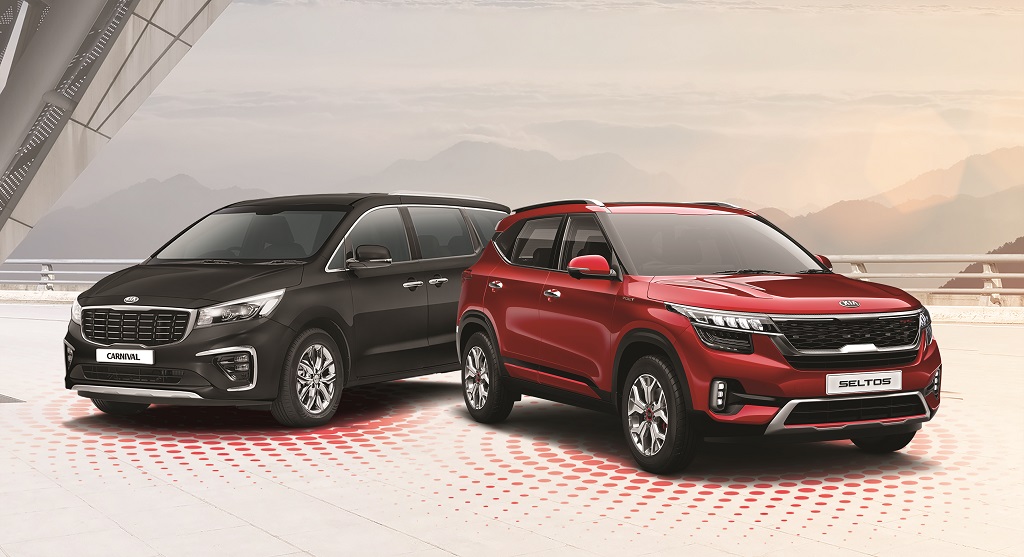 Reaches the milestone with just two products, Seltos and Carnival in the portfolio
Registered a sales figure of 97745 for Seltos and 3614 for Carnival to cross the 1 lakh sales milestone
Record number for any new entrant in India
New Delhi, July 31, 2020:Kia Motors India, country's leading connected car company, celebrates the historic milestone of 1 lakh cumulative sales in the Indian market. The company becomes the fastest automaker in India to reach this landmark in just eleven months since the launch of its debut car last year, a record number for any new entrant to achieve in such a short time. It is a testament to the faith of millions of customers in Kia Motors India products.
Kia Motors launched its first car in India, the Seltos, in August 2019 and immediately disrupted the segment and created a niche for itself. Right from its entry in the Indian market, the journey of Kia Motors has been nothing short of a success story. Within just 2 months of its launch, the Kia Seltos emerged as the highest-selling SUV in the segment and marked Kia's entry in the esteemed list of top 5 carmakers in India.
Over the course of eleven months, Kia Motors India consistently delivered on all fronts right from ensuring best-in-class product quality, to setting up a robust network, to delivering seamless customer experience. Besides focussing on adding more customers to the Kia family, the company ensured to take care of the safety and wellness of its existing customers and introduced 'Kia Care'campaign, aimed at providing comprehensive safety measures to regulate hygiene checks across three major levels: Vehicle Safety, Network Safety and Customer Safety.Even amidst the global pandemic, Kia Motors India ensured timely delivery of vehicles to its customers and stayed on track to deliver a resilient performance in the months of May and June 2020. The company gave Indian roads more than 50,000 connected cars, making it the country's leading connected car company. During the month of June, Kia Motors India also launched the refreshed Seltos loaded with 10 compelling new additions along with 50+ UVO connected car features.
Commenting on the occasion, Mr Kookhyun Shim, MD and CEO, Kia Motors India said, "2019 marked an important year for Kia as we introduced our first car for the Indian market with an aim to become a household name in the country. We are overwhelmed with the response and acceptance that Indian customers have shown towards us. Reaching the one lakh milestone with just two products, in a record eleven-month time, is a testament to our commitment to India. Today marks a proud moment for all of us at Kia Motors India and after the immense success of Seltos and Carnival, we are confident to keep up the positive momentum and lead the Indian automobile industry by addressing the unmet needs and aspirations of the customers with the upcoming Kia Sonet."
Since its entry in the market, Kia Motors India has changed the dynamics of the Indian automobile industry by introducing vehicles with exquisite new designs and equipped with world-class features. Since its inception, Kia Motors India has been future-ready adhering to all safety norms and was the first automaker to introduce all BS-VI models in their portfolio.
 In line with the company's immensely successful journey in India, Kia Motors India is now all set to relay its accomplishments with the launch of Kia Sonet in the coming months. Equipped with many segment-first features along with the iconic Kia DNA, the Sonet will stand apart for its excellent design and impeccable quality. Scheduled for its World Premiere on August 7, followed by the launch during the festive season, the Sonet will enable Kia Motors India set new benchmarks in the compact-SUV segment.
 About Kia Motors India (KMI)
In April 2017, Kia Motors signed a memorandum of understanding (MOU) with the State Government of Andhra Pradesh, India, to build a new manufacturing facility in Anantapur District. Construction of Kia Motors' first manufacturing facility in India has been completed and commenced the mass production in August 2019. The manufacturing facility has an annual production capacity of approximately 300,000 units. Kia Motors has made a mark in India with its first product – the Seltos establishing itself as a trusted brand with record bookings of 6,046 on the first day of bookings. Kia Motors India has a widespread network of 265 customer's touchpoints, in 160 cities across Tier 1, 2 and 3 cities in India.
For more information about Kia Motors India, please visit www.kia.com/in  
 About Kia Motors Corporation
Kia Motors (www.kia.com) is a maker of world-class quality vehicles for the young-at-heart. Founded in 1944, Kia today sells around 3 million vehicles a year in over 190 countries, with 52,000 employees worldwide, annual revenues of over KRW 58 trillion (about US$50 billion) and manufacturing facilities in six countries. Kia is spearheading the transition to electric vehicles and pursuing mobility services to help tackle urban challenges around the world. The company's brand slogan – "The Power to Surprise" – represents Kia's global commitment to surprise the world with exciting, inspiring experiences that go beyond expectations.