59 students awarded 2017 K.C. Mahindra Scholarships for Post Graduate Studies Abroad –
Top 3 recipients awarded Rs. 8 lac each as interest free loan scholarship
56 receive Rs 4 lakh of interest free loan scholarships each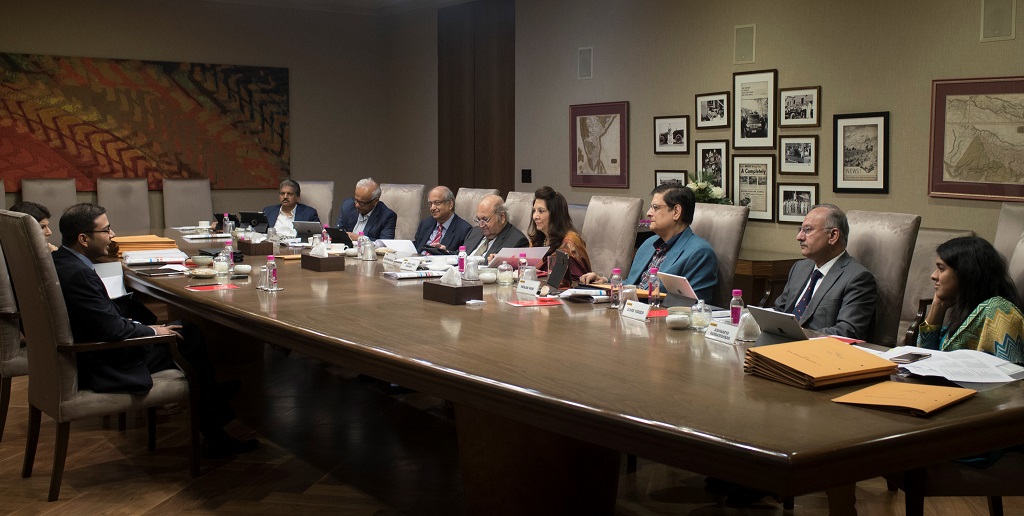 The selection panel interviewing applicants for the K.C. Mahindra Scholarships for Post Graduate Studies Abroad
August 1, 2017, Mumbai –Jay Dedhia, Soundarya Balasubramani  and Mustafa Lokhandwala  were the top three awardees to receive the 2017 K.C. Mahindra  Scholarships for Post Graduate Studies Abroad. Jay Dedhia is going to study Mechanical Engineering at the Stanford University, USA; Soundarya Balasubramani, will head to study Management Science & Engineering at Columbia University, USA and Mustafa Lokhandwala plans to pursue Electrical & Computer Engineering at the University of California, USA.
These three candidates will receive an interest free loan scholarship amount of Rs 8 lakh each. In addition, 56 candidates have been awarded an interest free loan scholarship of Rs. 4 lakh each. The applicants will be pursuing their post graduate studies in a variety  of subjects such as Computer Science, Engineering, MBA, Law and Economics, in various reputed universities that include Harvard, Stanford, Columbia, Carnegie Mellon in the USA, the University of Cambridge, Oxford and London School of Business in the UK.
In its 61st year of this scholarship program, K C Mahindra Education Trust (KCMET) received almost 1100 applications from students who have secured admissions to universities abroad. The candidates went through a rigorous selection process that culminated in 81 shortlisted candidates being interviewed by a panel of eminent leaders comprising of Keshub Mahindra, Chairman Emeritus, Mahindra & Mahindra Ltd., Anand Mahindra, Chairman, Mahindra Group and Executive Chairman, Mahindra & Mahindra Ltd., Bharat Doshi, Chairman, Mahindra Intertrade Ltd., Ulhas Yargop, Group President – IT Sector, Group CTO & Member of the Group Executive Board, Mahindra & Mahindra Ltd.,  Dr. (Mrs.) Indu Shahani, Founding Dean – Indian School of Management & Entrepreneurship (ISME) & Chairperson at The Indian School of Design & Innovation, Vikram Singh Mehta, Executive Chairman of Brookings India in New Delhi & an Independent Director of Mahindra & Mahindra Ltd & other companies, Ranjan Pant, CEO Advisor, Global Strategy Management Consultant & Change Management Expert and Aishwariya Ramakrishnan, EA to the Chairman, Mahindra Group.
Following two days of intense interviews, Keshub Mahindra, Chairman – K. C. Mahindra Education Trust & Chairman Emeritus – Mahindra & Mahindra Ltd., said "Each year these young curious and extraordinary minds impress me with their clarity of thought, their sharpness and grit to achieve their dreams. My advice to them is when you realise your dreams, never forget that you are a part of a society and you must give back what you receive.''
Anand Mahindra, Chairman, Mahindra Group and Executive Chairman, Mahindra & Mahindra Ltd., added, "These are two days, that I would never miss. Young Indians are the largest source of renewable energy we have! This year the candidates were exceptionally bright and it was a challenge to select the final awardees"
This was the 1st scholarship program set up by the founder, Mr. K C Mahindra in 1956, and it continues to offer bright Indian students the possibility of pursuing their higher education at reputed universities abroad. Till date, over 1300 students have benefited from this scholarship.
About K C Mahindra Education Trust (KCMET)
The K. C. Mahindra Education Trust (KCMET) was founded by the late K. C. Mahindra in the year 1953, with an objective of promoting literacy and higher learning in the country. With its vision to transform the lives of people in India through education, by providing financial assistance and recognition to them, across age groups and income strata, KCMET has undertaken a number of education initiatives. Since inception, these initiatives have made a difference in the lives of over 3,57,000 deserving and needy students through the provision of Rs. 3,064.52 million (USD 54.11 million) in the form of grants, scholarships and loans.
About Mahindra
The Mahindra Group is a USD 19 billion federation of companies that enables people to rise through innovative mobility solutions, driving rural prosperity, enhancing urban living, nurturing new businesses and fostering communities. It has a leadership position in utility vehicles, information technology, financial services and vacation ownership in India and is the world's largest tractor company, by volume.  It also enjoys a strong presence in aerospace, agribusiness, components, commercial vehicles, consulting services, defence, energy, industrial equipment, logistics, real estate, steel, and two wheelers. Headquartered in India, Mahindra employs over 200,000 people across 100 countries.