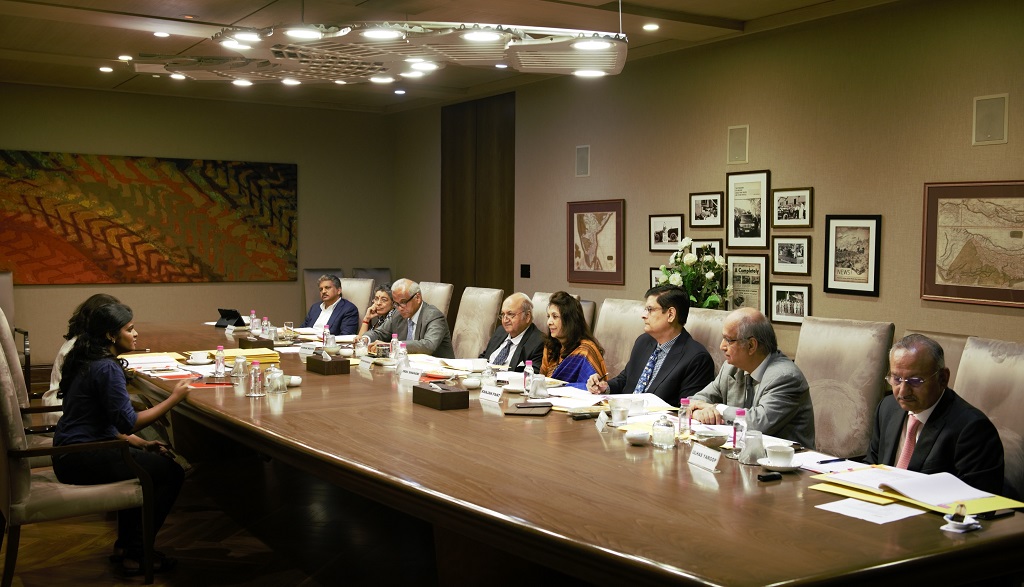 The selection panel interviewing applicants for the K.C. Mahindra Scholarships for Post Graduate Studies Abroad
The K.C. Mahindra Education Trust (KCMET) has announced the results of the 2016 K. C. Mahindra Scholarships for Post Graduate Studies Abroad. Being the 60th year, this is a milestone for KCMET which has transformed the lives of over 170,000 students through its various initiatives. At inception, the very first scholarship was for Post Graduate Studies Abroad, which allowed students to pursue their dreams for a higher education overseas.
This year, KCMET received 750 applications from students who have obtained admissions to top universities in the US, Canada, UK, France and Singapore. The candidates went through a rigorous selection process that culminated in 76 shortlisted candidates being interviewed by a panel of eminent leaders comprising of Keshub Mahindra, Chairman Emeritus, Mahindra & Mahindra Ltd., Anand Mahindra, Chairman, Mahindra Group, Bharat Doshi, Chairman, Mahindra Intertrade Ltd., and Ulhas Yargop, Group President (IT Sector), Group CTO, Mahindra & Mahindra Ltd.
In addition the other jury members included Dr. Indu Shahani, Principal, H R College & Ex-Sheriff of Mumbai, Vikram Singh Mehta, Executive Chairman of Brookings India in New Delhi & an Independent Director of Mahindra & Mahindra Ltd & many other companies like Colgate Palmolive, L&T & Vodafone India, Ireena Vittal, Advisor, (Business Building) & Expert (Indian Agriculture & Urban Change), Independent Director – Titan Industries Ltd and several blue chip companies, Ranjan Pant, a global strategy management consultant & founder of a Boutique Private Equity Advisory & Strategy Consulting firm that advises Chief Executive Officers from several of the twenty largest companies in India.
The top three candidates have been conferred the K.C. Mahindra Fellowship and will receive an interest free loan scholarship of Rs. 8 lakhs each. They have displayed exceptional academic ability with very promising future prospects. Fellows, Ayush Singhania plans to study Structural Engineering & Geomechanics in Stanford University, Trushna Khivsara is pursuing her MBA in The Wharton School, University of Pennsylvania and Aashiq Muhamad has secured admission in Stanford University to study Mechanical Engineering.
In addition to the 3 Fellows, 50 candidates will receive an interest free loan scholarship of Rs.4 lakhs each. The applicants will be pursuing their post-graduation in a number of subjects ranging from Computer Science, to Engineering, MBA, Law and Economics, in various reputed universities that include Harvard, Stanford, Columbia, Carnegie Mellon and Yale in the USA, the University of Cambridge, and London School of Business in the UK and INSEAD in Singapore.
When asked, about the two days of intense interviews, Keshub Mahindra, Chairman – K. C. Mahindra Education Trust & Chairman Emeritus – Mahindra & Mahindra Ltd., says "You get a chance once a year to meet a group of young people, to see what kind of lives they have lived, to reach this level of hope, desire and dreams, and this energizes us."
At the end of interviewing candidates over two days, Anand Mahindra, Chairman, Mahindra Group, said, "I am very impressed with the quality of candidates I met this year. We believe in providing opportunities to young Indians to build their own capabilities through higher education overseas, and eventually contribute to building our nation."
For further details on the K.C. Mahindra Scholarships please visit: