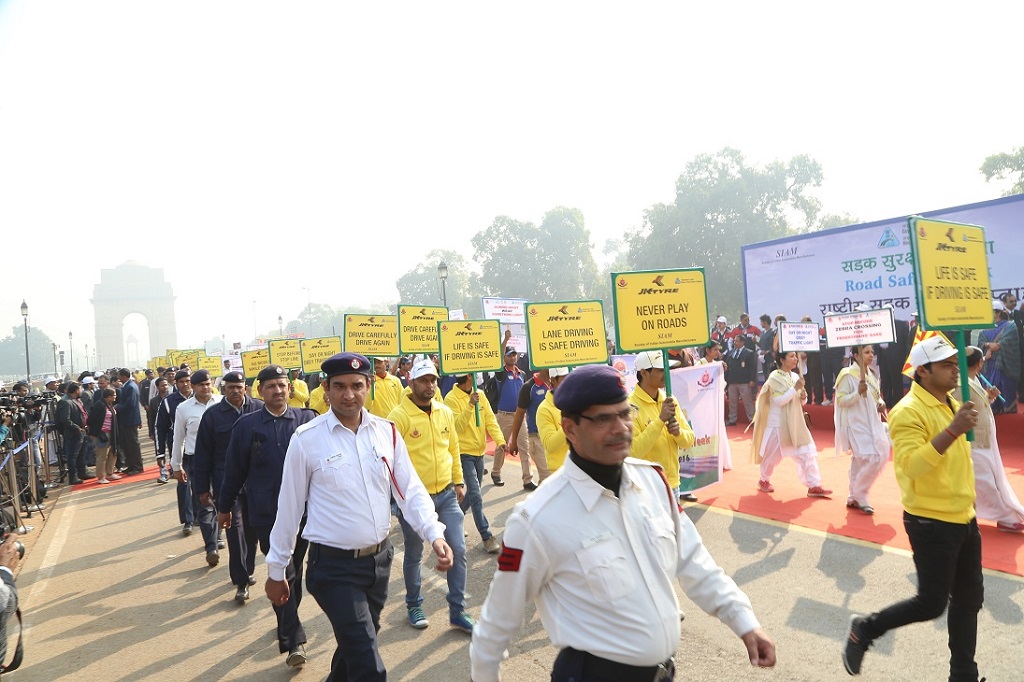 Mr. Rajnath Singh, Hon'ble Union Home Minister of India and Mr. Nitin Gadkari, Hon'ble Union Minister of

Road

Transport and Highways of India present at the inaugural

Road

Safety

Walk
Awareness programmes across the city to be organised –volunteers to spread awareness about

traffic

rules at

traffic

-jam prone points
JK Tyre and the Delhi Police's Road Safety Cell kick-started this year's 'Road Safety Week' today. The activities commenced by flagging off Road Safety Walk in presence ofMr. Rajnath Singh, Hon'ble Union Home Minister of Indiaand Mr. Nitin Gadkari, Hon'ble Union Minister of Road Transport and Highways of India.The dignitaries led the young NCC cadets and members of city based NGOs from the historic India Gate to Shastri Bhawan.
The National Road Safety Week is observed every year in January by the Ministry of Road Transport and Highways to sensitize citizens towards better traffic habits and growing road accidents. This year, it is being held from the 11th – 17th January 2016. The week long awareness initiative will witness participation from NCC Cadets and various NGOs from the city.
JK Tyre has long been a partner in this initiative. This year too, its volunteers will be strategically deployed at various problem points across NCR disseminating road safety messages.
Commending the initiative, Mr.Vikram Malhotra, Marketing Director, JK Tyre & Industries limited, said, "We atJK Tyre feel that it is every citizen's responsibility to make his or her roads safe and clean. From a car owner to a pedestrian, everyone has the equal right to safe, clean and quite roads." He added, "National Road Safety Week is an opportunity for Governments, corporates and individuals to come together and help create 'people-friendly' roads."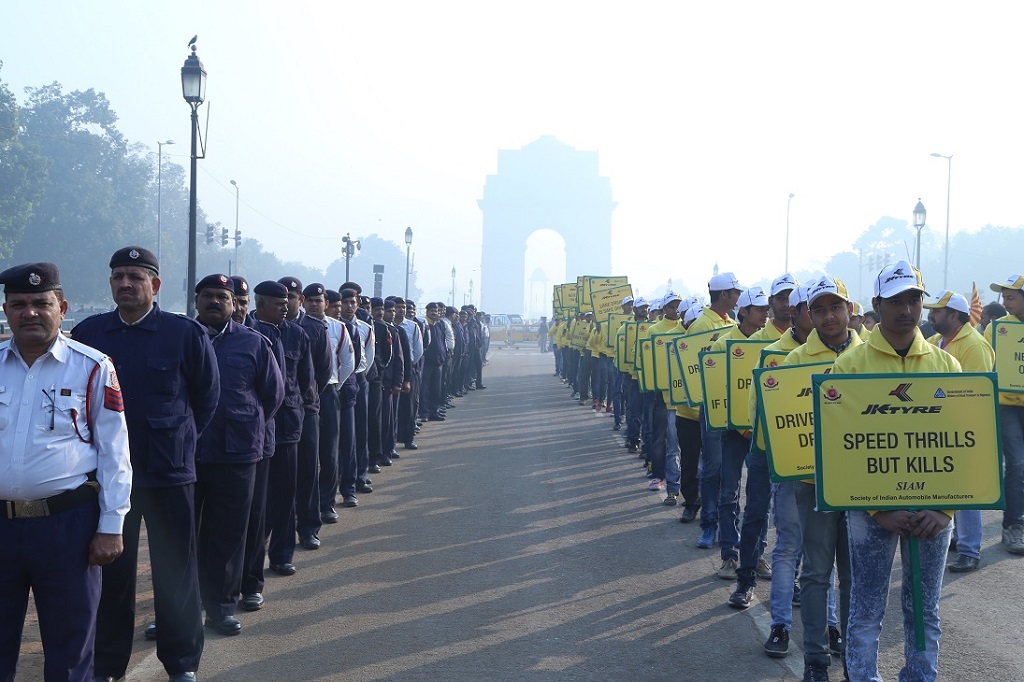 Over the years, the city has seen unprecedented rise in the number of vehicles on the road. The increase in vehicles has directly contributed to congestion, air pollution and vehicular accidents. In the last one month, there has been ample public discourse on increased levels of particulate matter in Delhi air. Till August of last year alone, 5280 accidents took place on Delhi roads in which 1030 people lost their lives.
JK Tyre is closely associated with Road Safety and under takes partnerships with governmental and non- governmental bodies like on-ground campaigns, driver training programmes, motor-rallies and media campaigns.The next major initiative in this regard is JK Tyre's annual Parliamentarian Car Rally that will take place in March. The special rally will be attended by parliamentarians who come together to spread the Road Safety message.