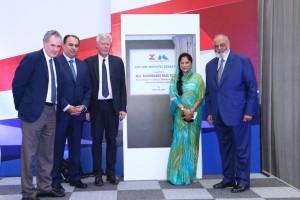 Dewas, March 16, 2016: Jaya Hind Montupet Pvt Ltd; a joint venture between Jaya Hind Industries; Pune based Aluminium Die Casting Company and Montupet S.A of France celebrated a grand opening of its ultra-modern Gravity Die Casting foundry at Dewas today.
The factory was inaugurated by Smt. Yashodhara Raje Scindia, Hon'ble Minister for Commerce, Industries and Employment Madhya Pradesh. Dr. Abhay Firodia, Chairman Abhay Firodia Group of Industries and Mr. Prasan Firodia Director Jaya Hind Montupet Pvt Ltd. (JHMPL) were also present on the occasion.
This Joint Venture was formed for the development and manufacture of automotive cylinder heads in India. It will develop complex cast Aluminium components drawing on the engineering strengths of Montupet S.A., and cost efficient manufacturing experience and in-depth market knowledge of Jaya Hind Industries (JHI).
A combination of world-class technologies and cost-management competencies are the core strength of this venture. This joint venture will not just cater to the Indian markets but will also provide complex cast aluminium cylinder heads to automotive OEM's in the Russian Federation, China and Asia Pacific regions.
Set up with an initial investment of Rs. 200 crores, this plant has a current installed production capacity of 325,000 cylinder heads per annum. The plant has been built with capability of increasing production capacity up to 1 million cylinder heads per annum as the need arises.
This plant is capable of producing high precision cylinder heads compatible for Euro IV, V and VI engines to power the new age vehicles manufactured by the global OEMS and is easily amongst the most advanced Gravity Die Casting foundries in the world.
The plant has already started rolling out the first batch of cylinder heads for Ford's global engine program. The lead country for the launch of the new global gasoline engine is India and this facility is the first to be producing this in the world.
Speaking on this occasion, Mr. Prasan Firodia said, "The inauguration of this state of-the-art plant at Dewas marks an important step into the manufacture of high precision cylinder heads in India. It is a matter of great pride that we shall cater to not just India but also the Russian Federation and entire Asia Pacific regions".
Mr. Stephane Magnan said, "It is a great opportunity for Montupet and Jaya Hind to collaborate to develop their manufacturing footprint to better serve our customers. This JV will have a major impact on the company's development in the years to come. The technical excellence of Montupet combined with Jaya Hind Industries' management excellence will bring to the JV the best chances of success".