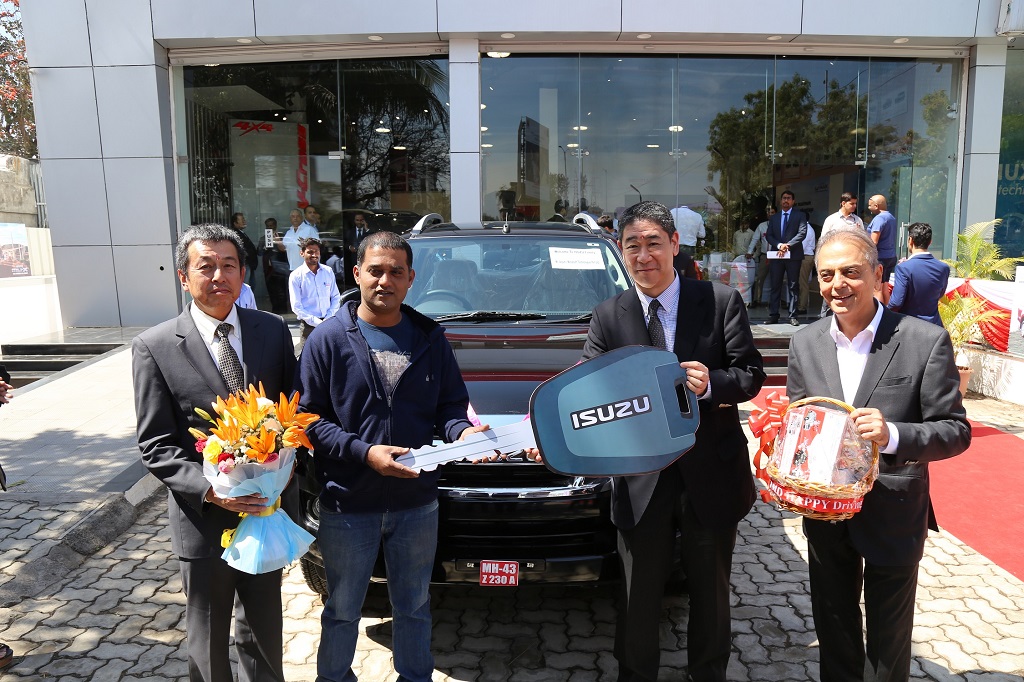 New dealership facility of JMD ISUZU inaugurated
Showcases ISUZU mu-X and D-MAX Regular Cab models
09 February 2018, Delhi: The new 2018 ISUZU D-MAX V-Cross and D-MAX S-CAB Hi-Ride variants were launched in Pune at the new 3S (Sales, Service & Spare) dealership facility of JMD ISUZU. The new 2018 V-Cross comes with Electronic Stability Control (ESC) with Traction Control System (TCS), Auto Cruise Control, Daytime Running Lamp (DRL), Rear view camera and a host of other contemporary new features. The S-CAB 'Hi-Ride' variant comes with a higher ground clearance, wider body and a higher payload. The company also showcased the ISUZU mu-X premium full-size 7 seater SUV and the entire range of D-MAX models.
Speaking on the occasion, Mr. Ken Takashima, Deputy Managing Director, Isuzu Motors India, said, "Maharashtra is an important market for us and we are seeing significant traction for ISUZU vehicles in the state. Pune is a key hub for manufacturing, services as well as agricultural activities in the state and we see a large potential for our commercial pickup trucks – Regular Cab and S-CAB. The city is cosmopolitan with highly discerning customers who appreciate quality and good design. Customers in Pune are sure to admire the ISUZU mu-X and the V-Cross. JMD ISUZU has been a valued dealer partner of ISUZU in the Mumbai region, and we are pleased to be extending our partnership with JMD in Pune also."
Mr. Girish Vazirani, Managing Director, JMD ISUZU, said, "We are very happy to represent ISUZU brand in Pune. ISUZU is known for making durable and reliable vehicles with a strong build quality, and this value proposition will continue to find strong traction in Pune. We will maintain our focus on high customer satisfaction and provide a high quality of sales and service experience to our customers in Pune."
The new 3S (Sales, Service & Spare) facility in Pune has been designed and built according to ISUZU Dealership Standards and is strategically located so as to provide a convenient access to the visitors and customers. The dealership employees have been trained under the supervision of ISUZU personnel and will provide a quality customer experience to the visitors. The showroom is designed to promote the 'spirit of lifestyle & adventure' in the region.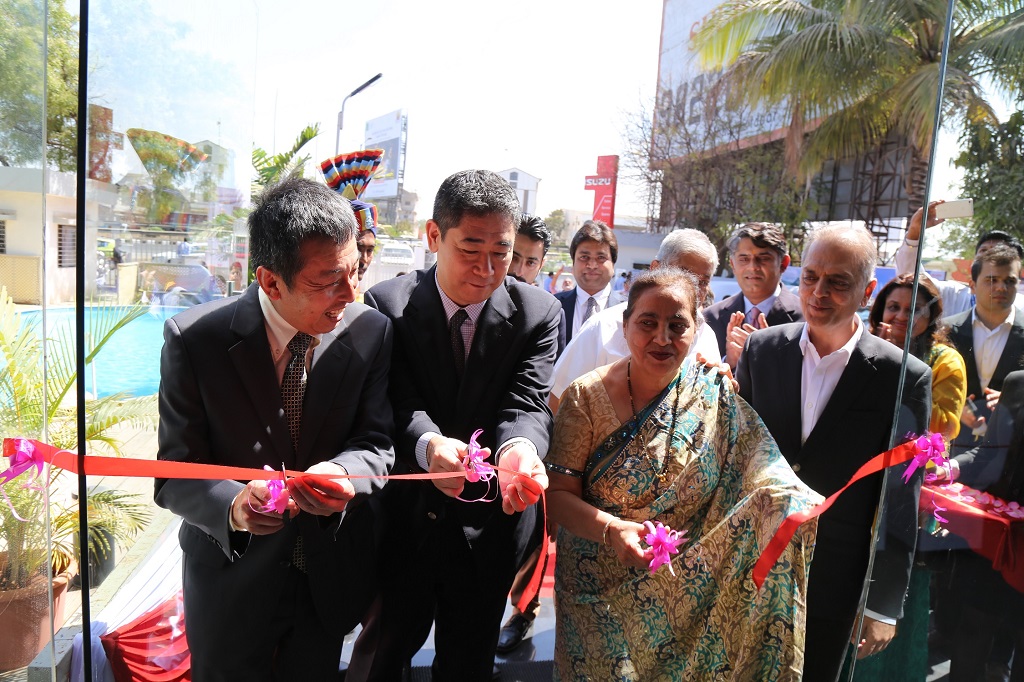 The ISUZU D-Max V-Cross is India's First Adventure Utility Vehicle, and caters to those SUV buyers who seek adventure and want to stand out among their peers. The V-Cross comes with a highly capable 4WD, modern SUV features and a large deck. The Isuzu D-Max V-Cross has been awarded as the 'Lifestyle Vehicle of the Year' at the BBC Magazine TopGear Awards 2017 and at the CNBC-TV18 Overdrive Awards 2017. The company recently launched the 2018 V-Cross with additional features – Electronic Stability Control (ESC) with Traction Control System (TCS), Auto Cruise Control, Daytime running lamps (DRL), LED Tail lights, Rear view camera, 2-Din touchscreen entertainment system and Side-step.
The ISUZU mu-X is a premium, 7-seater, full size SUV, designed to offer the best of both worlds – All Muscle, and All Heart. It is a perfect combination for those buyers who seek not only style, power and a dominating road presence but also want to have the best-in-class space and comfort for their family.
The ISUZU D-MAX S-CAB, a 5-seater pickup, offers a unique combination of Space, Performance and Strength in Smart proportions. It caters to the modern businessmen and professionals who seek high level of sophistication, space. The S-CAB is now also available in a Hi Ride variant, which provides a higher ground clearance required for travelling smoothly over challenging roads. The S-CAB is also ergonomically designed and offers superior features for safety, comfort and convenience for the modern pickup driver. The S-CAB has been awarded as the 'Commercial Vehicle of the Year' and Reader's Choice CV of the Year' by Flywheel Auto Awards 2017.
The ISUZU D-MAX Regular Cab, a single cabin pickup, is a tough, powerful and reliable workhorse that is globally known for its performance and life-long durability. The Regular Cab is available in both flat deck and cab-chassis variants. The Cab-chassis variant is an ideal platform to build reefer containers for cold chain transport applications; the flat deck 4×2 and 4×4 variants excel in meeting the wide range of applications in commercial transportation. The Cab-chassis variant can also be customized for special purpose applications in the logistics and allied business requirements.
The ISUZU vehicles are attractively priced with ISUZU D-MAX V-Cross (High) at Rs.15,78,994/-, ISUZU mu-X (4X2 variant) at Rs.24,78,524/-, D-MAX S-CAB (Hi-Ride) at Rs.8,66,825/- and D-MAX Regular Cab at Rs.7,08,634/- (all prices, ex-showroom, Maharashtra).
Isuzu Motors India Pvt. Ltd.
Isuzu Motors Limited, Headquartered in Tokyo, Japan is a global manufacturer of light, medium and heavy commercial vehicles, utility vehicles and diesel engines. With operations in 25 countries, selling in more than 100 countries worldwide, the company is a leader in pick-ups and utility vehicles in many markets. The company manufactures and sells over 6 lakh units annually, across the world.
Isuzu Motors India Private Limited (IMI), a subsidiary of Isuzu Motors Limited, Japan, was established in August 2012. Headquartered in Chennai, the company sells the popular ISUZU D-MAX V-Cross – India's First Adventure Utility Vehicle and the ISUZU mu-X, premium 7-seater SUV in the personal vehicle segment and variants of ISUZU D-MAX pick-ups for the commercial segment. ISUZU vehicles are known for its reliability and performance around the world. Renowned world-over, the vehicles are gaining huge significance in the Indian market as well, thanks to the 'value proposition' it offers the customers
Isuzu Motors India manufactures these products at its new manufacturing plant in Sri City, spread over an area of 107 acres in the state of Andhra Pradesh. The company began its manufacturing operations in April 2016, with strong focus on quality and commitment to Indian market. Isuzu Motors India began its vehicle production with high levels of localisation at Start of Production (SoP) and aims to increase it in future. The initial production capacity of the manufacturing plant is 50,000 units per annum.
The company has dedicated dealer outlets, strategically located in 30 locations across the country.