The Made in India device is cost effective and is far more cheaper than its equivalent products in the international market
THRSL in talks with automobile manufacturers for pre-sale installation
The device is not only good for individual vehicles rather it can be used by fleet management companies also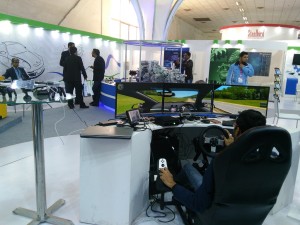 The Hi-tech Robotic Systemz Ltd. (THRSL) has developed an indigenous drowsiness alert system which will help reduce the threat of road accidents caused due drowsiness. Taking a cue from the 'Make in India' scheme launched by the honourable Prime Minister, the device has been developed and manufactured in India. The product aptly named 'Novus Aware' is on display at the Auto Expo 2016 as a part of a Pre-launch programme. It has been selected in the innovative technology product category by ACMA and is being showcased at the innovation pavilion at the Auto Expo Components show 2016. It is a safety device which will reduce road accidents caused due to inattentiveness and callous driving.
The pre-launch is aimed at testing the system for robustness and are collecting user feedbacks for improved user experience. THRSL is already working with automobile manufacturers for factory fit version of the device. This device is not only suitable for cars rather it is highly apt for fleet management companies like cab companies. The system has the capability to send vehicle and driver attention data for central monitoring via cloud. Novus Aware is a vision based system which detects the face and analyzes different facial expressions and cues like eye closure, abnormal blink frequency, head jerk, yawn etc, to estimate the driver's attention level. It raises a warning in the form of acoustic, haptic or photonic signal if the attention level falls below a certain threshold. The system also generates warnings in case driver is not looking straight ahead on the road and in the case of occluded camera.
The main innovation of the system is the development of a robust algorithm which makes the entire system perform exceptionally well even with very modest and cost effective hardware. The combination of efficient hardware along with state-of-the-art machine learning algorithm has ensured that the system would perform well for the following variability's: different illumination conditions (especially low light conditions), different users, different head and eye gears, vibrations due to vehicle movement etc. The system can effectively differentiate between an eye blink and prolonged eye closure and generates a warning accordingly without any noticeable delay. The system can be entirely concealed in the vehicle dashboard. Hence, the user is not required to adjust camera placement and positioning according to driver height or driving position.
According to Global status report on road safety by World Health Organization, there were 1.25 million road traffic deaths worldwide in 2013, out of which 1,42,485 road traffic deaths happened in India. Therefore increasing safety standards would benefit the vulnerable road users (pedestrians, cyclists and motorcyclists) as well as the non-vulnerable road users and vehicles. A substantial percentage of road accidents occur due to driver inattentiveness and having an inexpensive yet efficient driving assistance warning system can prove to be of great advantage to overcome the loss of life and property.
Speaking about product Mr. Anuj Kapuria, Director and CEO, The Hi-tech Robotics Systemz Ltd. said, "The loss of life caused due to road accidents is very high and a majority of these accidents happen due to drowsiness and lack of attentiveness of the driver. Our device will reduce this anomaly and will bring down the loss of life and property. The system is undergoing tests and will be soon launched. We are doing factory fit for leading automobile companies and our retro fit variant will be a great asset for masses and fleet management companies."
THRSL is India's first and pioneering company in the field of Artificial Intelligence, Intelligent systems, Robotics and Computer vision. The company has successfully developed and commercialised a wide range of robotic products catering to the needs of defence, homeland security and industrial sectors.