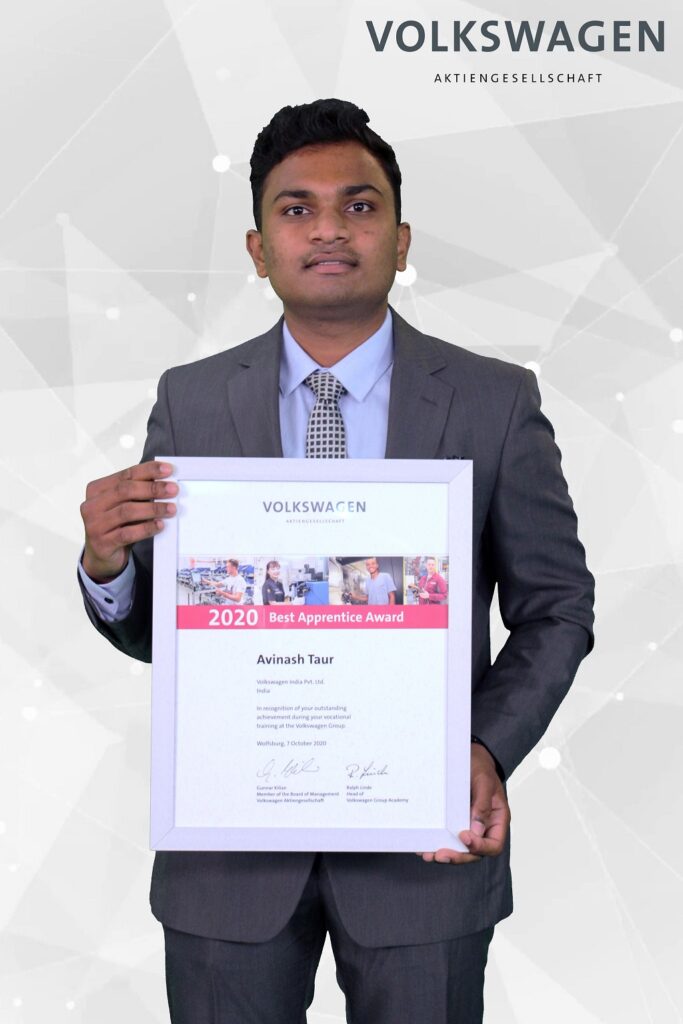 51 young talents from 24 vocations from across 19 countries were honoured at the prestigious global platform

Around 19,000 young men and women throughout the world gets trained at the Volkswagen Academy every year in about 24 vocations and dual courses of study.

21-year-old Avinash Taur from Beed, Maharashtra was the best apprentice from SAVWIPL, Pune Plant at the virtual ceremony hosted from Volkswagen AG's headquarter in Germany
Pune, 09 December 2020: The Volkswagen Group presented its 'Best Apprentice Award 2020' to honour its best apprentices from all over the world in recognition for their outstanding performance and professional competence. Mr Avinash Taur was conferred with the certificate of Best Apprentice 2020 in Mechatronics from India at the 20th edition of the annual event.
To maintain the legacy of rewarding and recognizing young talent despite the current outbreak, Volkswagen Group hosted the 'Best Apprentice Award 2020' ceremony virtually. The coveted award was bestowed on 51 best apprentices from 19 countries by Volkswagen Group CEO Herbert Diess, Works Council Chairman Bernd Osterloh and Group HR Director Gunnar Kilian. The apprentices were adjudged based on their performance in the Volkswagen Academy's Dual Vocational Training, excellence in their examinations as well as Social Skills.  
Mr Gurpratap Boparai, Managing Director ŠKODA AUTO Volkswagen India Private Limited said, "I am very happy to see one of our apprentice win Volkswagen Group's coveted Best Apprentice Award 2020, and congratulate the graduating batch for their outstanding performance throughout the Dual Vocational training program of the Volkswagen Academy. The Mechatronics program showcases our commitment towards nurturing young talent and empowering them to become successful professionals in future and to usher change with regards to development, production and mobility challenges." 
Avinash attended the three-year Mechatronics Program from 2016 to 2020 a platform by Volkswagen Academy designed to enable high school graduates and workers displaced from low-skilled jobs to learn new-age skills and become future-ready in the auto sector. Avinash's exceptional performance in the Mechatronics Program earned him the honour.
Receiving the Best Apprentice Award 2020, Avinash Taur said, "I am thankful to ŠAVWIPL for offering me a life-changing opportunity by accepting my application to the Mechatronics program. Everything that I have learnt in the past three years, will only help me in developing my career further and contribute to the future of mobility." 
Hailing from Beed, Avinash underwent training in Mechatronics Program involving Mechanical, Electrical, Robotics, Hardware and other aspects of car engineering as a part of the German-styled Dual Apprenticeship Program at Pune Plant. On completion of the program earlier this year, Avinash was placed in the Machine Shop, Component Region at Pune Plant. During his apprenticeship, he had also worked on projects like 'Lifter maintenance in Body Shop', 'PLC training kit maintenance' and 'Cylinder head spring pressing fixture modification'.