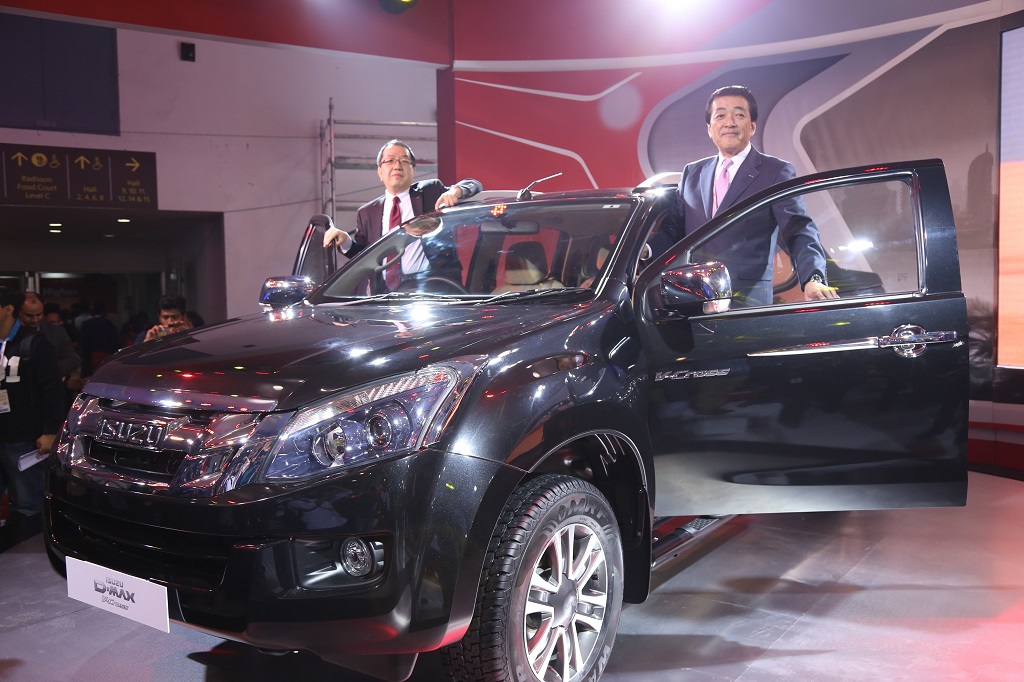 In a pursuit to offer the dynamic and enthusiastic Indian a product to boost the spirit of adventure, Isuzu Motors India unveiled India's 1st "Adventure Utility Vehicle" the ISUZU D-MAX V-Cross at the 2016 Auto Expo, which began at the India Expo Mart, Greater Noida. Mr. Susumu Hosoi, Chairman & Representative Director, Isuzu Motors Ltd., and Mr. Naohiro Yamaguchi, Managing Director, Isuzu Motors India, unveiled the new range of ISUZU D-MAX pick-ups which include the commercial range also for India, at a press conference held at the Isuzu Motors India stall (Hall No 1, stall E2).
The ISUZU D-MAX V-Cross will cater to the growing need for an 'Adventure Utility Vehicle' that provokes the spirit of adventure with a combination of rugged and durable off-roading capability and passenger vehicle like comforts. There is growing interest amongst Indians to explore new facets of life and the new ISUZU D-Max V-Cross will complement the dreams of adventurous pursuits.
The ISUZU D-MAX V-Cross comes with a 4WD (4X4) configuration, High Ride and a host of exciting features and can be registered as a "Personal Vehicle". The 'V-Cross' badge is unique to the personal lifestyle vehicles.
For commercial purposes, the ISUZU D-MAX will be available in various 4X4 and 4X2 configurations, with a combination of Crew Cab / Single Cab, High Ride / Normal Ride and flat deck / arch-deck load bodies. ISUZU D-MAX will also be available as a Cab-chassis variant.
Speaking at the occasion, Mr. Susumu Hosoi, Chairman & Representative Director, Isuzu Motors Limited, Japan, said, "India is gaining huge significance in the global arena, thanks to the fast moving economy and thrust on various growth factors. This has helped in promoting a 'sense of optimism' in the country. A country with such zeal and dynamism needs a brand that exemplifies the positivity it enjoys. ISUZU will support the endeavour to 'Make in India' with its brand promise 'Never Stop' and bring out products that will support the growing aspirations of Indians".
"We are extremely pleased to unveil the new range of ISUZU D-MAX for India", said, Mr. Naohiro Yamaguchi, Managing Director, Isuzu Motors India, speaking at the unveil event. "The pick-up market in India is expected to grow manifold and ISUZU has laid strong emphasis on offering a range of its latest D-Max products. We have sensed intense anticipation for a thorough-bred Adventure Utility Vehicle, amongst Indians. To satisfy the sense of adventure, we have introduced India's first 'Adventure Utility Vehicle', the "ISUZU D-Max V-Cross". The new ISUZU D-MAX V-Cross will excite the pulse of every adventurous Indian as it has done in other parts of the world. The new range of commercial purpose ISUZU D-Max pick-ups will continue to be a preferred pick-up for many business enterprises, thanks to the versatility and functionality it offers."
ISUZU D-MAX V-Cross – India's 1st Adventure Utility Vehicle
The ISUZU D-MAX V-Cross is the 2nd generation pick-up from ISUZU's stable, currently available in markets like Europe, Australia, Thailand and South America. The pick-up is tough and durable, encompassing aggressive styling and a host of safety features. It is backed by ISUZU's legendary engineering that offers best-in-class efficiency and reliability.
Powered by a 134 hp, BSIV compliant, high pressure Common Rail Fuel Injection Diesel Engine, the powertrain is mated to a robust 5 speed Manual Transmission that delivers a maximum torque level of 320 Nm @ 1800-2800 rpm. The ISUZU D-MAX V-Cross is equipped with off-roading features like 4WD (shift-on-fly) drive mode, High Ride suspension that offers higher ground clearance, wider track with longer wheel base. The chassis frame is designed with a new iGRIP feature (Isuzu Gravity Response Intelligent Platform) ensures greater stability even at hi-speeds and sharp curves.
Besides the proven off-road capable features, the ISUZU D-MAX V-Cross has a host of contemporary features that offer customers an urban-class driving experience. The exterior of the vehicle sports an aggressive wedge shaped design with perfect proportions of flowing lines. Aerodynamic design and muscular fenders makes it look more robust with a dominating road presence. It adorns projector headlamps, 16" Alloy Wheels, Sporty Roof Rails, ORVM with turn side indicator and chrome finish for front grille, ORVM and door handles.
The interiors of the V-Cross come with state-of-the-art features to offer customers car-like comforts with ergonomically designed driver seats, steering mounted audio controls, electro-luminescent meters with MID (Multi Information Display) and 7" touch screen audio system with USB input, DVD, AUX, iPod and Bluetooth connectivity. The optimised door size largely helps in easy ingress and egress. Besides these, the Adventure Utility Vehicle comes loaded with features that makes driving a pleasurable one. The ISUZU D-MAX V-Cross has many advantages over a Sports Utility Vehicle viz., a large open deck that can carry luggage/equipment to suit the needs of long roadtrips, adventure trips, vacationing etc.
The price of the new ISUZU D-MAX V-Cross (Private Registration) would be approximately Rs. 15 lakhs and that of the commercial version of the ISUZU D-MAX Crew Cab will be approximately Rs. 8.5 – 9.5 lakhs. The price for the ISUZU D-MAX Single Cab (Commercial Version) will be announced later. All indicated prices are approximate and are subject to the current duty/tax/levy structure and are ex-showroom, Chennai. The prices are subject to change and would be finalised at the time of announcement of booking.
The ISUZU D-MAX V-Cross will be produced at the new Isuzu Motors India manufacturing plant at Sri City, Andhra Pradesh, reinforcing ISUZU's long-term commitment to India and support the "Make in India" initiative.
Isuzu Motors India also revealed its brand promise "NEVER STOP". The brand's promise is derived from the innate qualities of ISUZU's products and its capabilities that enable customers to keep exploring new avenues in their personal life and business. With the new ISUZU D-MAX range, ISUZU attempts to portray its brand's promise that will continue to reflect in all its future products and approach to its customers.