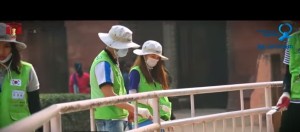 New Delhi, March 18, 2016: Hyundai Motor India Limited's (HMIL) CSR initiative 'Happy Move – Save Our Heritage' concluded recently for the first phase. The program reached out to over 2,300 students across various schools in Delhi and its impact was witnessed by visitors to the heritage monuments of Safdarjung Tomb, QutubMinar, Old Fort and the Firoz Shah Kotla.
Happy Move is one of the main pillars of Hyundai Motor Company's CSR program and this year the program was held in January with the objective to spread awareness about heritage. The campaign was conducted in association with the Archaeological Survey of India (ASI) and Hyundai hosted 80 Happy Move Global Youth Volunteers from South Korea and 25 from India who together conducted awareness drives at heritage sites and various schools in the vicinity of these sites.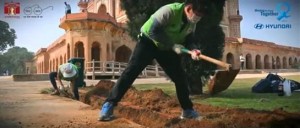 As part of the initiative volunteers undertook activities to upkeep the amenities, maintenance of gardens and conducted awareness activities to educate the visitors on the value of heritage. While the school contact program also involved maintenance and upkeep of perimeter and classrooms at the schools.
Enthused by the response, Hyundai Motor India will replicate the programme later this year as a part of its 2nd phase. The attached link captures some of the best moments from the Happy Moves – Save Our Heritage program.
Happy Move – 'Save our Heritage' – https://www.youtube.com/watch?v=vM-2M4Pv5no