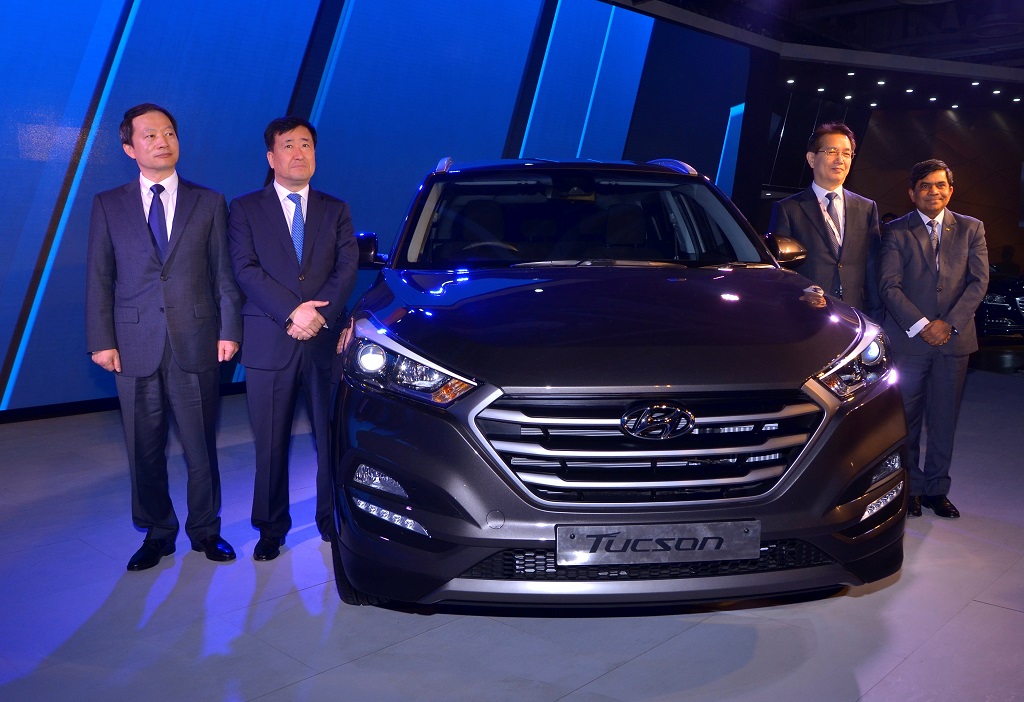 Hyundai Motor India, the country's largest exporter and the second largest car manufacturer in India, today showcased its global SUV, the Tucson at the 2016 Auto Expo, Greater Noida.
Hyundai Tucson represents a significant step forward in the future SUV line-up for the Indian Automobile Market. Hyundai has high aspirations for the brand globally. The All-New Tucson is a bold car bringing our brand slogan 'New Thinking, New Possibilities' to life. Through great design and advanced technologies, it represents the future of Hyundai products in India beyond expectations.
The Tucson design expresses progressive spirit and passion, transforming the brand to New Age Hyundai. The All-New Tucson has a bold and athletic presence achieved through refined, flowing surfaces, bold proportions, sharp lines and most importantly, the newest generation hexagonal grille – Hyundai brand signature. The All-New Tucson adopts the strong proportions and profile of an SUV and the design confidently creates a sense of the vehicle being sleek and agile.
Speaking at the Tucson Unveil at the Auto Expo, Mr. YK Koo, MD & CEO, HMIL, said, "Our theme for the 2016 Auto Expo is 'Experience Hyundai'. Our goal is to offer intuitive experience to customers and touch their lives adding brilliant moments and experience through Hyundai. The Auto Expo is a very important platform to showcase Hyundai's strength of design, technology and future products. With the spirit of challenge and innovation; we will expand the Experience Hyundai programme to strengthen the Hyundai brand in 2016."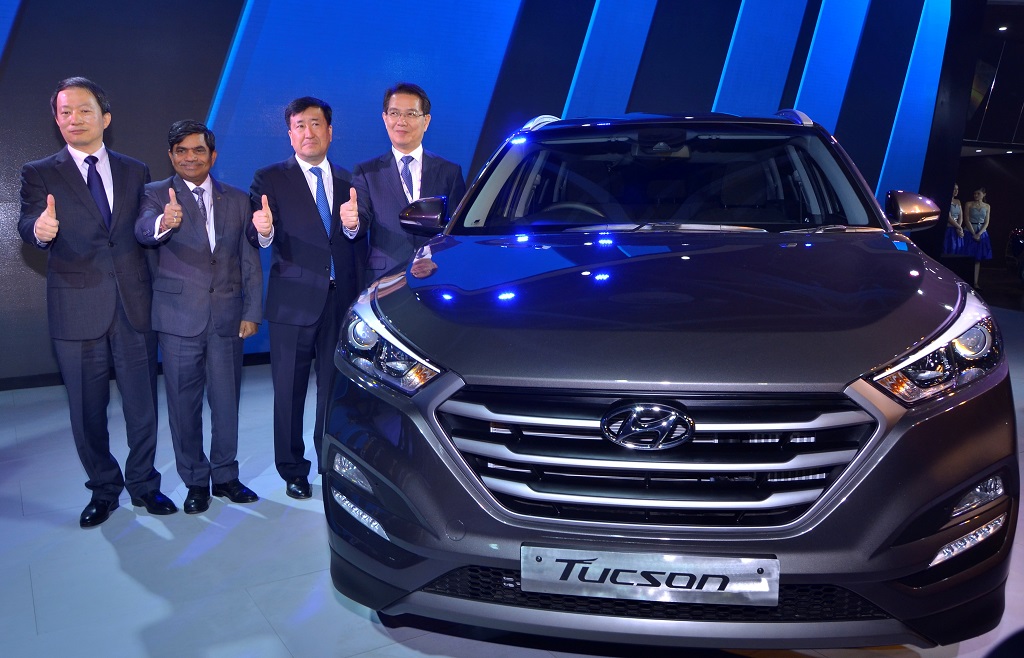 Hyundai Pavilion Highlights
 FUTURE ZONE
 Hyundai N 2025 Vision Gran Turismo'
Hyundai Motor showcased its high performance sub-brand N which is a result of intensive testing and product development. The sub-brand N builds on Hyundai Motor's successful motorsport experiences and technology capability to drive future performance-oriented and race-track-capable models forward and bring 'the most thrilling winding road' fun to customers who truly love cars.
Developed for participation in the world-renowned PlayStation® Gran Turismo racing game series, the 'Hyundai N 2025 Vision Gran Turismo' concept highlights sustainable technology and race car design, truly representing the future potential of Hyundai N. The N capitalizes on Hyundai Motor's fast-growing strength and signifies the pace of change within the brand, matching the company's ambition to challenge perceptions by making real and emotional connections with customers.
HND-14, Carlino
HND-14, Carlino is sub 4 meter concept SUV developed at the Hyundai Namyang Design Centre. HND-14, Carlino boasts multi-function lifestyle ability making an urban iconic statement with its unique design and stylish exteriors. The futuristic design direction showcases Hyundai's commitment to meet the growing aspirations of Indian customers opting for SUV's.
GENESIS ZONE
Hyundai Motor showcased the all-new global luxury brand 'Genesis' that will deliver 'human-centered' luxury through a range of new models that feature the highest standards of performance, design and innovation. The name 'Genesis', which also means new beginnings, hints at the new values and standards the brand will bring to the global luxury car market.
SPORTS ZONE
i20 Active possesses stylish design and advanced technology to further redefine Hyundai's automotive excellence in India. The i20 Active offers urban mobility with a complete package from style to performance. The design expresses Hyundai's progressive spirit and passion with its aggressive and tall stance.
ECO ZONE
Sonata PHEV
Hyundai has evolved at an ever increasing pace over the years, with significantly improved internal combustion gasoline and diesel engines and with ever higher fuel efficiency. The   Sonata PHEV was built to please drivers and the environment, setting Hyundai Motor's next milestone in its contribution to humanity with advanced technology.
FCEV Mock Up
With the aim to protect the global environment and lead the industry with regenerative environmental technology, Hyundai displayed FCEV mock up at the Auto Expo. The fuel cell stack, electric motor, battery and hydrogen tank are the main components of the Fuel Cell Electric Vehicle (FCEV).
ICOTY ZONE
As the most loved and trusted car manufacturer in India, Hyundai Motor India won three ICOTY's successively for its products: Creta, Elite i20 and Grand i10 as ICOTY 2016, 2015 and 2014 respectively. Hyundai is a New Age brand and under the Modern Premium brand direction has redefined the segments setting new benchmarks every year.
TECHNOLOGY ZONE
Hyundai displayed its world class refined powertrains and transmissions: The Kappa 1.0 GDI, Kappa 1.4-litre T-GDI, 7 DCT and 8 Speed AT.
Kappa 1.0 GDI:Broadening its engine line-up, Hyundai Motor's downsized Kappa 1.0 GDI engine is displayed as a part of a new generation of small turbocharged gasoline engines. Kappa 1.0 GDI engine is tuned to maximize fuel economy and focus on comfort, to facilitate more spirited driving without sacrificing efficiency.
Kappa 1.4-litre T-GDIunit incorporates a high-pressure single-scroll turbocharger integrated within the exhaust manifold. The new design injects fuel directly inside the cylinder, improving combustion rates for better power and fuel efficiency.
7 DCT:  The new global seven-speed double-clutch transmission (7DCT) provides an improvement in fuel consumption and CO2 emission compared to a conventional six-gear automated transmission, while acceleration performance increases.
8Speed AT:  Hyundai Motor India unveiled at the Auto Expo its new eight-speed automatic transmission for front-wheel drive vehicles improving fuel economy by 7.3% over six-speed auto. 8 Speed AT showcases light and agile elements of Hyundai technology. Globally the eight-speed auto will initially be used in the large and luxury car segments.
SAFETY ZONE
GENESIS CRASH CAR
Genesis is Hyundai's flagship model and as such offers a high level of physical crashworthiness and excellent safety features as standard.  Genesis Crash Car Test was exhibited at the Hyundai Pavilion at the Auto Expo 2016. Genesis has aced safety evaluation in the small overlap front crash evaluation and a superior-or advanced-rated front crash prevention system with automatic braking capabilities. Structural integrity and strength has been a key priority of Hyundai Motor Company's engineering teams and the vehicle uses advanced high-strength steel throughout its body structure, and has been designed from the outset to pass the world's most demanding crash tests.
KIDS ZONE
TRAFFIC SAFETY WITH POLI
Specially designed to engage the youth and children, Hyundai has developed a Kids Zone at the pavilion to encourage safety education and awareness as a part of its 'Safe Move' CSR initiative. The famous animation series, 'Traffic Safety with Poli' will be screened at the Kids Zone theatre.
 ENGAGEMENTS
The Hyundai brand zone is an area where visitors can engage with the Hyundai brand see the merchandise of their choicest 'Hyundai Brand Collection' and World Rally Championship.
Hyundai has undertaken innovative digital initiatives to engage and interact with visitors at the Hyundai Pavilion to amplify the experience of the visitors.
'Experience Hyundai RFID Bands' enable visitors to share their Hyundai experience at each digital touch point within the Hyundai pavilion on social media.
'Mind Racing'is a challenging on ground multi-player digital game that puts visitors to the ultimate test of utilizing their brain concentration levels to race their slot cars to the finish line through the brainwave headset on a real time scoreboard.
'Racing Motion Simulator' promises to offer the visitors a truly exhilarating experience by providing a realistic feel of being behind the wheel of Hyundai's racing car.
'Time Freeze Selfie' allow visitors with their family & friends, to capture their panoramic video shot of themselves at the Hyundai pavilion in a creative & entertaining manner.
'Unlock a Surprise' Machine comprises of an interactive smart interface to connect and immerse visitors into the world of Hyundai that unlocks a surprise.